Frostbite sailors feel the breeze
14 November 2017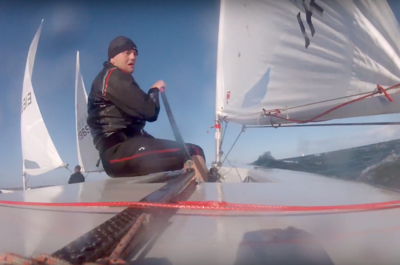 Eighteen Lasers braved the wind (gusting 29 knots) on Sunday to completed the second weekend of the Laser Frostbites in Howth Yacht Club. Olympic hopefuls Ewan McMahon and Aoife Hopkins dominated Laser full rig and Radial fleets, with two wins each. it's fantastic that we have some top laser talent in Howth and they support the club racing.
Two triangle courses were set by Race officer Harry Gallagher, a short upwind with a following tide, then a broad reach towards Burrow beach and back towards Irelands Eye. Gybing at the end of the first reach proved tricky for even the best, swimmers included Ewan, Ronan Cull (results 2, 2), Ronan Wallace (7, 3) and Darach Dineen (4, 11).
The HYC laser fleet is at the forefront of the laser scene and some new recovery techniques were tested. Ronan Wallace recovered Moth style – capsizing the boat near the slipway and removing the rig and swimming it around to the slip. The swimming practice at the gybe had not gone to waste. Ross O'Leary put his Dun Laoghaire harbour racing practice to good use and took a tour of Howth harbour after the mornings racing.
Entry is still open so if you have a boat come on down next Sunday first gun 10.45 all welcome.
Short video below curtsey of Darach Dineen
Registered in the Republic of Ireland. Registered No. 81187