Refinements to Autumn League races this weekend
05 October 2017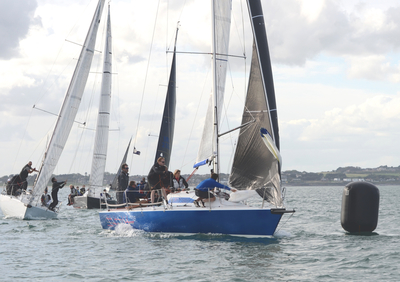 The Autumn League Race Management Committee have been working hard to ensure that competitors get best value and lots of racing this autumn and following last week's successful 2-race day, some important refinements will be added this Saturday and Race Office Harry Gallagher outlines them below:
'We were indeed very lucky to get two races completed last week, in spite of the forecast. We did, however learn some lessons. This coming Saturday looks to have a near perfect forecast – westerly 12-15 kts. With this in mind, and with the fact that we're one race behind on the schedule, the Race Committee intends to run two races this Saturday (7th Oct). The first will be a 'Windward-Leeward' and the second will be a 'Round the Cans' race. The target time for each race will be 45 – 50 minutes.
Based on last week's experience, several changes to the Sailing Instructions are being promulgated.
A starting time limit of 5 minutes is being introduced.
The finishing time limit will be 15 minutes from the time of the first finisher.
​This will only apply to 2-race days. Again on 2-race days and for the Inshore Fleet, if one class has no starters for the second race, that fleet's start will be omitted from the sequence and subsequent starts will be brought forward.
Looking forward to some great racing next Saturday!
Harry
Registered in the Republic of Ireland. Registered No. 81187