Fresh winds forcast for second race of Autumn League
21 September 2017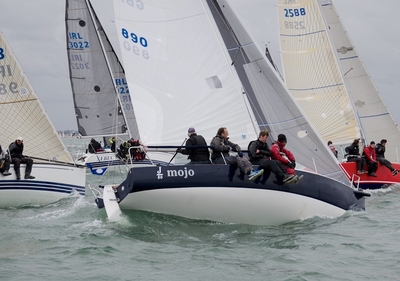 More than 100 boats and 600 sailors took part in last Saturday's races at the MSL Park Motors Mercedes-Benz Autumn League. Nine keelboat classes took part and enjoyed sailing in the fresh northwesterly which brought an autumnal reminder for most sailors and the first cool breeze since May.
Commodore Joe McPeake welcomed the participants from the club's balcony before the race began. He thanked the sponsors and reminded all sailors that this event has been running for 38 consecutive years and is not only one of the most important and largest annual events at the club, but that is also heralds the commencement of HYC's 'second phase' of annual open events, in a sailing season that is 12 months long. The Commodore also made an unapologetic pitch to any visitors and crews that are not already members to consider the real value of membership of such vibrant sailing club.
An 'R' flag at the top of the Marina pontoon meant that the day's racing would be on the round the cans courses for the inshore and offshore fleets. On the inshore course, an ebb tide combined with a sea state that favoured starboard tack meant that the left side of the beat provided an early advantage and was further compounded by a gradually backing breeze throughout the afternoon.
It paid dividends for those that used it, including the 'two Alans' (Blay and Pearson) on their Puppeteer 'Trick or Treat' who won their race and also for Brian Jennings and team on 'Sanderling', winning on handicap. The Howth Squib Class revival continues in earnest and their class has trebled in size since last year - Ronan MacDonell's 'Fantome' continues as the 'form' boat, winning the race and Serena Blacoe's 'Seabiscuit' finished second and leads on handicap.
The form boats also prevailed in the 17 class, with Conor and Brian Turvey's 'Isobel' taking line owners from season-long rivals 'Deilginis'. Bryan & Harriette Lynch's 'Echo' leads on handicap.
The competition amongst the cruiser-racing classes is hotter than ever and the inclusion of Liam Burke's 2017 WIORA Championship winner 'Tribal' raises the ante in Class 1. The Galway Bay Sailing Club boat is likely to give real challenge in that class, but it will first need to contend with Pat Kelly and team on Autumn League favourites 'Storm', as the J109 declared its intent on Saturday with a resounding 2 minute margin over the other J109, Colm Buckley and Simon Knowles' 'Indian'. Stephen O'Flaherty's Spirit 54 'Soufriere' topped the class on handicap.
The Half Tonners in Class 2 held off the competition from the chasing X302s this week, with Jonny Swan's 'Harmony' finishing ahead of their classic group. While 'Harmony' also leads on handicap, the daily prize will be presented to Anthony Gore Grimes' X302 'Dux'. Vince Gaffney and team on his 'Alliance II' are no strangers to the top of Class 3 and last weekend was to prove to be no different for them. They won the IRC race in a class that boasts 3 entries from HYC's K25 squad as well as an Under-18 entry, promising youthful competition for Messers Gaffney, Wormald, Archer et al. Lionel McMurtry in his 'Hellyhunter' demonstrated that a 16-minute finishing margin was not enough for the leading boats to deny him top place on ECHO.
Non-Spinniker classes (4 & 5) comprise of an eclectic bunch of predominantly senior sailors, former Commodores and the like, all fearsome racing sailors, giving no quarter in close manoeuvers and their decision to race without spinnaker only enhances their steely focus. A prior commitment in two weeks time means that Colm Bermingham and team on 'Bite the Bullet' might not have it all their own way this year, for a change. However, with one race already in the bag, they will be in the team to beat in Class 4. Michael Fleming's Trinculo leads the ECHO division. Windsor and Steffi's timeless Club Shamrock 'Demelza' topped Class 5 in IRC, although it could be said that the bigger race will be for the ECHO prize, which 'Out & About' leads the 10-boat class after the first race.
The forecast models are suggesting fresh and gusty southerlies for this Saturday, which when combined with the ebb tide will likely prove to be challenging and thirsty work. Don't forget to reward your worn out mainsheet trimmer with some ice-cold Coors Light after racing - this week's special offer from Frank and his team behind the bar!
Registered in the Republic of Ireland. Registered No. 81187