Howth well represented at Euro Car Parks Half Ton Cup
30 August 2017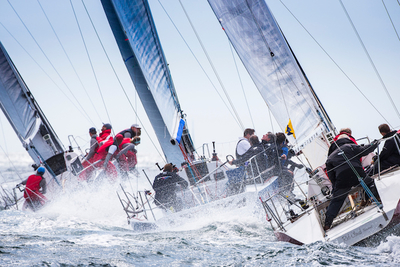 This August four modified Half Ton yachts from Howth Yacht Club travelled to the Half Ton Cup Championship held at Kinsale Yacht Club. In total, there were 21 boats competing from France, Belgium, Ireland, Finland, Scotland and England - a mix of very recently modified half toners and some that have been kept in their original design.
The event started on Sunday 13th August with 3 practice starts followed by a practice race run by race office Anthony O'Leary on his committee boat Irish Mist. Racing started on Monday with 3 windward leeward races, the first two races were won by Swuzzlebubble (UK), the previous two-time winner largest yacht in the fleet and race three was won by the Big Picture (Michael and Richard Evans HYC) under the guidance of tactician Mark Mansfield. (Top photo)
Day two saw continuous rain and about 14 knots of wind and races one and three again won by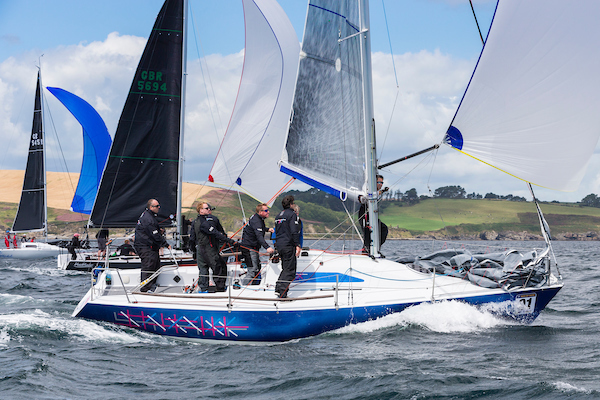 Swuzzlebubble and race two and four won by Checkmate XV (Dave Cullen HYC) with tactician / navigation by Lou Varnay and Nin O'Leary.
Day three (Wednesday) turned out to be a lay day due to high winds and southerly swell and some more rain. This gave crews an opportunity to rest, work on fine tuning their rigs and in some cases an extended lunch in Fishy Fishy restaurant.
Day Four (Thursday) the race office hosted two more windward leeward races and a short coastal race in increased wind from the south west up to 25 knots. Race one was was won again Swuzzlebubble, race two and the coastal race were both won by Checkmate XV – D Cullen HYC.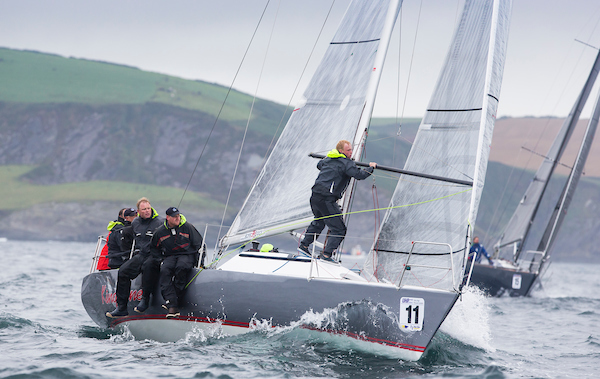 There was a question whether the final day's racing would take place due to the forecast. Swuzzlebubble had the Championship won and 2nd and 3rd positions were within 2 points of each other between the two Checkmate yachts. The day turned out to be fine and the fleet enjoyed a great race around the cans in moderate conditions finishing in Kinsale harbour. The race was won by Nigel Biggs in Checkmate XVIII, followed by the Evans brothers in The Big Picture and then 3rd was Dave Cullen's Checkmate XV.
The Final positions were 1st Swuzzlebubble - Phil Plumtree UK, 2nd Checkmate XVIII - Nigel Biggs UK , 3rd Checkmate XV - Dave Cullen HYC, 4th The Big Picture - Evans Brothers HYC. Also from Howth was Harmony - Jonny Swan finishing 7th and winner of the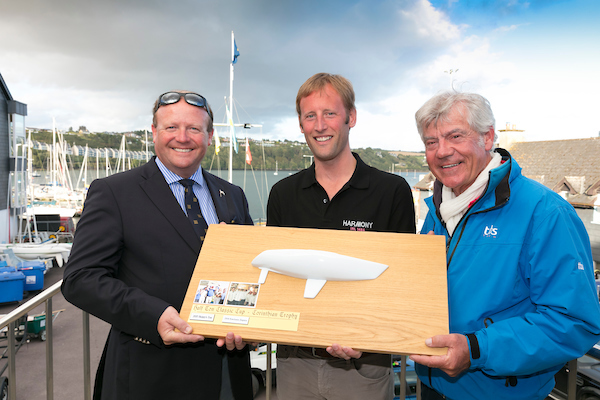 Corinthian Trophy for first boat without a professional sailor on board. King One - David Kelly and Patrick Boardman secured 11th overall.
Some changes to the class rules have to be decided on this year – the key changes are the number of professional sailors allowed per boat should be restricted and only be owner drivers should be permitted. The highest band rating is proposed to be reduced to 0.965 which would mean that Swuzzlebubble will need to make some alterations to come down 9 points – this should make the racing more interesting. The class will also vote on whether asymmetric sails should be part of the class.
Overall a fantastic representation from Howth Yacht Club with 4 modified Half Tonners all in the top half of the fleet. A difficult class to do well in do to the level of detail put into the boats and the professionalism of each entry and the fact that everyone is a keen sailor. Next year the event will be held in Neuport in Belgium on the 19th August and will no doubt attract even more enthusiastic half tonner owners to prepare their yachts and pitch their talents for the Halt Ton Cup. Meanwhile the four Howth boats will continue with a mix of club racing, Autumn League and a new selection of open events in 2018 in the lead up.
If anyone is interested in getting involved with the class – potential owners or if you are interested in a crewing position – please contact Michael Evans
Michael Evans (Half Ton Class Irish Representative)
All photos by David Branigan/ Oceansport and the full gallery is here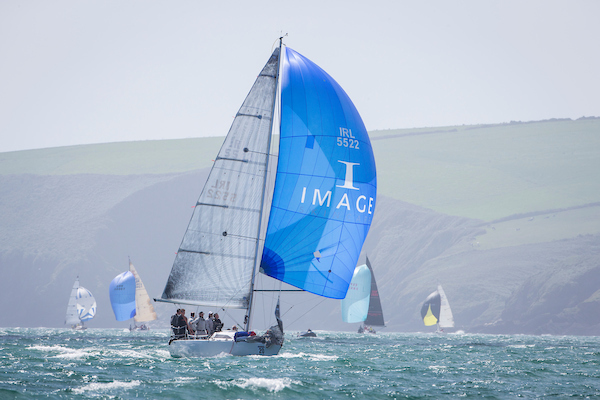 Registered in the Republic of Ireland. Registered No. 81187