Autumn League entry opens and boost for visiting boats
16 August 2017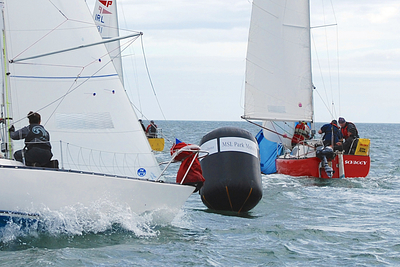 Running every year since 1989, Howth Yacht Club's 38th Autumn League will start on the 16th of September and will run for six weeks, finishing on the 21st of October. The club is delighted that MSL Park Motors Mercedes-Benz have extended their sponsorship of the event for one more year. In response to their generosity, Commodore Joe McPeake explained 'Their partnership adds important value for our members, the competing sailors and their guests. This affords HYC the ability to run a top quality regatta with all the frills. This year we aim to provide competitors with a memorable experience, with a 'refreshing' welcome each day when they come ashore!'
Always managing to provide top quality keelboat racing with a lively apres-sail social schedule, this year's event will see the continuation of the winning formula of recent years and be run on Saturday afternoons, affording competitors plenty of time to get to the start line for the first gun at 1430, with the exception of the slightly earlier final day start sequence, which commences at 1300.
Not withstanding the superb range of facilities and surrounding hospitality in Howth, the event team intend to make the event even more attractive for non-HYC teams, including a facility for visiting boats to be accommodated in the marina with a special event rate, including additional discount for entries received before 30th of August. The club is presenting a full social and hospitality programme for the six weeks, including sponsored weekly drinks promotions and a final night party that will be one to remember!
Racing fleets will be separated into two groups and two race areas, with an 'offshore' fleet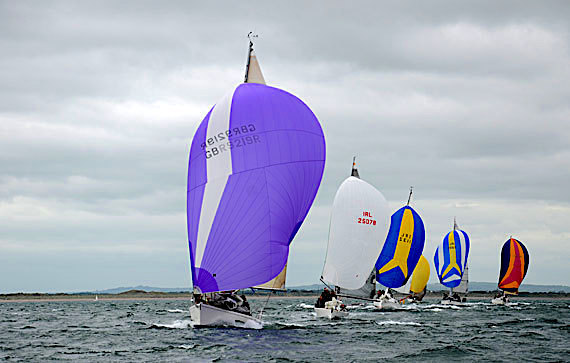 comprising of at least five cruiser divisions and an inshore fleet for one-design keelboat classes. Following a recent survey and feedback and in a move to encourage increased participation in the cruiser classes, the normal practice of resetting ECHO handicaps to standard level at the beginning of the event will not be used and instead boats will be allocated a rating reflecting current form. This initiative proports to be fairer way of starting the regatta and will prove interesting to observe. This year's Autumn League starts two weeks after the J80 National Championships and J-Cup event, being hosted in Howth on the weekend of the 2nd and 3rd of September and it's hoped that many of those competitors, including J24s and J109s, will stay on to compete in the six week series.
Following the often 'gentle' sailing conditions that we experience in July and August, HYC's Autumn League can be an exhilarating event for many crews, always delivering a high standard of racing through the experienced hands and organisational skills of its internationally renowned race management teams. The course card is designed to give a varied range of race options, including Windward/Leeward, Olympic and Round-the-Cans races.
In addition to completing for the spectacular range of Autumn League silverware, race winners will also enjoy weekly prizes, which will be distributed by the MSL Park Motors Mercedes-Benz team on the following Saturdays. The Heineken Trophy will be awarded to the overall winner, calculated as the boat that wins on scratch or IRC by the largest margin. Competitors are also encouraged to enter a team (3 boats from 3 separate classes) for the Olympus Trophy.
Special apres-sail food menus from caterer Jason Dunphy will offer sailors and their guests a quality and alternating selection each week, with regular dining facilities in the evening and a special 'party night' dinner on the final Saturday. (Details in race packs.)
Notice of Race and Online Entry to the 2017 MSL Park Motors Mercedes-Benz Autumn League are available here.
Registered in the Republic of Ireland. Registered No. 81187