Seventeens championships decided on count back
13 August 2017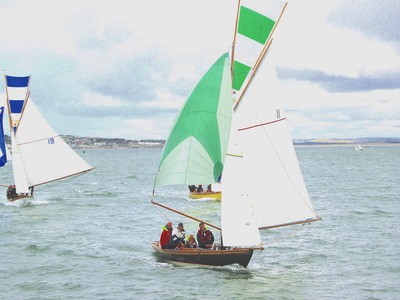 Howth's indigenous keelboat racing class enjoyed superb conditions for their National Championships this weekend. The racing was expertly set up by National Race Officer Neil Murphy and his team, utilising the best of the very windy conditions for Friday night's race and the challenge of gusty and shifting wind on Saturday for the remaining four races.
Sixteen boats took part, including four of WH Boyd's 1898 launched vintage classics and the newest of his famous design - Ian Malcom's recently launched Orla. Class Captain Ian Byrne worked hard with a team of volunteers to ensure that boats such as Anita (with new owner David O'Connell), Sheila and Erica were restored and launched in time for the championships. Only Hera and Pauline have not raced this year. With owner Tom Houlihan away, Zaida might have expected to be left on her mooring for the weekend, but a Friday night breakage on the 2009 built Sheila and an agreement by the Association to allow a 'swap', meant that the Massey/Cronin/ Deegan partnership could race Tom's 117 year-old classic on Saturday.
Guest helms drafted in for the Championships included Scorie Walls, who took Ian Malcolm's Aura and Conor Fogarty, who drove Bryan and Harriette Lynch's Echo and discovered the challenge of close quarter sailing in the Seventeens when hauled overboard by another boat's (32 metre long) mainsheet during Friday night's race.
There had been much discussion about how Orla might perform at the championships, particularly given her recent display of speed where she finished ahead of the older boats on a Tuesday night race. However, it seemed to be business-as-usual at the front end of the class for all five races, with the in-form Deilginis setting the pace on Friday evening, revelling in the 20-22 knot wind and providing a great spectacle for spectators on Howth's East Pier. But Peter Courtney's Oona demonstrated an expected level of tenacity to draw level on points by winning the penultimate race on Saturday, meaning that the championships would be again be decided in the final race. Having chased hard for most of the series, Orla and Isobel seized their moment in that race to snatch first and second respectively with all eyes then focussed on the race for third, which Deilginis took by 20 seconds to win ahead of Oona and the Massey/ Toomey team retained their title as National Champions.
Recent observations by eminent sailing writer and historian WM Nixon suggest that the secret of the longevity of the Howth Seventeens is that the class thrives on internal rivalry and consequently 'friction actually creates energy' - defying the laws of physics. The 2017 championships was no exception and the Handicap Trophy winner was decided through the decision of the protest committee who disqualified Rosemary in the final race following an altercation with Gladys, who consequently won the trophy, beating Bobolink into second place.
Registered in the Republic of Ireland. Registered No. 81187