HYC delighted to host Natasha Lambert and her Mini Transat 'MissIsle Too'
02 August 2017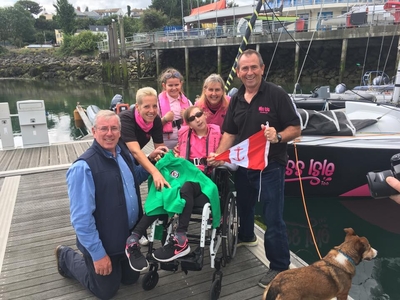 Howth Yacht Club were delighted, over the last few days, to host Natasha Lambert and her highly modified Mini Transat Miss Isle Too. This remarkable young lady with her family and dedicated team of supporters visited our marina as part of Natasha's latest adventure to cross the Irish Sea and to summit Kippure whilst fundraising for the RNLI and to help develop the technology to give more similarly disabled people access to sailing.
Natasha is profoundly physically disabled with athetoid cerebral palsy which severely impacts her movement and speech but not her ambition and drive. Sailing from Scotland down the Irish Sea to Howth, Natasha steers and trims sails through a straw using her breath by sipping and puffing. Like most of us, Natasha loves the sense of freedom, control and risk when sailing which is difficult to achieve in her day-to-day life. Being very determined, Natasa's team frequently have to force her to take breaks and she has been known to sail non-stop for up to 14 hours! The team is headed back home to Cowes, via Dun Laoghaire and Holyhead to plan their next adventure.
You can share the determination and achievements of Natasha and Miss Isle Too on : www.missisle.com and Facebook.
Registered in the Republic of Ireland. Registered No. 81187