Aqua Double Handed Race entries roll in
20 July 2017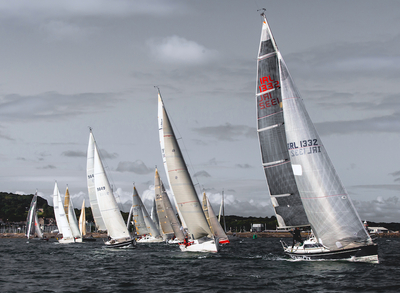 Entries for this year's Aqua Restaurant Double-handed Race look to match the previous years of this ever-popular event. This unique coastal race promises a spectacular start in Howth Sound on Saturday morning at 10am with 20-30 cruiser-racing boats jostling for best position before they negotiate a course that might have them sail around the Kish, Lambay Island or Rockabill (or a combination of these natural landmarks).
The fleet will be separated into 'Spinnaker' Classes, itself divided by the mid-point rating of the entries, and a single 'Non-Spinnaker' Class. The complex forecasted weather systems have been keeping the teams guessing for much of this week, but it now appears that the day will provide light winds and consequently very favourable conditions for the double-handed crews. This is an ideal opportunity to tune short-handed sailing skills and often accelerates the learning curve for racing (and non-racing) sailors. Event organiser Simon Knowles explains: 'It's a fun race with the objective to experience and promote doublehanded sailing and we're encouraging sailors to find classmates and like-minded crew and owners to enter and take part in what is always a very rewarding experience and something that sailors of all abilities should take part in'.
The entry list has already attracted a 'who's who' of keelboat racing talent in Ireland, with a formidable line up in the Spinnaker Class that includes boats like Storm, Lambay Rules, Checkmate, Equinox-Rope Dock and a host of other boats that would make the bookies nervous about laying odds. Equally, the Non Spinnaker Class is jammed with talent and includes Paddy Gregory and Don Green in Flashback, the Sigma 38s Changeling and Spellbound as well as Richard McAllister's always competitive Force Five and the always competitive Mary Ellen - to name but a few.
It's not too late to enter and with the generous sponsorship of Aqua Restaurant, there will be some great prizes to race for.
Registered in the Republic of Ireland. Registered No. 81187