News for HYC Volvo Dun Laoghaire Regatta competitors
27 June 2017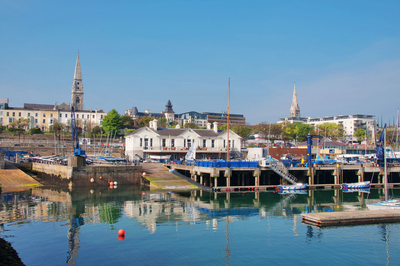 The National Yacht Club will host all HYC competitors for the Volvo Dun Laoghaire Regatta and their Sailing Manager Olivier Prouveur has outlined the berthing arrangements and explanation of how it will work in a note for HYC members and sailors:
Dear Competitors,
You are very welcome to the National Yacht Club which will be your host club for the duration of the Volvo Dun Laoghaire Regatta 2017. There is a fantastic entry of racing vessels of all sorts and I am sure there will be a tremendous atmosphere among fellow sailors. Due to phenomenal demand, some of the smaller racing boats will be berthed on the pontoons specially laid off the Carlisle Pier to host the 'classic' entries joining in as part of the 200 year anniversary of the foundation of the Harbour celebrations (see page 2 and 3 of the attached berthing plan). These are: Challenger, Kahera, Allegra, Starlet, K-Nine, Star Flash, Fusion, Scandal, Killcullen…the order of berthing does not matter for these boats…please motor down as far as possible towards the shore between the Carlisle Pier and the pontoons and berth one after the other after racing. Access to the pontoons will be by Club launch service.
For boats berthed alongside the NYC breakwater (see page 1 of the attached berthing plan), It is important to come back and berth in your designated area of the pontoons to ensure that all boats fit happily. Please note the berthing plan is to scale and allows for an absolute maximum of 1.5m between rows of boats. Please make sure to have many warps and adequate fendering to raft up.
I wish you a pleasant stay at the National Yacht Club and a successful Regatta.
Looking forward to seeing you all
Regards
Olivier Prouveur | Sailing Manager | National Yacht Club
Tel +353 (01) 280 5725 | 087 7936212 | East Pier, Dun Laoghaire, Co Dublin
Registered in the Republic of Ireland. Registered No. 81187