Report from HYC at the National Maritime Festival 2017
21 June 2017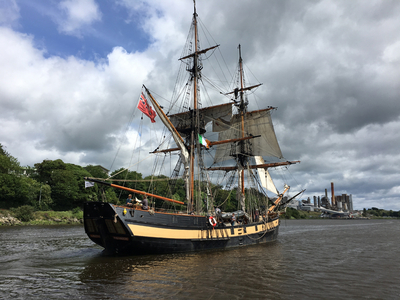 Ten boats from the Cruising Group had a great weekend at the Irish Maritime Festival in Drogheda having sailed up on Friday joining the flotilla of "dressed overall" tall ships and yachts on the 4.5 miles sail upriver and under the magnificent railway viaduct and berthed at the new Fiddle Case Pier.
The Mayor of Drogheda was the main speaker at the official opening of the Pier on Saturday followed by "yours truly" who spoke on behalf of the visiting yachts. The Port have at last made the FIRST step in providing berthing facilities for visiting leisure craft and we look forward to the next stages.
We presented a magnificent card made by Yvonne O'Neill to Capt. Martin Donnelly, the Port Captain thanking him for the reception and excellent hospitality shown to us.
Congratulation to Roger Cagney and crew who won the Howth to Boyne Challenge on Saturday and the crew of Aldebaran who won the best dressed boat.
Photos by Conor Lindsay, Charlie Kavanagh, Deirdre Dowling and A. N. Other.
Pat Murphy, Cruising Group Captain
Registered in the Republic of Ireland. Registered No. 81187