Tony Olin begins his 2017 adventures in 'DeDannan'
21 June 2017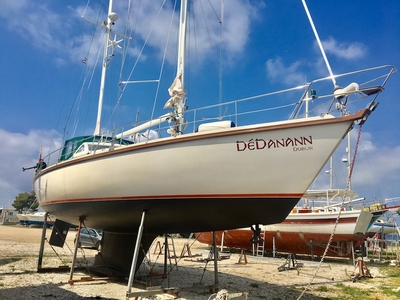 We arrived home from Greece last November, having lifted out in the Ionian yard in Preveza, this being our third year to winter here in Greece, in 2015 we headed north through the Adriatic all the way to Venice and back, 2016 we took in the pelopenese, Saronic and Sporades islands before returning back to Preveza. This year we will head south through the Gulf of Korinth through the canal across to Poros and a semi circular route through the Cyclades islands to arrive at Bodrum in Turkey for early July.
I like to return to Dublin for the Christmas, to catch up with family and friends is nice, but once Christmas is over it feels like I'm back in the lions pit, I get dragged back into the rat race, I find myself back in the office and the gruelling routine of business and the mundane problems that come with being in business is these times of recession. I have a old pal in the UK, a great entrepreneur who is up and down like a yo yo, he said to me once when he was on the up, "when your in the rat race you may be winning, but your still a rat" these are very true words. In any way, I eventually broke away in early April, later than usual, took a flight to Athens then the five hours road trip to Preveza, I took a local hotel in the town for a few days in order to get DeDanann aired and ready to go back into the water, I never like staying on board whilst on the hard, it's too easy to fall over moving about on deck, as one gets older a three meter fall can do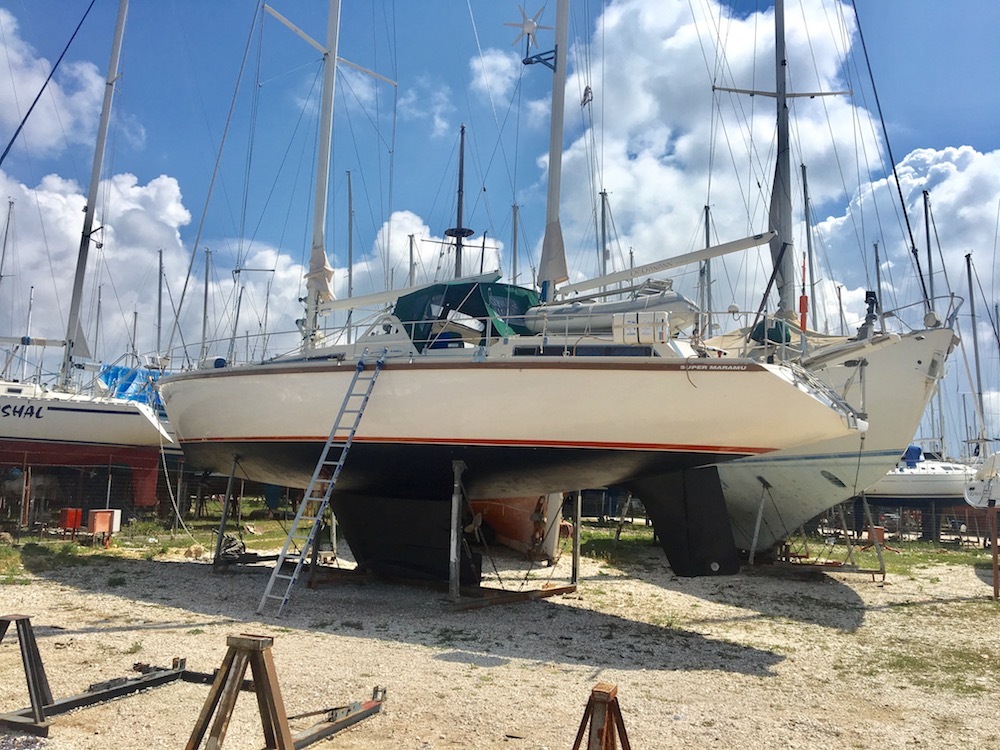 a lot of damage, I once fell three stories from a block of apartments we were building in Bedford UK, having landed in muck I got up and walked away just bruised, no serious damage done but I was a lot younger then.
Last year in the yard in Lefkas, an English live-aboard skipper fell from his ladder whilst on the hard, he climbed back up and lay down in the cabin obviously not feeling too well, three days later having not been seen around the place another skipper found him in a coma, he was so bad they had to airlift him to Athens from the local hospital, I've not heard since how he faired out.
The weather here in Greece is just right for working at this time of year, eighteen degrees with the sun shining during the day and cool for sleeping at night, polishing and antifouling is enjoyable work, provided you take it easy, chain painting to mark the depth, sanitising the water tank, and a big general cleaning in and out takes time, I also replaced the waste pipes from both the toilets, new rubbers and seals this year should ensure trouble free flushing, this requires to be done every third year if you want to keep that disgusting smell out of the boat, I'm even thinking of changing over to fresh water flushing on the electric toilet which should reduce the maintenance that is required with sea water flushing. Although, it's surprising how much water the toilet uses up, as it is we go through around 80 litres per person per day on board.
I had some gelcoat work done by a local specialist, Costas and his brother Telly, friendly pleasant Greeks with a good reputation for doing this work, they had four months to get the job done but left it till I was on the way down here, in anyway, I wasn't too happy with the repairs, the colour wasn't right, as they were finishing off the work I brought this to there attention, Tony my friend!! this is normal, great laughter, it will fade with the sun, no problem my friend!! Telly joins in with more laughter, this is the normal, it will be perfect with the sun. How long before the colour is the same, I enquire, only a few months my friend!! they laugh together, OK, I hold €1000 until the colour matches and only then will I pay you, the laughing stops and they look at each other very seriously, there's a long pause, perhaps we paint again said Costas. The following two days are spent repainting and polishing out the repairs, I still wasn't happy and told them so, expecting a big argument from them, but to be fair, they accepted that the work was not up to scratch and took it on the chin if not somewhat disappointed. The Greeks are easy to do business with and always respectfull.
Easter celebrations here in Greece is a big event, its bigger than Christmas and taken seriously by the locals, I reported on this last year so I won't go on about it, but it's a great relaxing time to enjoy the Greek culture and the friendly Greeks who are more like the Irish than any other nation that I have come across. It's a good time to meet up with other cruisers from all over, as no work of any kind goes on during Easter and everyone is out socialising in the town. The three yards here in Preveza are jammed packed with boats, thousands of boats on the hard this year, the troubles and unrest in Turkey and Tunisia has brought many skippers here to base themselves over the winter, a lot of boats have moved here from Croatia due to high costs and taxes.
The Greeks have tightened up their act with collecting taxes from cruisers by way of a new DPTKA, ( transit log ) it now costs €50 for the year and a bit of Greek bureaucracy in getting the paper work sorted, its surprising how many skippers you hear moaning about paying this around the ports, they want to come to this little piece of paradise and pay nothing.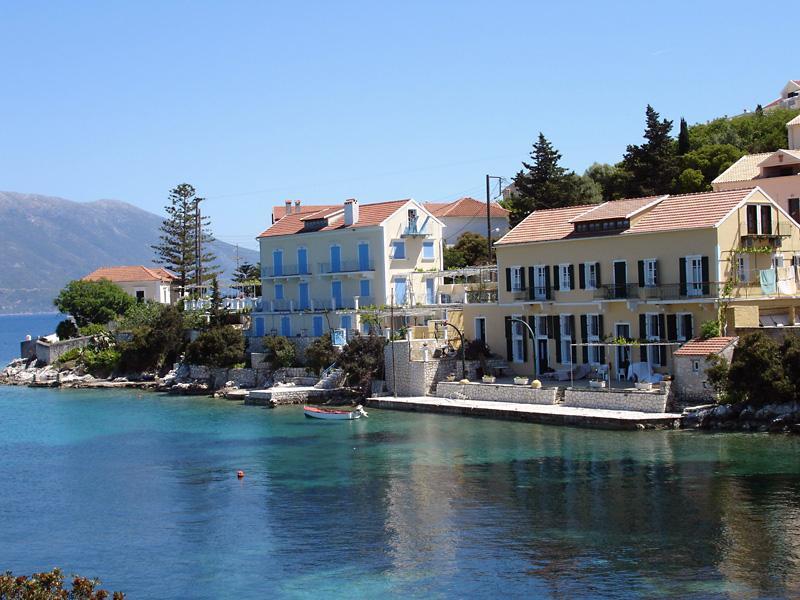 We are currently back in Messalonghi relaxing having come down through the Ionian islands of Lefkada, and Cephalonia, its stress free cruising waters that one knows well, Alfie is more popular in these ports than Linda and I, it's amazing how he can arrive in port and know exactly where to go rambling and come back to the boat. We will transit the Korinth Canal next week and across to Poros and hope to catch up with Cass and Bridie Roche (HYC) then it's off through the Cyclades to Turkey.
I have covered our Voyage through the Ionian and Gulf of Korinth in previous logs but I will keep you up to date on our adventure through the Cyclades over the summer.
DeDanann Out:
Registered in the Republic of Ireland. Registered No. 81187