Final tweaks to Sailing Instructions before Lambay Races and Howth Regatta
28 May 2017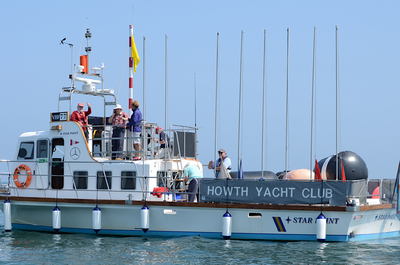 The Lambay Races race committee have been making the final adjustments to the documents in advance of next weekend's 3-day event which provides for a race and prizegiving on Friday evening, Lambay Races (including ISORA race) on Saturday and Sunday's family fun race and entertainment.
A correction to the Sailing Instructions to the start time for the Inshore Fleet aligns the schedule with the Notice of Race and now shows the warning signal sequence to commence at 11:55 on Saturday morning. Also, a separate addition to the Lambay Races SI's has been published for the Howth 17s, which will provide a start in Howth Sound for the indigenous class at 11:30.
All Lambay Race entries are facilitated with an additional race on Friday evening, with a separate prizegiving in the clubhouse afterwards. This is intended to be a short 'round the cans' race and might include a circumnavigation of Ireland's Eye. Saturday's onshore entertainment begins with a 'Lions Tour breakfast' at 8:30, allowing members and visitors to watch the first game of the tour and to enjoy a casual breakfast and coffee before racing begins close to midday. The Motorboat group have organised a cruise to Greystones for the non-racers and a full entertainment programme is planned post-racing on Saturday afternoon including themed bars, live music by 80s band 'Le Freak', food by Diep and prizegiving before the Lambay Dinner - table bookings should be made as soon as possible by contacting the office at 01 8322141. After dinner entertainment will continue with the fabulous Donal Kirk Band and later with a DJ into the small hours.
Sunday's schedule is centred around a fun-race for all boats and with an emphasis on family involvement. There will be lots of entertainment ashore including the 'Dunk Tank' where it is rumoured that any protests will be settled...
See full details of the entertainment programme here and racing documentation and online entry here
Registered in the Republic of Ireland. Registered No. 81187