HYC team win SB20 East Coast Championships
19 May 2014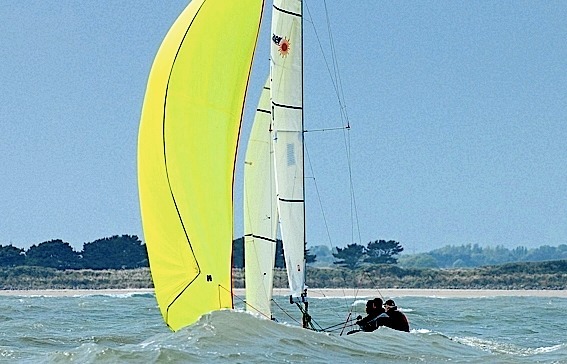 The SB20's held their first regional event of 2014 at the National Yacht Club over the weekend of May 17 & 18. A huge attraction of these events is the comradery and fun that comes when a group of friends and fierce competitors meet once again to do battle on the racecourse. This weekend the regular banter was muted as the fleet mourned the loss of Graham Elmes their friend, crew member and fellow competitor. From the hushed discussions at the beginning of the weekend to the fantastic round of applause to his memory at the prize giving, Elmo was never far from our thoughts. He would surely have enjoyed the tight racing that followed.
Day one proved to be a long and tiring day for all. It was a particularly frustrating day for Jack Roy and his team on board the committee boat as the forecast conditions did not materialise until after three hours of waiting. We finally got going in race one in a tricky and gusty breeze that kept everybody on their toes on the downwind legs where big gains and losses were to be made. The result of Race one was to prove something of a prediction as to what was to unfold over the six race regatta. Dinghy Supplies (Shane Murphy, Daragh Sheridan and John Phelan) pinching the win from Ruby Blue (Aidan O'Connell, Prof o'Connell & Johnny Horgan) at the very last mark. Third was Yachsman.ie (Davy Taylor, Marty O'Leary, Lisa Neary & Rachel Williamson). Race two strangely had the exact same result with the same three boats in the same positions. Dinghy Supplies enjoyed a more comfortable pillar to post win in this race.
Race three saw Aidan and crew romp home to a race win followed by Davy Taylor in 2nd and Sharkbait (Daren Martin, Roger Pannell and Simon Murray) holding off Justin Burke and Michael O'Connor in 4th & 5th respectively. This race also saw the first use of the U flag by PRO Jack Roy to try and get the eager fleet away late on Saturday afternoon. Unfortunately for Dinghy Supplies they were the only boat over the line and were disqualified.
Day 2 dawned with similar conditions of around 15 - 20 knots with the gusts and shifts meaning the race was never over until the finish line was crossed. In Race 4 Dinghy Supplies managed to sneak past Yachtsman.ie and Sharkbait on the final short beat to finish 1st while Aidan got Darren right on the line to take third from Davy in second.
Race 5 saw local supremos Michael O'Connor , Owen Laverty and Gavin Murphy stamp their authority on the fleet with a convincing race win followed by Darren in 2nd who was starting to put a good series score line in place. Third home was Dinghy Supplies.
Heading into the final race it was all up for grabs. Dinghy Supplies lead by two points from Ruby Blue and Yachtsman.ie a further two points back. However, Dinghy Supplies could not afford a slip up as they would have to count any poor result as their discard was used up by the earlier disqualification. Dinghy Supplies got off to a great start and extended throughout to win the final race and take the East Coast Championship on an impressive score of 7 points counting four race wins and a third. Ruby Blue the 2013 champions were runners up with a total that would win most regattas of 10 points. Third was Davy Taylor on 13 points.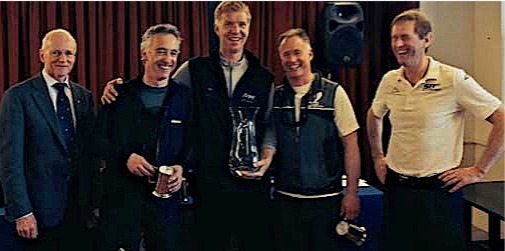 Dave Barry took the Silver fleet win from Ger Dempsey and James Gorman.
A huge thanks goes to the National Yacht Club and all involved in organising a fantastic regatta. In particular a big thank you to Jack Roy who did a superb job as PRO. The event prize giving was completed with nice touch from Shane Murphy dedicating the win to our friend Elmo.
Registered in the Republic of Ireland. Registered No. 81187