One Design Racing resumes in perfect conditions
03 May 2017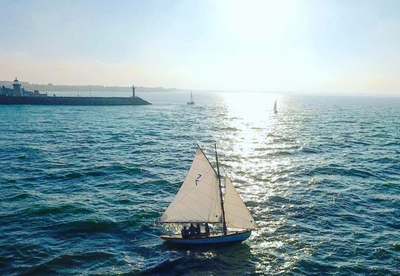 Club racing resumed on Tuesday night for the one design fleets, with boats treated to a race in conditions more typical of a late summer evening. The races started in approximately 7 knots of wind, and saw the pier starting boats heading west to join the Puppeteers beyond Ireland's Eye. The sea breeze gradually died off as the race progressed, with the wind backing from north-easterly to north-westerly. Skippers' light air skills were put to the test, and gains could be made in the sometimes fickle conditions.
The Puppeteer fleet saw an excellent turnout with 16 boats starting. Line and handicap honours went to Dave Clark and Liam Egan in "Harlequin", with "Trick or Treat" and "Yellow Peril" a close second and third respectively.
In the 17 Footers, Ian Malcolm was first across the line in "Aura", and a battle for second was held between "Deilginis" and "Isobel", with "Deilginis" maintaining her lead across the line.
The Squib fleet was delighted to be joined by Derek Bothwell for his first race in "Aurora", and the Class is seeing something of a resurgence in numbers on last year, with 6 boats due to race. Unfortunately, the light air got the better of the Squibs and the time limit elapsed before any boat finished.
The "Taste of Racing" crews enjoyed some close match racing in the club's J80s, with "Red" skippered by Emmet Dalton, and "Blue" skippered by Noel Davidson. Keeping the large asymmetric spinnakers flying (And out of the water!) was sometimes challenging in such light air, but ultimately "Red" managed to finish just ahead of "Blue".
Many of the sailors enjoyed some après-sail, socialising in the bar, and it was clear that all had enjoyed such a pleasant first race.
Report by Serena Blacoe
Photo courtesy of Ian Martin. Ian Malcolm's "Aura" off the East Pier.

Registered in the Republic of Ireland. Registered No. 81187