RS season opener was a 'light air affair'
25 April 2017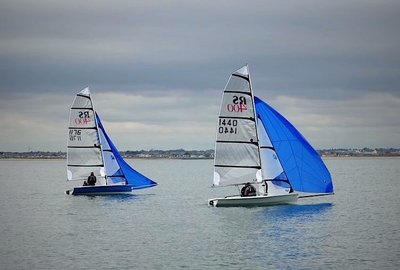 Forty-six boats arrived at HYC for the combined RS 400, RS200 and RS Feva Eastern Championships last weekend. Local interest in the RS Classes would appear to be building, with 8 HYC boats spread between the 3 Classes.
It was a light airs affair. But with expert oversight and thanks to some very efficient management by Rupert Jeffares and the other race management teams, the full complement of 6 races were completed over the weekend.
Fleet reports:
RS Feva
14 Feva's were in action at the RS Easterns this weekend in Howth Yacht Club. Winds were light on Saturday with Henry Smart and Morgan Devine having a good day at the top of the fleet chased hard by fleet newcomers, Ruth Lacy and Jools Aungier. Sunday morning was looking windless until 11 when the wind filled in and the fleet had 3 great races. Liam and Aidan Donnelly found some extra speed overnight and moved up to 3rd overall, with Ruth and Jools 2nd and Henry and Morgan in 1st place. Very close racing with 5 different race winners and everyone in the fleet showing lots of improvement. Alice and Kate were just pipped for the race win by Marcus and Oscar in race 6. There were lots of other notable results from sailors new to the fleet so well done to all. Sharing the boat park and the race course with the 200s and the 400s is all part of the fun for the Feva sailors and there were lots of happy faces on Sunday evening after racing.
RS 200
Marty O'Leary & Rachel Williamson showed a clean pair of heels to the fleet in clinching the Eastern Championships, counting 4 wins and a second place. Sean Craig & Lisa Neary finished the event in second place despite the efforts of an RS400 in sabotaging their 3rd race by rounding the leeward mark against the flow of traffic and rafting up with them for a chat. Frank & Kevin O'Rourke from Greystones rounded out the top 3. Johnny Sargent & David Jones sailing under the banner of RCYC won the junior title finishing in 5th place overall with a very consistent series of races.
RS 400
Alex Barry & Richard Leonard sailed a very consistent series to take the RS 400 Eastern trophy south again. Trailing by two points were Bob Espey & Tiffany Brien with Gareth Flannigan & David Fletcher. Bob and Tiffany took the second place on countback. As usual the 400 class was very competitive with tight racing throughout the fleet, four points separated the top five boats. It was great to see a few new faces giving the RS 400 a try.
The Irish RS class will meet up again in Royal North of Ireland Yacht Club on 13th and 14th of May for the Northern Championships.
(Top photo: Conor Lindsay)
Registered in the Republic of Ireland. Registered No. 81187