Club racing starts this Tuesday
25 April 2017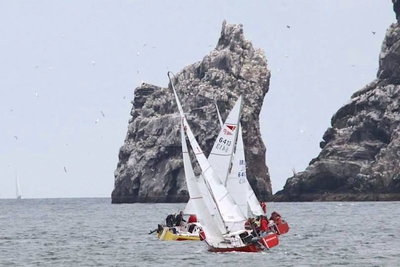 Many members may be aware that a small group of racing sailors, under the chairmanship of Harry Gallagher, has been considering a major revamp of the keelboat courses. This started in January with the intention of having the work finished by the end of March. Peter Courtney undertook the mammoth task of repositioning the racing marks and designing new course cards using the original computer programme. Unfortunately, the programme failed to run and Peter had to resort to a chart board with nails representing marks and string with knots representing 1 NM lengths to fashion courses! This laborious job resulted in the end of March deadline not being met. The Sailing Committee was informed and a decision was made to defer the course changes until the 2018 sailing season.
The 2017 course cards are similar to the 2016 ones with two minor changes. The Portmarnock mark has been brought closer to the Island mark (from 1.7 NM to 1.3 NM) and the Cush mark has been moved north by 0.11 NM to provide greater depth at low tides for the larger cruisers. The Course Bearing table has been amended only between those marks used in the Tuesday and Wednesday courses.
At the request of some members of the Puppeteer class, upwind finishes MAY be used (at the discretion of the Race Committee on the night) for Series 1 and 3 only. If the course chosen makes this impossible, the race may be shortened at the last fixed mark or finished at the regular finishing area between Island and South Rowan marks. This will be announced on the radio and signalled by a RIB displaying code flag L, with sound signals, at the last fixed mark and which will act as pathfinder towards the finishing area.
It has also been suggested that more use should be made of the 400 (triangle, sausage) and 500 (W/L) courses to provide more variety of courses. All the course cards and racing handbooks are now available in the marina office as well as being online here: Club Racing Documents
Good racing and fair sailing in 2017 from the Sailing Committee!
Registered in the Republic of Ireland. Registered No. 81187