An interview with Barry Gibney in preparation for this year's Gibney Classic
04 April 2017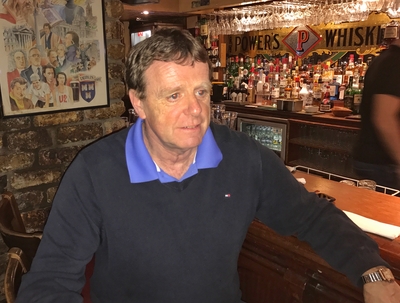 Maureen Muir, Dermot Skehan, Barry Gibney and Brian Turvey met in the lounge in Gibneys of Malahide to chat with Barry about about the Gibney Classic and their family's long association with Howth Yacht Club and to plan for this year's event...
Dermot: Barry, tell us about your Dad's long association with Howth Yacht Club?
Barry: Well it goes back to the days of the family's involvement in the Abbey Tavern and the Royal Hotel and they had been members of the club since the 30's.
Our parents had been bringing us 'kids' to the club for most of our early lives. I can remember going to the yacht club when it was on the West Pier in the early 1960's to see Santa Claus. When my family were in Howth, they were always in the club with my aunties and uncles and it's fair to say that they had a long affiliation with the club.
Dermot: And did you own the Abbey Tavern as well?
Barry: Yes, the Abbey Tavern and the Royal Hotel and then when the Dubliners played in the Abbey we took them across the road to the Royal.
Dermot: Well my old man used to collect money for the Dubliners, like a busker!
Barry: Then when my father went to Malahide, we bought the pub there in 1937, we'd spend the time commuting back and forward between the hotel in Howth and the bar in Malahide.. When my father went to Howth and while I was growing up with all my brothers, we were regulars in HYC.
Maureen: Can you let us know the history of Gibney Classic? And how it came about?
Barry: It came about when Malahide Marina was being built, the boatyard in Malahide had been sold and the Stafford family had left. So as they moved dredgers in to dredge the (sand) bar, and my brother Tony said to me "you know, we could do a race now, we could do something with HYC - Gibneys and HYC." With that, Richard Burrows came to Tony and " I'd like to do something for your father! Because he a long affiliation of sailing and the Yacht Clubs of Malahide and Howth."
When Tony and I were kids we were always sailing out of here as well as being members of Howth. And then I spoke with Johnny Burrows in our back kitchen one night and said "do you think we are going to have a race?" Johnny said "we'll get the first crew up from the marina and whoever comes first to the bar gets the trophy". So Richard bought the trophy, a lovely model yacht he got specially made and presented it on the first year. My father was there for the presentation and gave us cocktails - generous amounts! So I suppose that my brother Tony had the initial idea for the event. It was conceived with the arrival of the marina here and the (sand) bar being dredged so the yachts could come up because they had deeper keels, some would have a 6-8 foot draft. Importantly, the idea we had was to offer something back to Howth Yacht Club because the members and boat owners would come across to get their boats repaired and had been dropping into the pub since the 1940's.
Brian: Leaving the boats over in the yard?
Barry: Yes, members like the O'Hanlons, Harbisons Courtneys and Cagneys. When I was growing up they would all be here every Saturday with all their kids like Roger Cagney and I remember all of them. So that was the particular relationship with Gibneys Pub and Howth Yacht Club - we said we'd try to get them all back for an annual event and make it a fun day.
Dermot: Ah, but there was always an attraction for Howthies in Malahide anyway!
Barry: Yes and always with the two yacht clubs. It's nice to have the kind of crossover of history between Howth and Malahide, with many shared members in both clubs. I remember those members in Howth and Malahide who used to race in the Howth Regatta, with people like Robert Michael, Howard McMullan – it's making me feel emotional about those great memories!
Dermot: You are making us all feel very old, when somebody starts talking about 1937…!
Maureen: So the Gibney Classic started as a fun race?
Barry: Yes, we wanted to get something between the two clubs and the two villages, which was made much easier when the work was done to dredge the (sand) bar at the entrance to the estuary, offering people a chance to do something different and enjoy a day out.
Dermot: It obviously has worked. How many years is this event running?
Barry: I think it was 24 years last year.
Dermot: And it's been growing and growing with the help of Maureen and also Gerry O'Neill who was very instrumental in keeping it going.
Barry: Gerry O'Neill was superb to us down through the years running it, helping us with the sponsorship and the way he looked after it. And he was Commodore as well - always in the thick of it. I sailed with Gerry in one of the events, it was great. And true to form, we had the odd Jameson on the way over. I wouldn't have been rushing up the town to try to win the trophy on that occasion.
Maureen: Gibneys has been a great sponsor for a very long time. We at HYC are grateful for the continued sponsorship and long may it continue. Tell us what do Gibneys get back in return for sponsorship?
Barry: Sponsorship is always good for a pub like Gibneys and a name like Gibneys. It's always good and the goodwill we get from the club and the affiliation we have with both MYC and HYC. We always feel welcome and part of the clubs. The members have always been very good to us and they do come over and when they are around the village you will always say "oh yeah they sponsor us, we will go in here for a pint!" So that also works. And the goodwill of the members of HYC, they have always been loyal customers to Gibneys down through the years.
Brian: We don't have to wait for the excuse of a race when we sail up to Malahide. So many Howth boats come to Malahide at some stage during the summer, often staying the night. They will always be in Gibneys. It will be the first stop - if not the only stop.
Dermot: From our point of view we really think that the Howth 17's sailing up the channel has added to the event. What are your thoughts as the oldest one-design boats in the world sailing in the Gibney Classic?
Barry: I think it's an added uniqueness that the Howth 17's sail up the river. We are the oldest family and oldest business in the village. There is no other family here longer than us. I feel that we relate to each other and we hope to see them again and again.
Dermot: We'd like to put an advert up here (in Gibneys and elsewhere in Malahide) beforehand saying that the Howth 17's are sailing up, when the boats are sailing the channel it's different from anywhere else because the people can nearly touch them. Where the lifeguard hut is, you can sail within 2 /3 metres of it.
Maureen: This event has been known as good racing but also seen as a fun event, really due to go the great hospitality that Gibneys provide. Is there anything that Howth Yacht Club can do to improve this event?
Barry: No, not particularly. I think HYC do a tremendous job in getting the boats over and they are very good, sometimes returning having delivered the boats back to Howth - they make a great day of it. It seems that the weather never lets us down and that always helps fill the beer garden! If HYC have any ideas for us to do different types of food or anything, you can put it to us and we can always get it for them. We like to get everything right on the day. So if there is anything that they prefer, we will sort anything out for you.
Dermot: I think that everyone who enters do so for the racing initially, but they come for your legendary hospitality.
Brian: I can tell you stories of lots of boats skidding across the (sand)bar late in the evening and a jolly sail back to Howth every time! It's very easy for us to do it in terms of managing the race and incorporating it into the usual Saturday schedule, because we use the same race course and we only need to alter the finish lines. The race is scheduled to coincide with a favorable tide (normally 5-6pm HW), getting yachts over the sandbar 2 hours before high water and affording almost 4 hours ashore (4pm-8pm)
Barry: How about if you could arrange a bus from Howth for those who want to make a longer night of it – bringing everyone back at 9 or 10 at night?
Dermot & Brian: That's a very good idea
Barry: We might be able to help out with the cost of that.
Dermot: Would you say it's the fine ladies that frequent Gibneys that makes the Gibney Classic such an attraction or could it be the handsome Gibney brothers?
Barry: I would say it's the fine ladies and probably the barmaids as well – mind you there is one Gibney brother that might be attractive. He is in New Zealand at the moment!
I love to see the Howth ladies coming over.
Maureen: We would really like to thank the Gibney family for their continued support and as you can see its a winning formula which has been growing every year. Hopefully this year will be bigger than ever and we will be asking all class captains to get their boats involved.
Barry: We as a family are delighted to sponsor and always will once you want us to be part of it. We hope the race runs for a long long time because we just love the connection to the club.
Brian: It's just such a great day. I know, like Dermot and Maureen, that I wouldn't miss it for love nor money. In in the last 4 or 5 years it just seems to get bigger and bigger with lots more people coming. I think the bus would be a great idea.
Maureen: Additionally, it's important to make it part of the club racing series so competitors are not missing out on anything. We should mention the fantastic support that we get from Malahide Marina for this event, allowing the boats to tie up for the fun in Gibneys and doing deals for anyone staying overnight. It's important to recognise the work done by the race management team and I'd like to thank the race officers Peter McKenna, Susan Cummins and Derek Bothwell who helped out last year as well as John and Christine doing race results. Christine always has to work hard on this, because we use the race to help include boats that might not normally go racing and don't have handicaps. Christine and John do a tremendous job to create an incentive for all entries, giving everyone a rating to encourage lots of extra entries.
Barry: I would like to thank everyone personally for coming along and participating in the Gibney Classic every year. We are delighted as a family to have you all here and look forward to another great event in 2017.
This year's Gibney Classic is held somewhat earlier than normal, on Saturday the 17th June. Keep an eye out for online entry at hyc.ie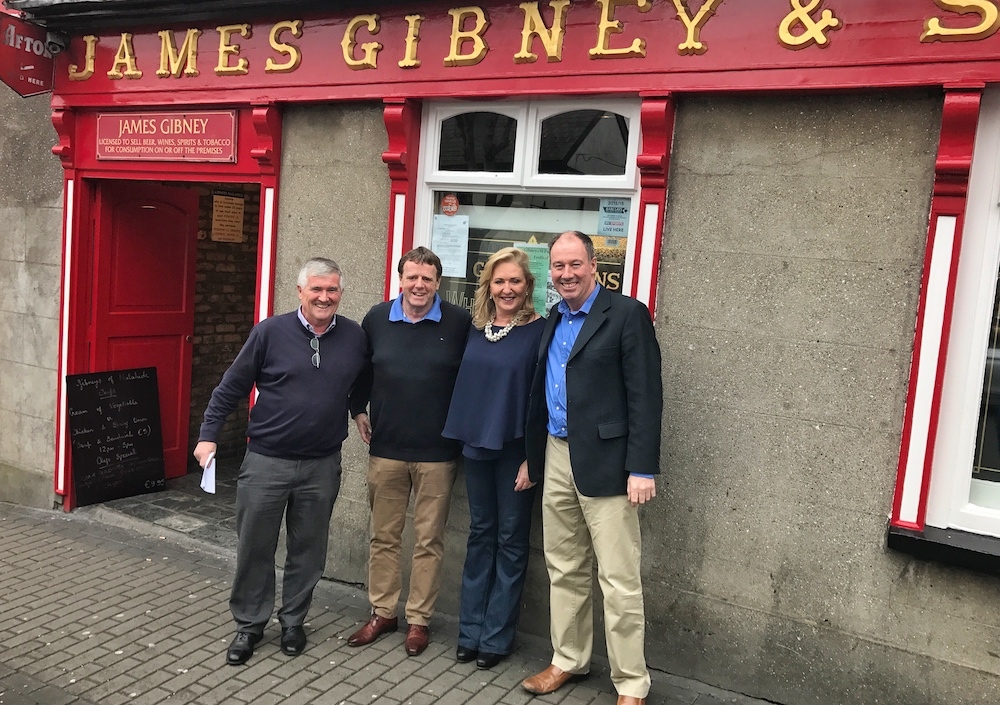 Registered in the Republic of Ireland. Registered No. 81187