Spring Frostbites finish ahead of next week's 'Round the Island Race'
06 March 2017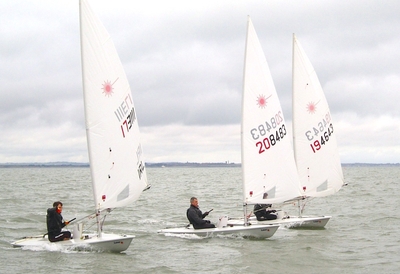 The 42nd year of Howth Yacht Club's Laser Frostbites came to a conclusion this Sunday on a fresh morning with a moderate Westerly breeze. On the last day of the Spring series, the race officers took the opportunity to sail three races bringing the series total to 13. Five of the scheduled 18 races were lost due to the unpredictable weather, providing no wind or too much wind.
In the Standard Rig fleet, Daragh Kelleher took to the water knowing that he had the series in the bag, with Ronan Cull not available. Daragh finished with a flourish though and took three bullets - making four in total for the series. Daragh's consistant and smart sailing over the whole series made him a clear winner, he was 18 points ahead of Stephen Quinn in second. Darach Dineen pushed Stephen all the way though and there was only one point between them on the last day with Darach having to count a seventh in the last race. Fourth and fifth in the Spring series went to Dave Kirwan and Dan O'Grady.
In the Winter series, (pre-Christmas) the fleet sailed 12 of the scheduled 14 races in very mixed conditions with very little extreme conditions to excite (or scare) competitors in strangely warm temperatures. Paul McMahon took the series without even showing up on the last day, seven points clear of Daragh Kelleher in second. Paul showed his usual impressive form with five firsts in the 10 races he sailed! Stephen Quinn, Darach Dineen and Mike Evans (in that order) fought it out for third to fifth places with only 3 points between them.
In the Radial rigs, the Spring series was won by Aoife Hopkins followed by Alan Blay and Daniel Hopkins. On breezy days, Aoife demonstrated that she could push the leading standard rig sailors with her downwind speed and althletic upwind sailing. In the Winter series Shane O'Brien was the clear winner with a string of firsts followed by Aoife and Ewan McMahon.
In the 4.7s, Dylan McEvoy won the Spring series ahead of brother Rory in second and Ella Hemeryck third. Pre-Christmas, Eve McMahon and Sam Crawford battled it out for first place with six and five firsts respectively in the series. Third place went to Dylan McEvoy.
See a selection of photos taken by Neil Murphy in the Gallery here
Next Saturday sees the annual Round the Island race with a fantastic day of sailing followed by lunch, craic and and rugby on the big screens. All welcome. Entries online or on the day.
Registered in the Republic of Ireland. Registered No. 81187