Frostbite sailors ignore the chill
10 February 2017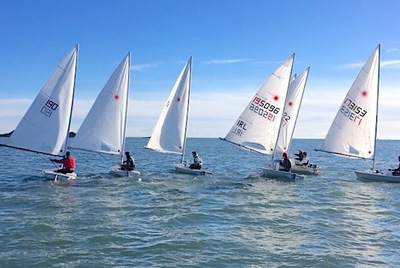 The Laser Frostbites series continued last Sunday, racing took place on a bright, sunny, but cold morning. The cold weather seemed to reduce the number of competitors with only 19 boats taking to the start line.
The first race started in the light and shifty winds with an ebb tide, and extraordinarily all competitors behaved on the start line and no recall was required! Due to the light winds, the race was shortened after two rounds. In the Standard Rig fleet, the winner was Paul McMahon followed by Dave Kirwan with Robert Eason in third. Zander MacKay showed his pace in the light conditions with a top four place. Aoife Hopkins led the radial fleet ahead of Carla Fagan. Dylan McEvoy was first home in the 4.7's. For the second race, a steady breeze filled in at 8 to 9 knots from the west. Much to the relief of all, another clear start was followed by a full-length and very competitive race. Robert Eason took his second bullet of the series ahead of Stephen Quinn and Daragh Kelleher. In the Radial fleet, the results followed the same order as race 1, while in the 4.7's Dylan McEvoy again took line honours followed by Ella Hemeryck and Rory McEvoy.
After seven races, Daragh Kelleher leads the standard feet on 18 points ahead of Stephen Quinn on 24 points. Dylan McEvoy heads the 4.7 fleet with Ella Hemeryck 6 points behind.
Racing continues next Sunday.
Registered in the Republic of Ireland. Registered No. 81187