HYC sailors feature prominently at Volvo Sailing Awards
30 January 2017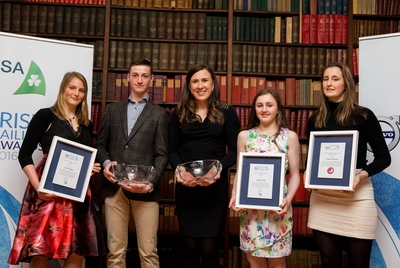 At the 2016 Volvo Irish Sailing Awards on Friday, the National Yacht Club's Annalise Murphy was unsurprisingly awarded the Volvo Sailor of the Year. More than 30 members of HYC joined a record crowd of over 300 people from across the sailing community to celebrate an historic year of sailing in 2016, culminating in Annalise's Olympic silver medal. Drawn from the list of Afloat.ie's 2016 monthly winners, the 22 nominations for 'Sailor of the Year' were announced by Winkie Nixon and included Howth sailors Dave Cullen, Conor Fogarty, Douglas Elmes & Colin O'Sullivan and Ewan McMahon. There was another 'connection' with Aoife English having been part of the crew of nominee Conor Clarke in his Melges 24 'Embarr' that recently won their World Championships.
Much to the obvious delight of fellow members attending the Awards in the RDS Concert Hall, Howth's Ewan MacMahon won the Youth Sailor of the Year Award for his brilliant performance and silver medal at the Radial Youth Worlds in Dun Laoghaire last summer. Ewan was hotly tipped to win the award in a category that included fellow HYC junior member Aoife Hopkins and a host of talented young sailors.
Foynes Yacht Club won ISA Training Centre of the Year award, having been first nominated as winners from the Southern Region. The two other nominees on the shortlist were Mullaghmore Sailing Club (West & North Region winners) and Clontarf Yacht and Boat Club (winner of the East Region).
This year and for the first time, ISA President David Lovegrove included two additional awards, given to 'those who have shown exceptional dedication and success in their sailing fields.' Performance coach Rory Fitzpatrick of the ISA received an award for his coaching of Annalise Murphy, and Colin Morehead was honoured for his success with the "Try Sailing" programme in Royal Cork Yacht Club, with over one hundred adults trying sailing for the first time.
Top photo: Pictured (L-R) Volvo Youth Sailor of the Year Nominee Aoife Hopkins (HYC), Winner Ewan MacMahon (HYC), Volvo Sailor of the Year Annalise Murphy (NYC), Volvo Youth Sailor of the Year Nominee Sophie Crosbie (RCYC) and Volvo Youth Sailor of the Year Nominee Nicole Hemeryck (NYC) - Credit ©INPHO/Gary Carr
Registered in the Republic of Ireland. Registered No. 81187