All members invited to attend the HYC Achievers Awards this Saturday
05 January 2017
Come along to club this Saturday evening to celebrate all the sailing success of HYC members throughout 2016. The night will kick off at 1900 with some complimentary refreshments before the ceremony begins.
Last year was a truly incredible year both at home and abroad. Right at the turn of 2016 we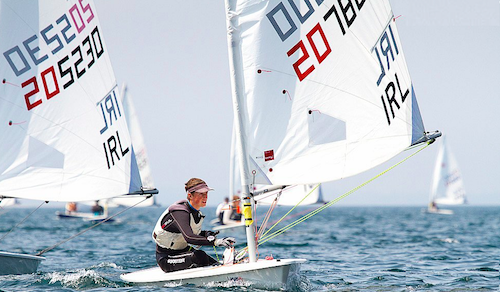 were celebrating a Sydney Hobart class win and an ISAF Youth Worlds Bronze medal, what a start! Throughout the year our sailors performed magnificently winning National Titles, Podiums, European and World titles across both dinghies and yachts inshore and offshore. Many of our members have been awarded Sailor of the Month by the ISA last year, meaning no less than five are on the shortlist for Sailor of the Year!
Along with the success of our racers what being a club is about is being a community. There have been massive contributions from members in volunteering their time and effort to help make the club a better place, run regattas and club racing and open up sailing to beginners. Not to mention charity work and bringing the joy of being on the water to people who may never otherwise have access to it. If you are unsure as to what has been achieved last year, then be sure to come along to brighten up your January so you can look forward to a year on the water ahead.
Many impressive challenges have been taken on throughout 2016 from racing campaigns to sailing around Ireland in a dinghy. Saturday will be a great time to celebrate it all. See your invitation here!
All the nominees...
Silver Fox:
Aoife English
Doug Elmes & Colin O'Sullivan
Euro Car Parks
Ewan McMahon
Harmony
Ireland's Eye Kilcullen
Neil Spain
Ross McDonald
Shane Diviney
Storm
Boat of the Year:
Bam
Checkmate/Euro Car Parks
Harmony
Ireland's Eye Kilcullen
Seaward Bell:
Aoife Hopkins
Doug Elmes & Colin O'Sullivan
Ewan McMahon
Harry Bell
Hugh Turvey
Cliona Murphy Memorial:
Boat for Hope event team
Gary Sargent
Noel Davidson
GM Award:
Aoife Hopkins
Shane McLoughlin
Shane O'Neill
Thomas O'Neill
Volunteer of the Year:
Charles Blandford
Harry Gallagher
Ian Byrne
Ian Malcolm
Riain Timon
Rupert Jeffares
Instructor of the Year:
Alex Shackleton
David Johnston
Hannah Blandford
Isabel Cahill
Isabelle Delamer
Jennie O'Connell
Orlagh Thompson
Richard Hogan
Robbie Dix
Registered in the Republic of Ireland. Registered No. 81187