Frostbites pause before the New Year's Day Race
19 December 2016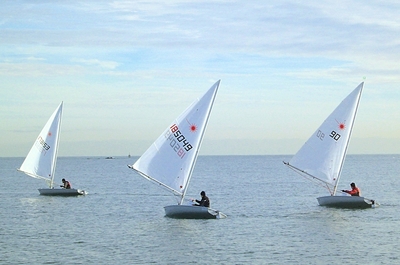 The final two races of the HYC Winter Frostbites and all 2016 racing in Howth were sailed in sunshine and crisp conditions with the wind from 230 degrees and ranging in strength from 2.5 to 5 knots. The fleets sailed two Olympic course races and, despite the strong Spring tides pushing them over the start line, there was only a single individual recall from the four starts. Race one was shortened after one lap of the triangle. In Race 2 the Radials and Full Rigs got a triangle and a sausage done before the shortened course signals and the 5 boat 4.7 fleet sailed their full scheduled course. In the conditions, concentration and the ability to keep the boat moving were critical to success while those relying on brute force effort and/or carrying some excess ballast found themselves trailing the leaders.
In the standard fleet, Daragh Kelleher won the first race and the second was won by Robert Eason, who again showed his light weather prowess. In the Radial fleet Aoife Hopkins won Race 1 followed Jamie McMahon and Daniel Hopkins guesting from the 4.7's. Jamie took line honours in the second race ahead of Aoife and Daniel Hopkins
In the 4.7 fleet Sam Crawford showed he is a master of light airs taking first in both races. In the first race he was followed by Eve McMahon and Dylan McEvoy. In the second race Sam had substantial lead ahead of the McEvoy brothers, Dylan and Rory, showing a good level of sibling rivalry.
For the overall series, 12 of the scheduled 14 races were sailed in generally light winds in unseasonal benign temperatures. The race committee did a brilliant job with quick turnarounds between races and good course's. All three fleets saw clear cut winners; Standard; Paul McMahon, Radial; Shane O'Brien, both Paul and Shane took a day off sailing this week to do the Christmas shopping. In the 4.7's Eve McMahon was the clear winner after some very consistent sailing. The top spots in each fleet were:
Standard
1st Paul McMahon
2nd Daragh Kelleher
3rd Stephen Quinn
Radial
1st Shane O'Brien
2nd Aoife Hopkins
3rd Jamie McMahon
4.7
1st Eve McMahon
2nd Sam Crawford
3rd Dylan McEvoy
Registered in the Republic of Ireland. Registered No. 81187