Full rig and 4.7 Laser Frostbites leaders look unassailable with one week to go
11 December 2016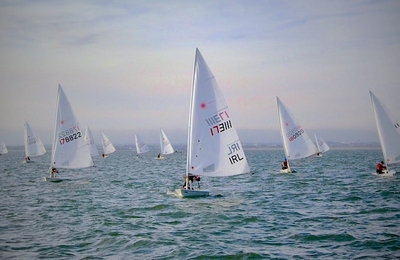 Spring arrived about three months early in Howth for the penultimate 'Winter' frostbite races. Temperatures of 10-12 degrees in bright sunshine with light south-westerly winds made for pleasant sailing conditions, the only missing ingredient was about another 10 knots of wind! The roaring ebb tide and shifty wind conditions meant that the lead in both races changed several times as the competitors fought for advantage. The race committee got both races away in rapid succession, the ebb tide helping to keep the fleet 'honest' and on the correct side of the start line.
In the Standard fleet, seventeen boats took to the water, a bit lower than usual, with the 'Christmas season' taking its toll. In the first race, competitors who headed right on the first beat gained advantage with the lee-bow tide and in a steady breeze. Paul McMahon took an early lead and ultimately won the race with Dan O'Connell, back in action again, taking second. Robert Eason revelled in the conditions taking third. In the second race those heading left on the first beat made massive gains with Troy Hopkins and Conor Costello leading at the weather mark. However, after three windward-leeward circuits Robert Eason showed his class to take take the bullet, less than half a boat length ahead of Dave Kirwan. Dave clearly showing no ill effects after his Saturday in Thomond Park. Dan O'Connell took third. So with 10 races sailed and two discards applied, Paul McMahon has a clear lead with 15 points followed by Daragh Kelleher, Stephen Quinn and Darrach Dineen on 32,34,37 points. There are two races left and another discard to come so some places at the top of the fleet can still change. In the Radials, Daniel Hopkins won both races with Shane O'Brien and Sophie Kinirons in the next two places. Overall, Shane is the clear leader on 12 points followed by Aoife Hopkins and Jamie McMahon.
Seven 4.7's took to the line for some very competitive racing. Sam Crawford taking line honours in both, Jack McMahon and Cliona Fitzpatrick took second and third slots in race 1. In the second race, Dylan McEvoy and Emma Gallagher took the other top spots.
Racing continues next Sunday for the final races before the Christmas break.
Registered in the Republic of Ireland. Registered No. 81187