Exciting start to Autumn League
21 September 2012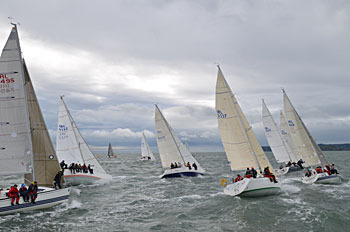 A fresh westerly wind provided the 114 entries to Howth Yacht Club's 2012 Autumn League with a lively start on the first of this 6-race series.
Nine classes in two separate fleets enjoyed perfect conditions with 15-20 knot conditions and race officers David Lovegrove and RIchard Kissane made the most of the opportunity that facilitated excellent 'round the cans' racing.
Pat Kelly's J109 'Storm' reveled in the conditions to take first place in Class 1 IRC, but had to share the honours for the ECHO prize with the Reilly-Chambers owned 'Crazy Horse' followed by Stephen O'Flaherty's Spirit 54 'Soufriere' and Ross McDonald and his team on 'Equinox', who will have been pleased to take 3rd place in IRC by a margin of 19 seconds after 2 hours of racing.
In Class 2 Patrick Kyne's 'Maximus' dominated both IRC and ECHO divisions and only 11 seconds separated 'Dux', 'Sunburn' and 'King One' in that sequence in IRC. Malahide Yacht Club's Vincent O'Shea and James O'Brien in Buskwakka proved that the weather was on their side with a 2nd place in ECHO.
Howth's Vince Gaffney in 'Alliance II' showed the other boats in Class 3 that he will be the one to watch over the next 5 weeks, beating 'Starlet' and 'Goyave' in IRC with more than 3 minutes to spare. Eddie Bourke and his team on 'Starlet' were 1st in the ECHO division, with Malahide's 'Goyave' and 'Tobago' keeping the pressure up immediately behind.
Paul Tully and his crew on Dun Laoghaire's 'White Lotus' must have had the Harris-Hughes owned 'Tiger' baring their teeth when they finished ahead of them in the White Sails Class 4 ECHO division by just 1 second. They will be strongly challenged in this series by NYC's Philip Dilworth and crew on 'Orna' who finished 3rd but took 1st prize in the IRC division and their record in recent Howth events means that they will certainly be the boat to beat in this class.
The Class 5 White Sails race was won by Peter and Declan McCabe's 'Arcturus', narrowly pushing 'Sandpiper' into second place in ECHO. Stephanie Ennis and Windsor Laudan's classic Club Shamrock 'Demelza' took the honours in IRC and will be a tough boat to beat in this class.
On the one-design racecourse, Simon Knowles and team on his Etchells 'Jabberwocky' just finished ahead of Mike Evans's 'Valkyrie', with only 16 seconds separating them.
Howth's Flor O'Driscoll in the J24 'Hard on Port' won a close race from Stefan Hyde and his team on RCYC's 'Nyah', closely followed by 'Crazy Horse' and 'Scandal'.
A very busy start line for the Puppeteer class saw two boats over the start line before the gun, but not Susan Sheridan's 'Ibis', which finished 1st ahead of 'Gold Dust' and 'Eclipse', with Susan and team also taking the Handicap prize.
In the Squib Class, Ronan MacDonnell's 'Fantome also did 'the double' winning both Scratch and Handicap divisions.
Turvey brothers Brian, Conor and crew in the Howth 17 'Isobel' took line honours from 'Pauline' while the winner on Handicap was Bryan and Harriette Lynch's 'Echo'.
Ten teams are competing for the Olympus Team Trophy and the standings after this first week show the Howth trio of 'Crazy Horse' (Class 1), 'Bite the Bullet' (Class 4) and 'Voyager' (Class 5) leading the field by 1
Registered in the Republic of Ireland. Registered No. 81187