Laser fleet enjoy lots of wind for Frostbites
27 November 2016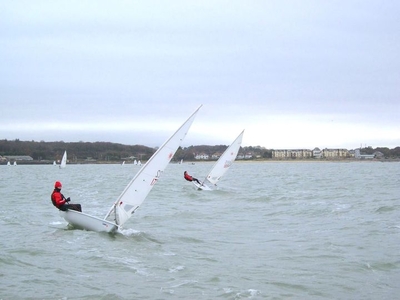 The weather proved ideal for Laser Frostbites sailing on the last Sunday of November; the 18 - 20 knot easterly wind combined with the ebb tide in the Sound delivered excellent conditions for the 30 boat fleet. The fresh wind in the sound was a pleasant surprise for those arriving in Howth as the Dublin Bay Buoy was giving 1 - 5 knots at 9 am! The race committee set two Olympic courses that delivered some great reaching angles and in the rolling seas there was exciting planning conditions. Two races were sailed but the second one was shortened at the windward mark a lap earlier than full schedule, allowing the fleet a short reach back to the Harbour and the warm showers, rather than racing another lap and having a kilometre up wind sail back to comfort! Daragh Kelleher, Aoife Hopkins and Eve McMahon showed they enjoyed the conditions with two wins each in the standard, radial and 4.7 fleets respectively.
Things did not go so smoothly for the start of the Standard/Radial starts; the well worn maxim "if you're not OCS once in a while your not trying hard enough" was taken literally by the whole fleet which needed three starts and a black flag to get the first race away. The 20 boat fleet was led by Daragh Kelleher with Darrach Dineen in second and Paul McMahon in third, despite a capsize in race one. For race two, Paul McMahon took second followed by Mike Evans. The racing was not without incident - Dan O'Connell broke his top section and Conor Costello beached his boat to fix his broken out-haul. Aoife Hopkins showed she can compete with most of the leading Standard sailors taking second place on the water in both races despite having a much smaller sail area in her Radial. Aoife led the way in the radial fleet, followed by Jamie McMahon was second in both races.
The 4.7 fleet had another good turnout with seven starters. Eve McMahon had a good outing with 2 clear wins, Jack McMahon followed in second and Sam Crawford third in race 1. Aoife Kilmartin swapped places with Sam Crawford in the second race to take third.
With three Sundays now to the end of the winter series, the Standard fleet is led by Paul McMahon with 13 points, Daragh Kelleher, Mike Evans and Darrach Dineen in places 2 to 4 have only 1 point between them (22/23 points). In the Radials Aoife Hopkins is in pole position while in the 4.7's Eve McMahon has a clear lead ahead of Sam Crawford and Jack McMahon.
Registered in the Republic of Ireland. Registered No. 81187