Freezing cold Frostbites inspire Paul McMahon to 2 wins
20 November 2016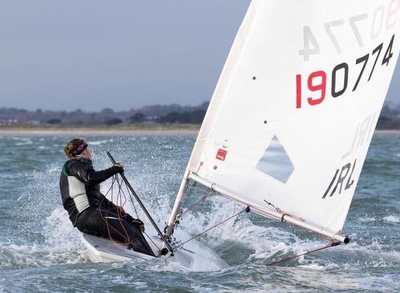 The weather turned decidedly chilly for the second weekend of races in the HYC Frostbite series; ice on the boat covers and freezing cold spars reminded the participants why the series is called 'Frostbites'. However, the clear blue sky and the bright sunshine with a 7-10 knot breeze blowing from the W-SW on the 'crisp' morning, did make for very competitive sailing conditions for the two races. Both races got clean away first time despite the flood tide in the Sound, the first race was sailed over an Olympic course, the second a windward/leeward.
In the Standard Rig fleet, Paul McMahon got away at the start of the first race to finish a clear first from Dan O'Connell (on his first outing this year) followed by Daragh Kelleher in third. For the second race the wind freshened and with the shorter WL course led to a more tightly bunched fleet and lots of places being swapped on both beats and runs. Darrach Dineen sailed a great first beat to lead around the weather mark, he was to hold his lead until the last leeward mark when Paul McMahon got ahead to take his second line honours for the morning. Stephen Quinn took third to ensure he remains in the top 3 overall after 4 races sailed. The Radial fleet had a modest turnout of four boats, but it was encouraging to see Carla Fagan making an appearance for the first time in quite a while! Shane O'Brien won both races in the radial fleet, in fact he competed very well with the lead section of the full rigs, despite his smaller sail area.
The 4.7s had a healthy turnout again this week and enjoyed 'braving' the cold morning. Eve McMahon led the fleet in both races ahead of Sam Crawford and Ben McDonald in race one. In the second race Ben took second with William Lacy (Jnr) taking third place.
Racing continues next Sunday at 10.45.
(Top photo credit: Gareth Craig - Fotosail)
Registered in the Republic of Ireland. Registered No. 81187