Big fleet enjoys first races of Laser Frostbite series
13 November 2016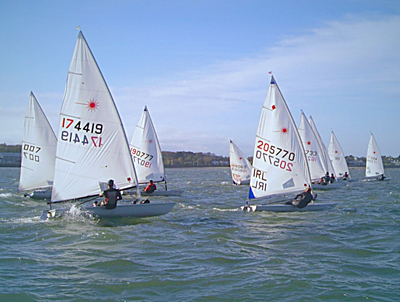 The Laser Frostbites got underway in pleasant conditions on Sunday after last week's races had to be cancelled due to high winds. With high water at 4.29 meters in Howth the resultant strong ebb tide played a major part in the outcome of the two races sailed. The wind was light, starting from a westerly direction, backing south westerly as the first race progressed. There was a good turnout with 36 boats in the three divisions competing on the water.
In the standard fleet, the first start led to a general recall with the fleet competing for room at the pin end. The second start got the fleet away with Stephen Quinn clearing the fleet on port to lead the fleet at the weather mark. The lead on the Olympic course alternated between Stephen, Daragh Sheridan and Daragh Kelleher for the next few legs but with Daragh Sheridan making the best use of the lee-bow tide on the second and third beats to take a commanding lead to the finish. His tactic of going right while the wind is going left was a courageous move that payed off handsomely. Second in the first race was Daragh Kelleher with Stephen Quinn third.
The race committee achieved a quick turnaround between the two races despite having to shift the weather mark. The second race was set as a windward/leeward course with a clean start at the first attempt. The run on the first round saw Daragh Sheridan move from fifth place to first by the leeward mark. Daragh extended his lead to get the bullet by a wide margin from Mike Evans and Stephen Quinn. It was notable that the new radial standard main sails were prominent in the leading boats this week!
The Radial fleet started with the full rig boats rather than the 4.7's in a break with the practice of recent years. Both races saw good racing for the six contestants with first and third places swapping between races; the first race was won by Ewan McMahon with Aoife Hopkins in second and Jamie McMahon third place. In the second race the McMahon brothers swapped places with Aoife maintaining her second place slot in the fleet.
The 4.7 fleet, which have a great entry this year, got off to a good start with their series. Ben McDonald won the first race followed by Dylan McEvoy and Sam Crawford in third. In the second race Dylan showed consistency in the conditions by repeating his second place behind Sam Crawford who took first.
Racing continues next week with first gun as usual at 10.45.
Registered in the Republic of Ireland. Registered No. 81187