Autumn League gets two races and back on track
15 October 2016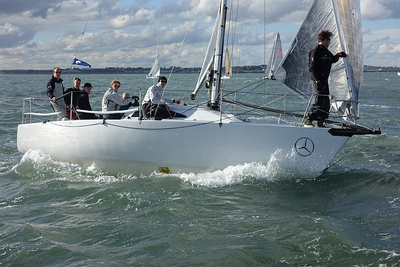 Following the cancellation of two days racing in mid-series due to adverse weather, this year's MSL Park Motors Mercedes-Benz Autumn League competitors enjoyed two races this Saturday, affording the competing teams a real opportunity to challenge the leaders in all 8 classes. Aided by an ever-increasing wind forecast, the race management teams chose to run two windward-leeward courses for both inshore and offshore fleets. Multiple windward-leeward race starts are always a risky undertaking, but the HYC teams used their considerable experience to manage two races for each fleet within the time limit.
Having now completed 4 races, a discard now applies and allows competitors to accumulate their best 3 results before including next Saturday's last race of the six week series. The limited time to complete this week's two races made for very close and exciting racing with short legs and very busy mark-roundings. Boat handling was crucial as only seconds separated many of the classes in each race.
It was business as usual on the 'Offshore' course, with Pat Kelly's Storm winning the first race but their DNC (Did Not Compete) in the second race leaves it all to play for in Class 1 IRC. It would appear that Stephen O'Flaherty's immaculate Spirit 54 Soufriere will certainly be a contender for the ECHO prize in that class next week.
A first and second place for Dave Cullen and his team on Checkmate guarantees that the Cullen/Biggs Half-Tonner will collect the Class 2 IRC trophy next week and meant that they could pack the boat into its winter storage a week earlier than anyone else. Second place will certainly go the last race, with two other Half-Tonners The Big Picture and King One along with Richard Colwell and Ronan Cobbe's Fusion all contending for the remaining spoils. A late-season run of form sees Darren Wright and Rick DeNeve's Kodachi 'neck-and-neck' with Dux and Harmony for next week's overall ECHO result.
The application of discards certainly condenses the leaderboard in Class 3, which presents itself as anyone's game with one day to go. Always prominent at the top of the Autumn League scoresheet, Vince Gaffney's Alliance II will race the two K25 teams on their J24s Johnny Bravo and Scandal as well as Kahera and Fulmar Fever for the top prize. The fact that a 4th place IRC prize will be presented means that Fulmar Fever is also likely to be jousting for the ECHO trophy with Jonathan Wormald's Formula 28 Starlet.
The Harris/ Hughes team on their Beneteau Tiger are being hunted down by Dermot Skehan's Toughnut in Class 4, with Harry Byrne's Alphida only 2 points behind. This class is notable for the pedigree of its 'senior' racers, proving that skill and determination are more than a match for youth and enthusiasm in our sport! The ECHO prize might go to either Howard McMullen's Splashdance or Kieran Jameson's Changeling in a result that might replicate the event statistics of many previous decades.
An impressive string of wins in Class 5 means that Windsor Lauden and Steffi Ennis's Shamrock 28 Demelza is already guaranteed the trophy while Declan Gray's Sapphire and Vincent Lundy's Cheyenne lead the class for the ECHO prize and the Denis Wickham Trophy.
Nothing separates Gold Dust and Harlequin in the Puppeteer Class and it's very unlikely that the chasing boats (Trick or Treat and Yellow Peril) will manage to make an impression on the leaders, whose impressive results show them tied on 4 points each after 4 races. However in the Handicap division, the bookies won't be taking any money on Frank Dillon's Flycatcher whose results suggest a remarkable improvement in form within the 17-boat fleet.
Never a class to sit quietly, the Howth Seventeens emerged from a protest that saw just 6 boats scored in a race 2 weeks ago, and consequently many must have been glad to be able to apply their discard following the races this weekend. Two wins by the Turveys' Isobel puts their team at the top of the leaderboard, just ahead of Peter Courtney's Oona and Michael and Jane Duffy's Hera is a further 3 points behind. An effective class handicapping system means that the improved performances of Silver Moon and Eileen affords them the opportunity to compete for the Alphida Cup next week.
One of the most remarkable successes of this year's Autumn League has been the popularity of the 'Taste of Racing', a formula devised by Fergus O'Kelly and utilising the four ISA Sailfleet J80s with a selection of experienced HYC keelboat racers offering a tutorial to keen and prospective racing sailors that are new to the sport. With four races under their belts the 22 competitors in the Taste of Racing Series are getting the hang of the J80's. The higher wind strengths of last week were a new challenge for some. While everyone is have fun and excitement (especially at the starts), there has been a much more determined approach in the last two races and with one race to go we might expect to see some serious game faces from the leaders. Leahanne McHenry leads the series by one point from Orla Blake with 2 points separating the next 8 competitors, potential photo finish! See all their results here
Four of the clubs new J80s are also being chartered by members and are competing in Class 2.
The race management team have confirmed that they will be running a single final race next week and remind competitors of the earlier first warning signal time of 13:00. There are still limited places available at the event dinner and bookings can be made by contacting the office at 01 8322141.
See photos taken by Conor Lindsay from this weekend's races in the gallery
Registered in the Republic of Ireland. Registered No. 81187