Team 'Ireland's Eye Kilcullen' graduate from the K25 Squad in style
18 September 2016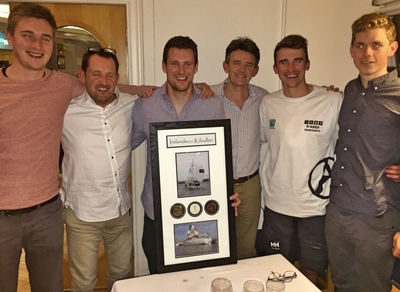 Following their unprecedented success over the past months and years, the Ireland's Eye Kilcullen team threw a typically 'understated' celebration in Howth Yacht Club on Saturday night. Many of this team were founder participants in the K25 (under 25) programme when it was initiated in 2009 and now see themselves not only as successful graduates, but they've also developed and set the standard at the very highest level for those youth sailors from Howth following behind them.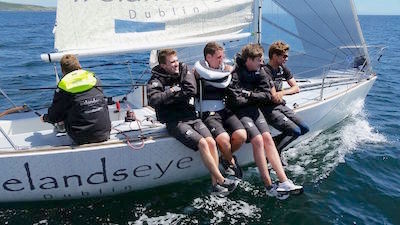 In an extraordinarily short few years to the end of August this year and in addition to their numerous regional titles, the Ireland's Eye Kilcullen team held J24 National titles, ICRA National title, Match Racing National title (with former team member Ryan Scott), twice J24 European Under 25 winners, European IRC silver medal and won J24 European Championship bronze recently. Their last spectacular accomplishment in retaining their J24 National title in Dun Laoghaire recently seemed to slip past most of the sailing press's notice, where they sailed a flawless national championship series to win the title with seven straight race wins.
Most of this team will now be stepping down to make way for the next aspiring group of teenage and youth sailors motivated to replicate their success. As the remainder of the team now reaches 25 years of age, the youngest team member (Cian Manley) is empowered with forming and bringing one of the next teams through.
So what happens in the lives of these guys next? It was always possible that the K25 initiative would seed opportunities for those wishing to join the professional sailing circuit and Luke Malcolm seems to have relished this prospect, as he's currently spending the remainder of this year doing many of the RYA accreditation modules in the south of England. In tactician and sport science graduate Gordon Stirling, the K25's loss is Ulster Rugby's gain, because 'Gordo' is now working with them as Strength and Conditioning Coach. Having been one of HYC's youngest Senior Instructors just a few short years ago, helmsman Cillian Dickson will now be applying his time to concentrate on studying for his Actuarial Science Degree. The final member of the 'retired' team is Sam O'Byrne, who's own 'DropChef' business with another former K25 member (Ryan Scott) will undoubtedly flourish under the Howthman's relentless energy.
Acknowledging the support given to the squad since it's inception, the guys were quick to thank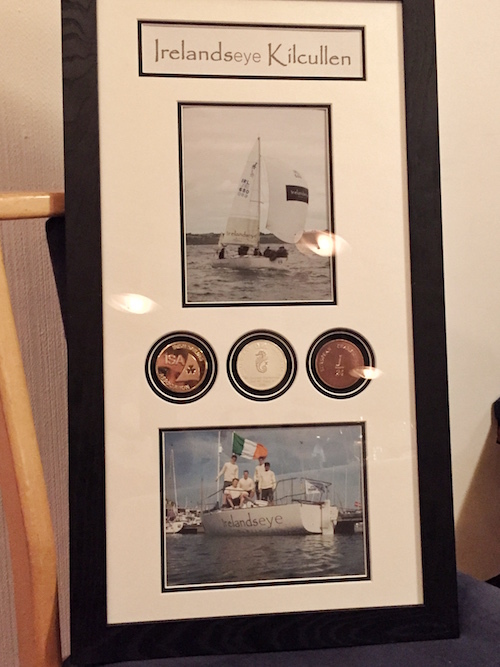 their sponsors including local knitware company 'Ireland's Eye' - presenting Brendan and Paul O'Sullivan with a specially framed photo set integrated with gold (ISA National J24 title), silver (IRC Europeans) and bronze (J24 European) medals. In addition to hosting dinner in the club for the sponsors, they invited K25 mentors Brian McDowell and Fergus O'Kelly and former HYC Commodore Brian Turvey, to thank them and the club for their support of this hugely successful youth initiative. The team was also quick to thank coach Graeme Grant and others such as Paddy Gregory and Ian Malcolm for their help with logistics.
Brian Turvey praised the team for the way in which they applied themselves and developed as an extraordinarily capable force not just in terms of race results but also as ambassadors for Howth Yacht Club.
With the provision of three J24 keelboats (by Enda O'Coineen and Brian McDowell) and access to the HYC's five new J80s, the K25 initiative continues to build and young sailors interested in developing their sailing skills in a team-focused environment with a view to high-performance achievement should contact training@hyc.ie for further information.
Top photo shows Cian, Gordon, Sam and Cillian presenting Brendan and Paul O'Sullivan of Ireland's Eye (2nd and 4th from left) with a framed momento from their highly successful year.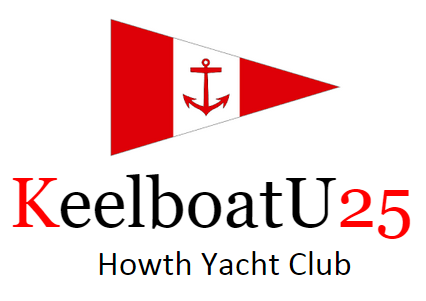 Registered in the Republic of Ireland. Registered No. 81187