HYC's Neil Spain & Shane Hughes win RS200 Nationals
05 September 2016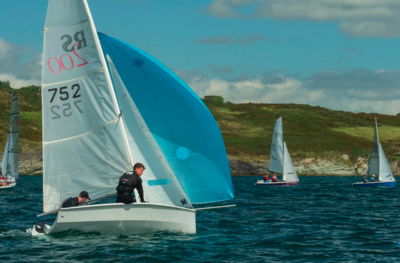 The RS200 and RS400 fleets travelled to Schull last weekend to battle for their National titles. Having won the RS Liffey Sprint event two weeks previously in Poolbeg Boat & Yacht Club with his wife and regular crew Maeve, HYC was represented by Neil Spain and stand in crew, Shane Hughes, in the RS200 sailing together for the first time in more years than they cared to remember.
(Top photo: RS200s racing off Schull in West Cork)
The event, kindly sponsored by Centra, saw 10 races completed for each class across two race courses with sailors experiencing the perfect mix of conditions. IRO Alan Crosbie & team took charge of the RS400 fleet South of Long Island and NRO David Harte & team took charge of the RS200 fleet outside Schull Harbour near Castle Island.
Friday: Glorious sunshine and light steady breezes ranging from 5 – 8 knots made for challenging but fair racing. The RS200's managed three races on Friday, Neil and Shane showed their intentions early and lead the ever consistent, and defending champions, Marty O'Leary and Rachel Williamson by one point overnight with a scoreline of 1, 2, 1. It seemed this was a sign of the weekend to come with the two boats continuing to blaze a trail on the rest of the fleet for the weekend. Jocelyn Hill and Katie Kane from Antrim had a great day and lay in 3rd place overnight.
The RS400's completed all four races, two of which were sailed outside Long Island in dying breeze and two of which brought sailors back inside the sound where the breeze was just about holding up. Reigning national champions Alex Barry & Richard Leonard appeared to have had a good day with a 1,1,3,4 only to have been OCS in race 1 which meant Bob Espey and Tiffany Brien took the overnight lead with a 5,3,1,3.
Super Saturday: An earlier start of 11am on Saturday allowed for four races to be completed by both fleets. Winds had increased considerably from Friday and sailors enjoyed the perfect RS conditions with a South Easterly wind blowing 15 – 20 knots all day. In the RS200's Neil and Shane took the spoils scoring an impressive four 1st places and showing they meant business. Marty & Rachel had a DNF in the first race but came back out to take three 2nd places. Past President Frank O'Rourke with local sailors Noah McCarthy were back on form with four 3rd places on the day but consistency on day one was rewarding Royal St. George pair Toby Fowler and Greg Arrowsmith who sat in 3rd place overnight. Special mention must go to the three boats from Cullaun Sailing Club who persevered on the day and particularly Aoife Cleary Ward and Niamh Edwards who were still smiling coming up the slip.
The new breeze meant for a change in faces at the top of the RS400 fleet. At the top of the fleet things weren't looking good for the leaders with Bob & Tiff scoring a DNF in race one having to return to shore with slot gasket issues and Alex & Richie broke a rudder before the race but just made the start having secured a replacement. Bob & Tiff were back out of the blocks and recovered to score a 1,4,4 with Alex & Richie under pressure after a 4,5 managing to close the day with a 1,1. This left Alex & Richie in the lead by a mere 2 points going into the last day. The day took its toll with sailors bruised and battered but still smiling and three boats on their side over night as their owners prayed that the replacement slot gaskets would dry overnight.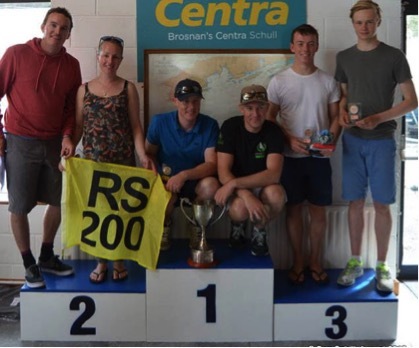 The RS200 Prizegiving
Sunday: Sailors were greeted outside by a giant Atlantic swell and very light and shifty conditions as the sea-breeze fought the thermal North Westerly. The RS200's needed three races to complete the card and with it all but sewn up, Neil and Shane had a scare in race 1 scoring a 3rd while Marty & Rach took the bullet. This, however, was enough to give the experienced pair the 2016 National Title with two races to spare and after taking another race win in the penultimate race decided to head home early and miss the last race to begin packing up for the long trip home. A convincing win for the boys left them with 9 points and Marty & Rachel went on to win the final race giving them the silver medal on 13 points. Toby Fowler and Greg's consistency continued as they scored a 2,5,2 on the day securing them the Bronze medal.
The RS400's had two final races on Sunday with all three medal positions up for grabs. With Alex and Richie scoring a 2nd over Bob and Tiff's 3rd in race one Paddy Power had the odds in the Cork boys favour. All they needed was for Bob and Tiff not to win the race or for them to score a fourth but having hunted each other down in two general recalled starts, the Northern team slipped away on the first beat and found the best breeze to lead by 'miles' at the top mark, a lead they carried safely all the way to the finish. Alex & Richie were left at the back of the fleet having fallen foul to the conditions and could only watch on as Bob Espey and Tiffany Brien crossed the line to secure the 2016 National Championships by one point, this being Bob's second time securing the trophy and first time winning the event outright. Alex and Richie did enough for second place and Emmet and James Ryan did enough to fight off the pressure from young guns Johnny Durcan and Grattan Roberts to take third place and the bronze ISA medal.
Brosnan's Centra in Schull kindly laid on a BBQ immediately after sailing each day which was very well received by sailors. All in all an excellent weekend was had by all, only made possible by David Harte and his massive team in the Fastnet Marine Outdoor Education Centre in Schull including RS400 OOD Alan Crosbie, the generous support from Centra, the people of Schull for providing camping facilities, good food and tasty pints.
Photos and video available here
Registered in the Republic of Ireland. Registered No. 81187