Howth boats score at Falmouth in Half Ton Cup
21 August 2016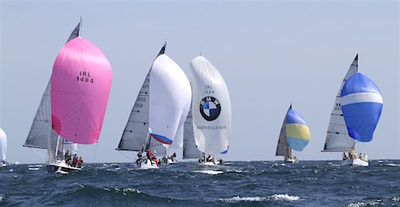 The 2016 Henri Lloyd Half Ton Cup was held in Falmouth, Cornwall on the 15th - 20th August. Four modified half-ton yachts travelled to Falmouth to compete in this years championship which was raced in varying wind strength and somewhat challenging sea state. This was a great representation for the Howth Half Tonners at an event with a high standard of racing with 20 yachts competing from UK, Belgium, France, and Spain.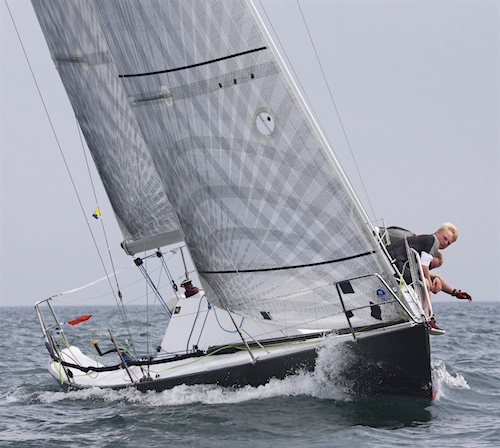 (Above: King One who's owners Kelly / Boardman carried out extensive modifications over the winter resulting in a great looking refurbished yacht. Nigel Young from North sails joined the team.)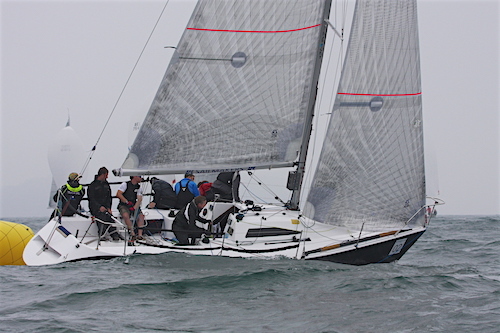 Harmony with owner Johnny Swan and a young team fresh from their victory in Cork week. Harmony had finished 5th in the 2015 Cup in Belgium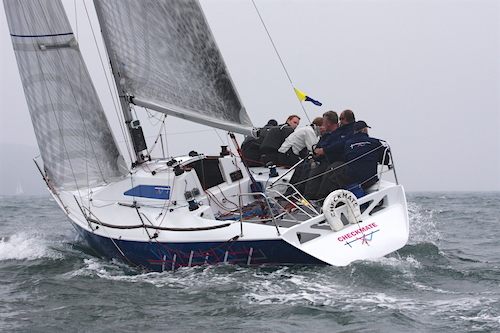 (Above: Checkmate with last year's champion David Cullen along with Mark Petiit and James Heinz)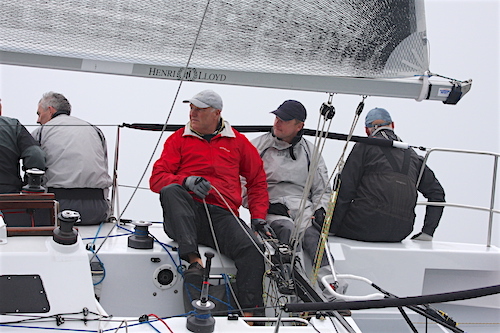 Michael Evans steering the Big Picture with Olympic helmsman Mark Mansfield on tactics
Racing for days one and two were held in very tricky conditions - 18k - 20 knots from the East leading to a tough sea to negotiate. The racing kicked off with a practice race followed by two windward leeward races on Monday 15th. Race one saw Checkmate and Harmony scoring 4th and 5th respectively and then Harmony notched up a 4th in Race two. The race committee then opted to run the 40 mile coastal race with a beat out to sea on Tuesday in similar conditions which provided exhilarating downwind conditions on the return journey and we were joined by several schools of Dolphins surfing across our bows. Johnny Swan's Harmony had the best result with an excellent 3rd in the offshore race.
On day 3, it was day of moderate breeze, but the Big Picture team made the most of the three races and scored 3 podium positions in a row (1st, 2nd and a 3rd).
Thursday, Day 4 start was delayed due to lack of wind and finally started in 8 knots of breeze and the sun came out. The Big Picture finished 1st in this race, King One and Harmony shared a joint 5th place and Checkmate 7th - great to see all the Howth boats in contention. Checkmate got 2nd in race 8. Race 9 which turned out to be our final race was won by Harmony, Big Picture was 4th and King One 5th.
We were due to do more racing on Friday but 30 knots of wind and copious amounts of rain lead to cancellation of racing. The Championship was won by the 2014 Cup winner Swuzzlebubble and the final HYC positions were
3rd Harmony - Johnny Swan
4th The Big Picture - Michael and Richard Evans
6th Checkmate - Dave Cullen
9th King One - Kelly / Boardman
Next year's event is being organised by David Cullen and will be hosted by Kinsale Yacht Club on 14th August where we expect to see a fleet of 25 yachts. No doubt the standard will have moved up yet another notch by next year. Well done to the Howth team.
(by Michael Evans)
Registered in the Republic of Ireland. Registered No. 81187