Howth boats make their presence felt at Half Ton Classic Cup
15 August 2016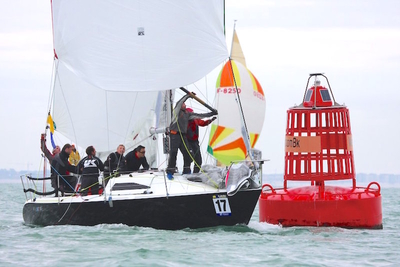 Four Howth boats are in Falmouth for the annual Half Ton Classic Cup which runs from August 14th to 18th with up to three races per day and also to include a day coastal race. The Henri Lloyd Half Ton Classics Cup 2016 got off to a spectacular start on Monday at Falmouth with big waves, a steady breeze, hot sun and two terrific races.
King One owned by David Kelly and Patrick Boardman returns to the HTCC after a two year gap but now with a total refurbishment will be quicker than before and it will be interesting to see the difference the modifications have made. King One first won the Half Ton Cup in 1981 helmed by Paul Elvstrom. Next up is Jonny Swan's Harmony which won the Half Ton Classic Cup in 2007 and is appearing at its third Cup under Jonny's ownership. Mike and Richie Evans The Big Picture has also undergone winter surgery and with Mark Mansfield as skipper, will be a force to be reckoned with. Dave Cullen returns with his Howth crew to defend his 2015 title on Checkmate XV. One thing is clear is that these modified boats are all real contenders.
The local fleet boasts no less than 8 half tonners with the top boats being Per Elisa, former Peter Morton's Swuzzlebubble which after day one is clearly the one to watch (2014 winner) and now in the hands of legendary Greg Peck and Miss Whiplash owned by organiser Paul Pullen. They lead after the first day with the Howth boats positioned 4th (Harmony), 6th (Checkmate), 9th (The Big Picture) and 11th (King One) well positioned after the first day.
Flushing Sailing Club is hosting the event and the boats are based in Pendennis Marina in the heart of Falmouth. You can follow the event on www.halftonclass.co.uk and our teams will post daily updates in Facebook.
The interest in this performance class continues to grow and should be of greater interest to potential Irish owners with the 2017 event being held in Kinsale in August.
Registered in the Republic of Ireland. Registered No. 81187