First day of Key Capital Private Spring Warners
31 March 2014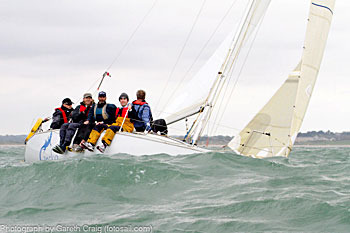 The Key Capital Spring Warmer Series started last Saturday with two fantastic races run by Richard Kissane and his team on the Free Enterprise. A big thanks to all on rescue and committee boat duty as it was a difficult day with several crew seasick as a result of the big rolling sea and people trying to find their sea legs so early in the season.
Class 2 (with seven entries) was topped in both races by the two Stephens - Quinn and O'Flaherty, who got off to a great start. They were followed by Maximus and Impetuous in second and third place.
In the J24s Emmet Dalton and Noel Davidson shared the spoils with a one and a two each. Also the fleet featured the HYC Youth team on Euro Car Parks Kilcullen who I am sure we will see moving up the ranks as they get to grips with their new steed. Starlet leads Class three after the first two races.
With 10 boats on the start line the SB20 had the largest fleet with some typically close racing. Davy Taylor from the North with current Helmsman's Champion and SB guru Ben Duncan on board stormed to two race wins. He was followed by Michael O'Connor in second and Ronan Downing in third.
We look forward to hopefully having a few more boats out next weekend. I would also like to advise the SB20 and J24 fleets that there will be only be craning available on Friday afternoon. There will be no crane on Saturday morning as it is fully booked.
Report for 29th March by Daragh Sheridan
Registered in the Republic of Ireland. Registered No. 81187