Consistency pays for 'Harlequin' at Puppeteer Nationals
31 July 2016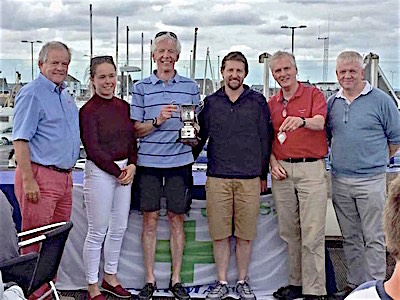 The Sutton Cross Pharmacy 2016 Puppeteer National Championships was won by Dave Clarke & Liam Egan and crew on "Harlequin" following 2 days of intense racing in Howth this weekend. They managed to beat 2014's winning boat - Colin and Kathy Kavanagh's "Blue Velvet" by the narrow margin of one point. The handicap prize went to Ciaran McAuliffe and crew on "Arcturus" who's two point win from second placed "Papagena" (Kieran Barker) earned them the silverware this year.
The six-race championships was always going to reward the most consistent results from the 14-boat fleet. A mix of light and patchy conditions on Saturday produced four different winners from the four starts, with some of the pre-race favourites well out of the reckoning prior to the Sunday starts. Mindful of forecast light conditions on Sunday, National Race Officer Harry Gallagher went for the option of a fourth race on the Saturday afternoon. Sunday's two races were sailed in light but steady breezes and produced some great tacking duels and very close finishes throughout the fleet. Racing was completed at 14.00 approx. and was followed by prize giving before the tea-time celebrations in the clubhouse.
Winning helm Liam Egan paid tribute to all aboard "Harlequin", congratulated them for their expertise and said that their contribution 'made all the difference.' He singled out the battle they had had with "Blue Velvet" and thanked them for their sportsmanship on the water. Celebrations continued long into the night……….
Top photo: Commodore Berchmans Gannon (left) and Puppeteer Class captain Kieran Barker (right) present the trophy to Liam Egan while Dave Clarke shows off his gold medals! See more photos from Monica and Conor Lindsay in the gallery here
Below: Ciaran McAuliffe is presented with the Puppeteer Nationals Handicap Trophy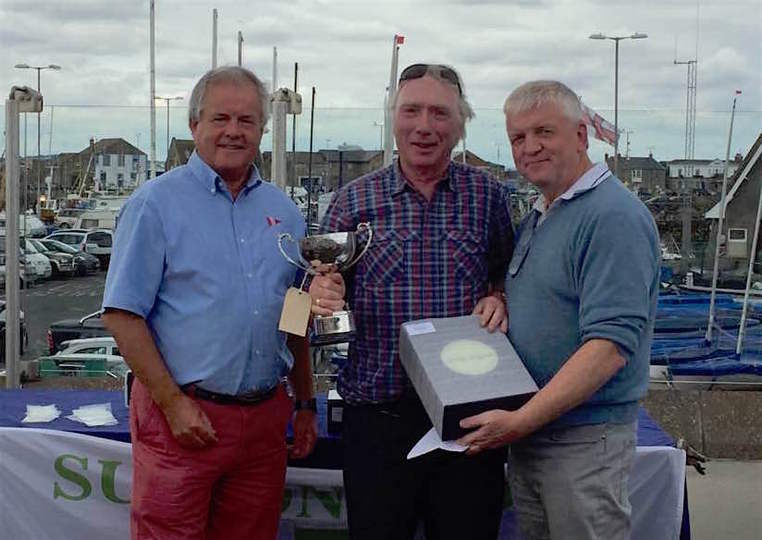 Registered in the Republic of Ireland. Registered No. 81187