Aqua Double Handed Race
24 July 2016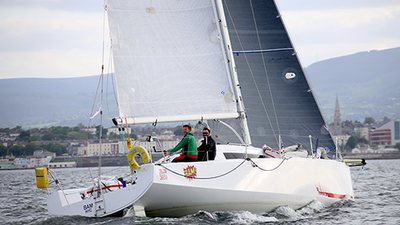 The third Aqua Double handed race is schedule for next Saturday morning July 30th. Racing will be organised for two classes - one for spinnaker and one for white sails and both will have separate early morning starts off the East Pier. Aqua Restaurant have kindly again sponsored the event (with thanks to Dave Murnane) and they will present the prizes in the Club bar after the race. Notice of Race and Sailing instructions are posted here so get your entries in and prepare for this popular annual shorthanded challenge race this Saturday.
Last year's winners in the Spinnaker Class were Stephen Quinn and David Cotter in 'Lambay Rules' while Mossy Shanahan and Pat McCaughey won the White Sails division in 'Splash Dance'. It is expected that there will be at least 25 boats entering this year.
Entry is only €25 per boat.
Registered in the Republic of Ireland. Registered No. 81187