A cruising report from 'DeDanann' in the Saronic Islands
19 July 2016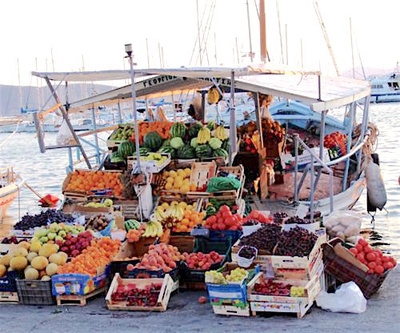 Tony Olin writes from the Saronic Islands in this month's report: 'We were enjoying the peaceful little port of Yerekas, the weather was good but Linda was heading back to Dublin to see the family and we had to be near Athens for the end of June, so we untied our lines and headed out to cross the Argolic gulf to Porto Cheli some thirty miles to the east, big winds were being forecast for the next couple of days and this would be a good port to shelter, we had a slow sail in light winds, out with the rod for to catch some of that tuna, with no luck as is the usual, as we entered the port in the late afternoon the wind was howling off the hillside, in these situations we usually go to anchor until sunset when the local winds die down, however, the big town quay, that was once built as a NATO base, had a few young marineros beckoning us to berth, so out with the anchor and fast into reverse back to the quay wall, I had set DeDanann up to be blown onto a large tripper boat as the wind blew us to port, it was almost perfect to within five meters when we ran out of chain, the full one hundred meters ran out, so back out again, to have another go with chain to spare. The young marineros of Romanian origin were on the ball, quick to take and return the lines to Linda, they know how to tie a bowline, they do this after school each day, then they come to you when berthed saying, captain, money, money, I gave them a tenner between three of them and a few cans of coke, they really do a great service and make a few bob for themselves to keep food on the table.
Porto Heli is a big natural port, well sheltered from the sea, but the afternoon winds are fierce for a couple of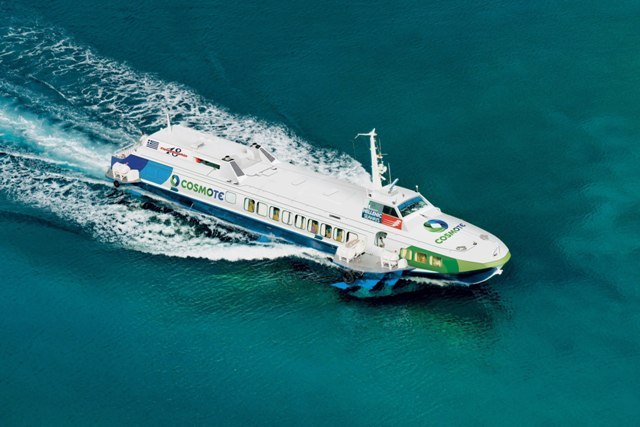 hours each afternoon, it's a typical Greek commercial centre, not many tourists about, it's a good place to provision the boat with lots of supermarkets and shops etc. We were moored close to the flying dolphin terminal, an old hydrofoil SeaCat, bought from the Russians donkeys years ago, it creates some swell when it arrives in the port. We took it to see the port and island of Spetses with some English cruisers that we know, a very nice place to visit, the port is quite small with very little room for visiting yachts, as it is full of tripper boats and water taxies. Plenty of tourists arriving here from as far as Pireaus near to Athens on the flying Dolphins, they are very regular and quite cheap to use, they look all battered up, but are surprisingly comfortable once aboard, they have to build up speed with very powerful engines to get up on the plane, they then lower the propellers two meters into the water and off she goes pluming out thick black smoke until she gets up to full speed, they are ideal for servicing the islands of the Aegean.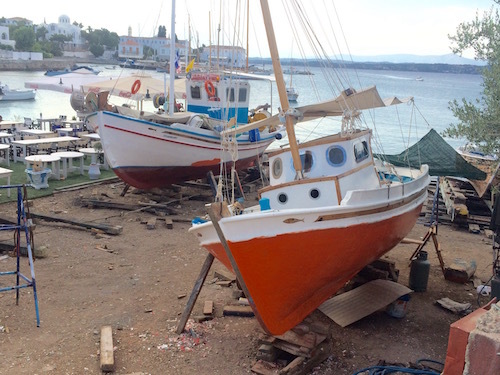 Spetses is a pretty little island, the town rises high above the pretty little port, some very nice tavernas, kept in the traditional Greek style, the tourist is well catered for here with lots of interesting high end boutiques, and not so much of the usual tit tat tourist shops that we have come across in the touristic ports, they have a wealthy clientele that arrive in huge motor boats from Pireaus each weekend, when the Greeks are rich, they are very rich, but they seem to be pleasant very ordinary families, they don't display the snobbery of certain other nations that cruise around the Mediterranean in similar boats, you would see the crew join the owners family for dinner in the evenings, it's hard to tell who is crew and who are the owners. When these Greek boats arrive in port, it's amazing how quickly local boats move to accommodate them.
The big winds blew out after a couple of days, it was time to set sail for the fishing village and port of Ermioni, we had a nice few days here taking it easy rambling about the village, our French friends Claude and Anna were here, Claude being a good fisherman who can live of the fruits of the sea, catching fish almost every day, I on the
other hand would starve for all the luck I am having catching fish. Claude took me to see Panos, a fisherman here in Ermioni, panos took my rod and fit a new reel, five hundred meters of good line, and a pair of cracking looking lures that he made up himself, he promised I'd catch fish with these trolling behind DeDanann, we'll see. Ermioni is a typical Greek fishing village, no tourists other than visiting yachts come here, good shelter and deep water in the port, water and electricity for free. The flying dolphin calls here also, so we took it to visit the really pretty port and island of Hydra, very much like Spetses with little room in the port for visiting yachts and too deep outside to go on anchor, lots of tourists coming and going all the time, there are many hostels in the town which are not so expensive for visitors on a tight budget to come and mix with the super rich on their huge motor boats. Leonard Cohen kept a house in the port and was a regular visitor here, We were introduced to a famous northern Irish painter by a Queens university professor from Dublin that we were having some drinks with in a port side cafe, they both spend time here in Hydra every summer, what a wonderful setting for painting and writing is Hydra.
We set off from Ermioni in a stiff north wind for the port of Poros, out with the new fishing tackle and within twenty minutes there was a fish putting up a fight, the rod was bent over hard as I went about reeling it in, after what seemed like endless reeling the fish broke free, the one that got away, and all that. The last hour or so saw us sailing hard on the wind, it being the evening the wind was blowing at over twenty five knots as we came into the shelter and somewhat tricky south entrance to the town and port of Poros, the water gets quite shallow around here, one has to keep close to the island for deep water as you enter.
Poros is a big port with a long town quay, it also has a huge well sheltered anchorage called navy bay, a busy port with lots of tavernas, nice walks along the shoreline, a little church and clock tower high up on a hill overlooking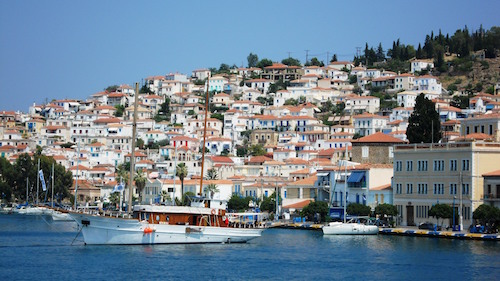 the port and across to Galaxdie on the mainland. We'd had really strong north winds for a couple of days, the town quay was packed to capacity with boats riding out the bad weather, one of our neighbours on a charter boat decided to head out one morning after breakfast, the wind was blowing at thirty knots, there was the skipper and two middle aged heavy set woman on board, I remember thinking he must be mad to be heading out in this, in anyway, he motors out pulling in his anchor, he allows the wind to blow him down wind right over my anchor, he keeps hauling in his anchor, ignoring my plea's to him to go back up wind before hauling it in, I run the engine at full tilt to keep us off the quay as I just know he is going to pull us up, several skippers are now on their decks roaring at him to go up wind as the two women wrestle with the tangled anchors, the boat is bucking up and down in the choppy sea, it gets worse, he leaves the helm to go give the women a hand and the boat takes off downwind over everyone's anchor, Madre Di Dio, the mess he gets himself into is unbelievable, he pulls out several anchors in the process, the town quay is now gone into a state of panic as boats go adrift all over the place, it's utter chaos, he eventually breaks free and just takes off leaving a pile of carnage behind him, they don't even look over in our direction as he sneaks off in a hail of verbal abuse delivered in several languages. It was 22.00 before the wind abated enough for any of us to go out to lift our anchors to reset them again, we had engines running all day long trying to keep off the quay.
A catamaran berthed beside us on charter to some Israeli people had one of their crew fall between the boat and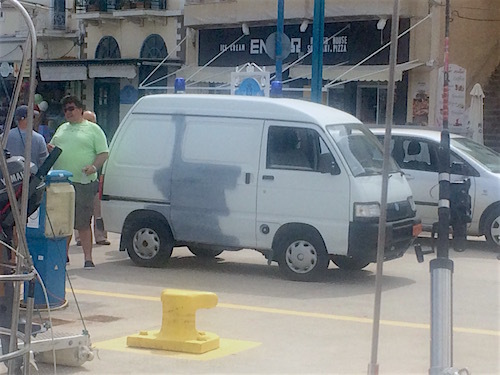 the quay during the chaos, dislocating his shoulder and bursting open his knee on the rough concrete, an ambulance was called for and had to come from the mainland by ferry, it was only a tiny little fiat van with a blue light, it didn't resemble anything like an ambulance as we know it, he was lifted onto a stretcher and placed on the floor of the van with barley enough room for him to keep his legs straight, off to the ferry port and away to the nearest hospital, he was brought back in the same ambulance no more than four hours later, shoulder set, leg all stitched up and a bottle of pain killers in hand. It turns out he was a medical consultant in a hospital in Israel, he told me when he saw the ambulance he thought it might be wiser to treat himself, he was pleasantly surprised at how efficient everything went when he arrived at the hospital, he was seen instantly, allowed to advise on the X-rays taken and appropriate treatment, he came back talking only praise about the care he received and it cost him only €12.
I had a similar experience in Ithaca myself last winter, I fell off the gangway and damaged my Achilles' tendon, I made my way some days later to the hospital in Lefkas, I was seen instantly, bandaged up and a prescription for anti inflammatory's, I remember thinking the hospital looked antiquated, but how efficient it all was at no cost to me, no answering repeat questions and filling out forms, just seen, dealt with and sent on my way within half an hour, in a country that is absolutely bust, why can we not do this back home ?
Aigina, lies close to the Athens coast, the time was getting near for Linda to be heading home to see the kiddies,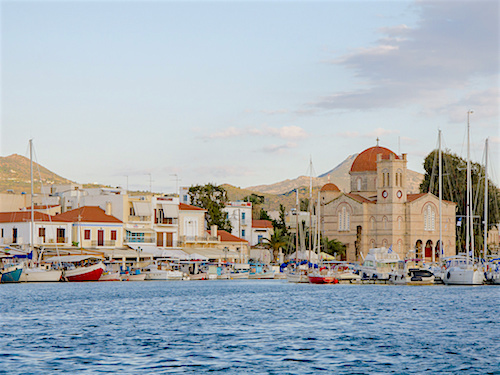 so we set sail in light winds and some motor sailing to the little port of Perdika some fifteen odd miles distant, Perdika is a pleasant little fishing village with a couple of local taverna's, it has only room for a half dozen yachts on the town quay as it gets shallow quickly and all the other space is taken up with the local small caiques, (fishing boats). We tried to set our anchor in the shallow waters of the port, three times we tried with no success, it was not dug in enough to sleep on if the wind picked up during the night, so after a cup of cha, off we set for the port of Aigina some four miles away to the north, the port was full to capacity as it was now late in the evening when we arrived, but we squeezed into a spot at the end of one of the pontoons for the night, it would be fine if the weather doesn't get up, early the next morning we moved onto the town quay as space became available.
Aigina is a very busy port with fishing, ferries and tripper boats coming and going all day long, but it is a well organised town quay with water and electricity on hand, plenty of good taverna's, good for shopping for everything, a nice fish market where they screw the foreigners as I was to later find out, there is a couple of fruit boats on the quay, we hadn't seen this before, there was a pleasant Greek woman working one of these boats, she was very fond of Alfie and would feed and water him every morning, happy scilaki ( happy dog) she would say every time we walked past, she would start work setting out her stall and taking deliveries from 07.00 and be still there tidying up at 23.00 every single day, she really was a great grafter, great selection of fruit and veg and cheap to booth.
Linda took the flying dolphin to Pireaus, for her journey home to Dublin, Alfie and I would rest up for a few days, taking life easy as it was extremely hot from 11.00 to 18.00 every day, we were up and out early each morning for a long walk along the coast, some swimming on the way back, stop off for natural orange juice and fresh filter coffee, listen to morning Ireland then back to tidy the boat, cook lunch, usually fish from the market were they try to charge people like me double of that to the locals, then siesta for a few hours, back out for more swimming and walking was the norm, then dinner in one of the port side taverna's, this is the life of Rielly.
One afternoon I decided to make some chicken soup from the left overs of last nights dinner on board, we rambled over to one of the taverna's for some ice cream, it was sweltering hot, in anyway, I saw a crowd gather around were DeDanann was moored, there was lots of smoke coming out of her hatch's, the hydraulic gangway was up and nobody could get on board, Madre Di Dio, were on fire I thought as we made our way back, I had clearly forgotten about the chicken soup on the cooker, I was convinced, as was everybody else, that we had an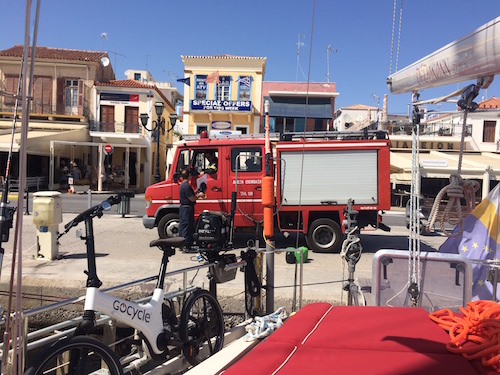 electrical fire on board, the smoke was just pluming out of every hatch, I could hear the sirens of the local fire brigade coming in the distance, so I just closed all hatches and port holes to smother the fire till the firemen arrived, two units of the brigade arrived including some volunteer firemen arriving on motor bikes etc, the port police arrived and the crowd got bigger and bigger to watch the great excitement unfold.
Two firemen donned their breathing apparatus and went below as the others stood waiting with hoses at the ready, a moment later I could hear great laughter as the fireman came back on deck with our pot of cremated chicken soup, it was only then that I realised what I had done, to great relieve I might add, well the craic was mighty among the firemen and police who were all on deck, the huge crowed that had gathered stood looking in wonder at what all the laughter was about, I just took the pot in hand, walked over to the gangway and announced " there will be no chicken soup tonight " to great laughter and applause. Before they left I had to raid my whiskey locker, I couldn't let them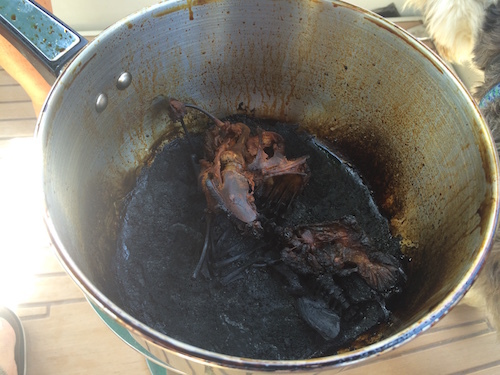 go without a drink to take back to the station with them.
Madre Di Dio, the smell of DeDanann was cruel, I had some Greek powder coffee on board, we use this at night to ward off the mosquitos, you put it onto an ashtray, put a flame to it, and it burns with a really strong aroma of coffee for hours, the Greeks do this all the time, I set up a few ashtrays around DeDanann, closed her up, turned on the aircon and any fans and let the coffee do its work, Alfie and I went walking, when we returned DeDanann was smelling like an Arab coffee house, a few gongy pipes, a few persian rugs and we could have opened for business.
Later in the week we will take ourselves off towards the Athens coast to enter the EVOA channel were we will explore the mainland coast and island of EVOA, the largest of the Greek islands and shelter in this area from the fierce meltimi northerly winds that blow at there worst during July and August in the Aegean Sea.
DeDanann Out.'
Registered in the Republic of Ireland. Registered No. 81187