Classic conditions for the 2016 Gibney Classic
09 July 2016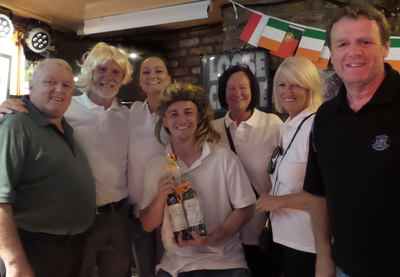 Strong winds only added to the enjoyment for all participating in this year's Gibney Classic on Saturday. One of the largest fleets in many years contested this always anticipated annual event, where the race itself is matched by the wonderful hospitality shown by Tony and Barry Gibney in their famous hostelry in Malahide, with a barbecue and drinks reception for the many exhilarated and weather-beaten sailors.
The race was run by Susan Cummins and her team on board the Sea Wych (with Derek Bothwell, Roy Glynn, Kevin Connolly, Susanne Cruise, Bob Orr and George Curley) in conditions that might be described as 'fresh' by some and 'challenging' for all. A consistent 20 knot south-westerly prevailed over the racecourse with gusts ready to flatten boats sailed by even the most experienced helms and trimmers. It was a day for fully-crewed keelboats, with lots of weight 'on the rail'.
After an hour's racing, the ever-competitive Class 2 saw the Bourke/McGirr/Ball owned X302 'Xebec' win on IRC and David Sargent and his team on his Elan 33 'Indulgence' win the ECHO prize. Class 3 was evenly competed by boats from Howth and Malahide with Vince Gaffney winning IRC on his 'Alliance II' and Brian McDowell winning ECHO on his J24 'Blue Jay'.
Fifteen boats entered the Non-Spinnaker class which certainly provided the majority of thirsty customers in the beer garden and sports bar after racing. Paddy Gregory and Don Breen's decision to enter their First 34.7 'Flashback' in the class proved a wise one and they took the IRC prize while Michael Fleming's 'Trinculo' took the ECHO honours.
The Howth 17s have made this event an important part of their calendar for the past few years and the strong winds didn't deter their determination to enjoy the day, with four boats sailing up the river into Malahide after racing and returning to Howth later in the evening (into a warm 30-knot southerly). First prize went to Turvey brothers Brian and Conor in their 17 'Isobel'. The handicap spoils were won by Bryan and Harriette Lynch in 'Echo'.
Hats off to MYC's Commodore Deidre Moore-Somers who organised the rescheduling of another event so that the MYC boats could take part. Their annual regatta follows in 2 weeks on the 23rd of July. Special thanks also to Maureen Muir who again did all the organising for the club and with the team at Gibneys.
See the full Gallery here with the prizes donated and presented by Tony & Barry Gibney
Registered in the Republic of Ireland. Registered No. 81187