Conor Fogarty competes in the 'Solo Fastnet' this Saturday
30 June 2016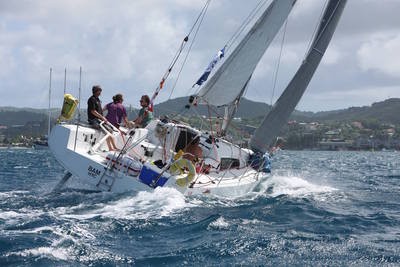 This Saturday July 2nd, HYC sailor Conor Fogarty joins the 45 other entries for the inaugural SORC Round the Rock Race. The Royal Western Yacht Club of England (RWYC) has certified this 'Solo Fastnet' as an official qualifier for the 2017 OSTAR race in May 2017. The category 2 race was designed by solo sailors for solo sailors who want to test their skills and endurance in an offshore race across the unpredictable North Atlantic Ocean, and is open to any IRC rated boat or class boats racing under their class rules.
Conor, who will celebrate his 45th birthday during the race, has done more than 300,000 nautical miles of offshore sailing, including 30 Transatlantic and 2 Round the World trips - one as skipper on Cardiff for the Clipper Round the World Race in 2005/06. New to short handed sailing on his Jeanneau Sun Fast 3600 'Bam', he won the 2-handed ISORA series in 2015 and was 6th overall. Many of you will also have read of his offshore racing exploits this year including winning IRC Class 3 in the Caribbean 600, earning him the 'Afloat Sailor of the Month' in February and also finished 3rd in Class 3 in the recent Round Ireland Race.
His practice by taking 'Bam' single-handed from St Martin to the Azores earlier this summer is part of his calculated regime to prepare for this event. Conor reported 'I'm keen to progress in the single handed sailing, and see this event as a great opportunity to race against far more experienced single handed sailors, and perhaps nip at their heels!' It's no secret that Conor also has eyes on the 2017 OSTAR Race. The OSTAR (The Original Single-handed Transatlantic Race) founded by Cockleshell hero Blondie Hasler in 1960 and run every four years since and the 'TWOSTAR', first held in 1981, will both start from Plymouth heading for Newport, Rhode Island on 29th May 2017.
Saturday's inaugural SORC Round the Rock Race is a Category 2 (ISAF) race and designed by solo sailors for solo sailors. It's heralded as being 'for Corinthian sailors who want to test their skills and endurance in a substantial offshore race - a race that only requires a week's holidays to complete but still offers the excitement and challenge of nights at sea combined with the unpredictable nature of North Atlantic weather'.
The Notice of Race specifies the experience required to participate as: 'The skipper is required to have substantial offshore short handed sailing experience including solo nights offshore. The race is challenging especially for a solo skipper, requiring well developed navigation skills, practiced boat handling in both strong and light conditions and familiarity with managing the effects of fatigue and limited sleep. If you are in any doubt regarding your experience you are encouraged to contact the RC for guidance.
Rob Craigie, Race Director of the SORC Round the Rock Race, said: "The Round the Rock Race enabled us to establish a long distance UK-based iconic solo race which would be both tactically and strategically demanding for sailors, but could be completed in a week. There is also a strong social element to the event, and we look forward to reaching Plymouth and berthing in the heart of the city in Sutton Harbour before celebrating at the race party."
You can follow Conor and the race at the event website and via the Yellowbrick Tracker - www.solofastnet.co.uk
Registered in the Republic of Ireland. Registered No. 81187