Round Ireland on Euro Car Parks
29 June 2016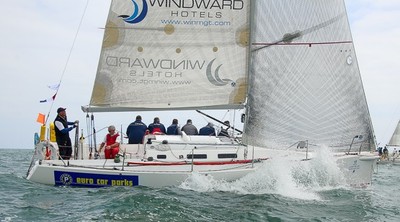 Dave Cullen describes how his J109 Euro Car Parks entry was the only Irish class winner of this month's Volvo Round Ireland Race: With the big Five-O approaching, I felt it was time to revisit a challenge that I hadn't participated in for 18–years so decided to participate in this year's Volvo Round Ireland Race. Perhaps my close interest in following the Volvo Ocean Race was part of the inspiration or perhaps the start of a mid-life crisis, but regardless of why it was time to put the best campaign affordable together.
As my own half tonner Checkmate was too small (even though I did one previously in a half tonner), it was time to look at the charter route. Given Rambler 88 was a certainty to steal the monohull line honours prize, I decided early on that the goal should be a class win on IRC. Inspection of the previous two races results showed a narrow defeat of a J109 in the last race so this seemed to be a good option. At that time, there were no JPKs entered so this looked like a realistic proposition and I didn't have to look much further than my own Howth Yacht Club to find Storm which is one of Ireland's leading J109s.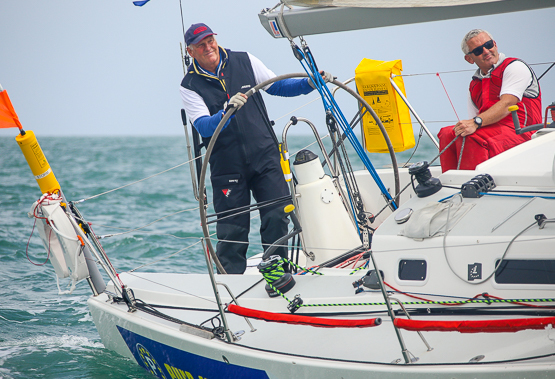 With a deal done, then it was time to assemble a crew. With a core crew from Checkmate to include Aidan Beggan, John Murphy, Gary Cullen, Eddie Bourke and Franz Rothschild, I needed some J109 expertise to bolster the crew. I regard one of my better moves as recruiting Mark Mansfield and Maurice "Prof" O'Connell to bring along their significant J109 boat speed experience which paid off handsomely. Prof had just come from a class win in ICRA Nationals class zero aboard Jump Juice. Mark had, for the second year, just won ICRA class one aboard J109 Joker II. Both were obviously in good form and both had vast experience of setting up and sailing J109's quickly. Added to that both were well known drivers. In offshore racing, drivers and trimmers with a good navigational plan is what makes the difference.
Crew complete, it was now time to start the crew and boat preparations. Not realising the safety requirements for the race, several of the crew were quickly enlisted in First Aid, VHF and Sea Safety courses. These were all very enjoyable and valuable and in retrospect, I am sorry I did not complete these years ago. I cannot recommend these courses enough even if you are not going offshore as surprising how little we actually knew despite the huge miles we had all logged.
We then moved on to the boat preparations. As Storm was an inshore boat it didn't have a Code Zero which I ordered from Norths so we had a complete suite of sails (along with a bit of borrowing). Next was to organise the financials. I had an original budget of €20k but this ended up closer to €35k so I was glad of the support of Euro Car Parks and Windward Hotels to supplement the costs. The boat was rechristened Euro Car Parks for the race.
With an average age of 48, we weren't taking any short cuts on safety so I installed all new safety equipment, harnesses, EPIRB, flares etc for peace of mind. Ocean Safety also assisted in this aspect.
We then spent two weeks getting the boat ready for sea. As the J109 is not really an offshore boat, we devised ingenius additional bunks and sleeping arrangements whilst replacing many of the high load bearing systems and adding a bobstay to the pole. We completely underestimated the time required for preparing the boat and several midnight work parties meant we started the race tired which is a lesson for next time. AIS and wifi was added so we could run Expedition on the laptop and also comms were improved to enable data to get forecasts, grib files, etc. Food was our next thought and Franz took on the role of provisioner and chef. Decision was to go the pressure cooker route with frozen meals and nobody could fault his food choices.
Our IRC Championships the week before the race left us with little boat practice but six of the crew started as IRC Champions from various boats so the pedigree was good. Before the race, Paul O'Higgins purchased a JPK1080 Rockabill VI which was favourite for our class but there were several other boats including some experienced J109s so we weren't sure where we would end up but podium was a definite goal.
The forecast the day before the race indicated a light start, reach up the West coast and light finish; all ideal for a J109 and lulling us into a false sense of comfort. What arrived was quite at odds with that forecast.
The morning of the race had c10–knots south westerly which was great for our start, had I not put us over the line at the gun! We had the walk of shame back to the line to restart but at least we got some press coverage, albeit for the wrong reason. Rambler 88 and the MOD 70s disappeared in the blink of an eye and we were left trying to play catch up with our fleet. It didn't take us too long to get back into contention but we ended up in an Easterly position when approaching Tuskar Rock which definitely was not the favoured side. That said, although behind, we were back in contention. Our food plans meant the use of spoons and bowls for the race so you can imagine the look on our faces when all the spoons went overboard when emptying a bucket! One teaspoon fed the crew for the rest of the race supplemented by the clever use of Doritos.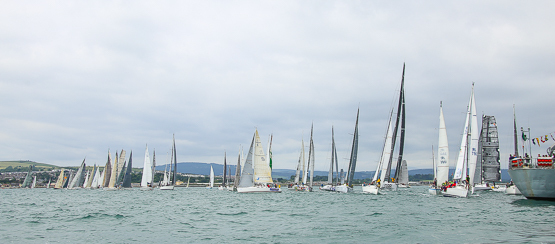 As the night drew in, it was clear that we were in for a windy beat along the south coast so we agreed as a crew to push it! All of the crew spent the next 24 hours on the rail in truly miserable conditions of pelting rain and c.30knots of breeze with big seas. We pushed on with full main and a J2 whilst similar boats carried a lot less sail and at the end of the ordeal, we were in contention for first place in Class. Food was cancelled and a staple diet of jelly beans and water kept us going.
Whilst the Round Ireland is renowned for the scenery, our roundings of Fastnet, Skelligs and Blaskets were fairly miserable in grey, windy and wet conditions. As we rounded Mizen Head, so did the wind to stay on the nose until we got to Kerry when finally the breeze went abeam and the rain stopped.
A fast beam reach up the west coast was most welcome but also suited Rockabill VI even better, who by Donegal had over an hour advantage on handicap. Proper food reappeared to warm our spirits. At this point the boat, all of our gear and all of the crew were saturated so a run along the top gave us the opportunity to dry the boat thoroughly and catch up on some rest. Inspired by some loud U2 and Seal, morale improved where we saw ourselves making handicap gains into Rockabill VI and a favourable Northern passage put us ahead by the infamous Rathlin. For a change we made the tidal change at slack tide and with some breeze started the long push south in a light southerly breeze.
Again it was rail time for the beat down the Irish Sea which was in moderate breeze and dry so no real complaints. We now had Rockabill VI in our sights approaching Rockabill Lighthouse but a dying breeze made for a very difficult night where we were both becalmed several times. Although tempted to drop the hook, we persevered to approach Dublin Bay at one knot still on the coat tails of the JPK. The Yellow Brick tracker was nearly worn out with our constant tracking and we started to understand the AIS debate on the Volvo Ocean Race.
Approaching Greystones and Wicklow and the infamously calm Six Mile Point, we eeked forward in an increasingly foul tide just long enough to get inshore behind Rockabill VI and about two hours behind them. This was in fact how we finished and with them owing us over 3½ hours, the Class win was ours. Clearly the race was a big boat affair. the smaller boats including ourselves were virtually on the wind for the whole race, bar from the Skelligs to Rathlin, thats two thirds of the course. The larger boats were able to lay all the way along the west cost without a tack. In the end the breeze also died allowing the larger boats to claim all the podium positions. Some years it is a small boat race, some a big boat race. This year it was for the big ones. Whilst we were never in contention for overall on IRC which was won by Rambler 88, we had been up to third overall but the lighter conditions at the end finished us in a credible fifth overall.
The famous Wicklow Welcome could not have come quick enough after 118 hours and 55 minutes at sea and it wasn't long before various members of our crew were found asleep in showers, toilets, etc with a beer in their hands! On reflection, we got several of the decisions right and the choice of boat and crew being the key ones leading to a harmonious and fun trip despite the misery. We even got a chance to revisit "offshore" stories of old that cannot be put to print so we ticked all the boxes.
I have two years to decide whether to do it again but I am tempted to go again in a 109 but next time it will be 109 feet!
The next big event for us is to try and retain the Half ton Cup trophy which we won last year. Most of the crew now switch their attentions back to Checkmate for the event in Falmouth in August. Mark, however joins our clubmate Mike Evans on Big Picture for the same event so it will be interesting to see what each of us has picked up from each other over the five days of Round Ireland. Two other well tickled up Half Tonners from Howth, Harmony and King one, will Join us at that event to bring the Irish representation to four boats.
Written by Dave Cullen
(Content and photos reproduced with kind permission from Afloat.ie)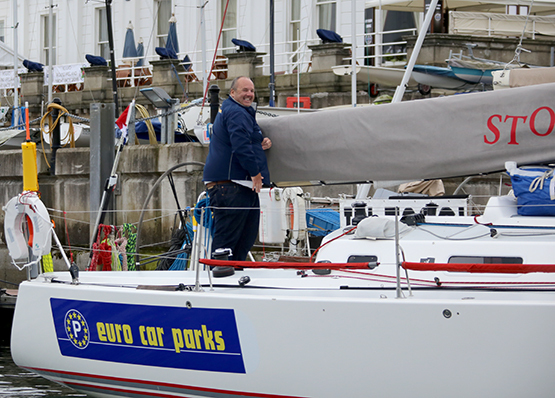 Registered in the Republic of Ireland. Registered No. 81187