Howth entries for Round Ireland
14 June 2016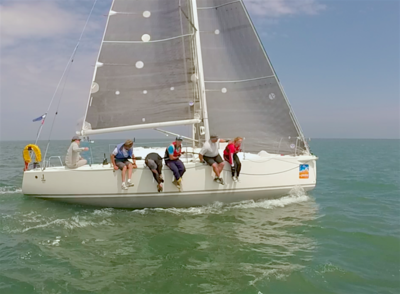 This year's Round Ireland Yacht Race takes place this Saturday and has a record entry of 64 boats, surpassing the previous largest entry in 1990 of 61 entries. Howth Yacht Club members have four boats entered amongst the fleet of what will be an awesome array of talent and hardware. Dave Cullen's charter of Euro Car Parks (more familiarly known as Pat Kelly's J109 Storm) sees an eclectic team of offshore experience and the welcome return of people like Aidan Keating and others to what must now be considered to be a revival of offshore racing in Ireland with much praise going to people like Peter Ryan and Stephen Tudor who have reignited interest and competition in recent years.
Also entered is Stephen Quinn's competitive J97 Lambay Rules, with a team that has already declared that they are not just there to make up the numbers. Stephen and his team are great ambassadors for this type of racing, having competed recently in the Scottish Series and travelling to Pwllheli last year to bring home the Welsh IRC2 Championship trophy. Applegreen Sail for Kids is a Beneteau First 37.5 entered by HYC's Stephen Mullaney and 10 staff members have volunteered to take part with rigorous training every week in the run up to the prestigious and exciting Round Ireland Yacht Race. These volunteers will be raising much needed funds for charity partners, Barnardos, DEBRA Ireland and ISPCC Childline. Staff in Applegreen stores have been very enthusiastic and are holding collections in store in the for the crew in the lead up to the race.
HYC's 4th entry is Conor Fogarty's Sunfast 3600 Bam and Conor will be hoping to continue his offshore exploits following his taking Bam across the Atlantic and back in the past 8 months and helping to build on his own ambitions in respect of short/ singlehanded offshore racing. However, Conor has taken the prudent step to sail this event fully crewed and is likely to be taking the event very seriously - freeze dried food included!
Other Howth interests, crews and links will be scattered throughout the very competitive fleet, including on board the J109s entered by Poolbeg Commodore Roger Smith in Wakey Wakey and Barry Lyons' Dear Prudence.
We wish everyone a safe and successful 2016 Round Ireland!
(Top photo: Stephen Quinn's Lambay Rules competing at last weekend's ICRA Nationals)
You can follow the race at the Volvo Round Ireland website here
Registered in the Republic of Ireland. Registered No. 81187