Eight ICRA champions emerge over the weekend
12 June 2016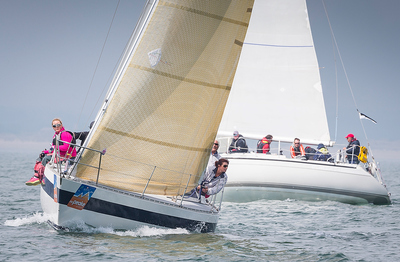 Eight sailing titles were decided over the weekend at the annual Irish Cruiser Racing Association national championships held at Howth Yacht Club where 85 boats from around the country gathered for a three-day series. Only John Maybury's J109 Joker 2 from the Royal Irish YC retained a 2015 title with a comprehensive victory in Division 1, the largest class with 21 entries.
Although J109's took first to third in the class, top six places including two wins on Saturday sealed the victory for Maybury on Sunday as light airs failed to develop into sailable conditions. Pat Kelly's Storm from Rush Sailing Club took second though will see Mark Mansfield, Joker 2's tactician on board next weekend for the Volvo Round Ireland Race along with winning sailors from other classes at the ICRA championships.
Storm will be competing in the 704-mile race next Saturday under David Cullen who became the Class 2 national champion on his half-tonner Checkmate XV. His class did get a single race in yesterday and a second place was enough to send him home early with the championship secured.
Conor Phelan's Jump Juice from the Royal Cork YC took the Division 0 title after Jay Colville's Licks from East Down YC came to one point behind but needed a final race win to deny the outcome. Phelan's tactician Maurice "Prof" O'Connell will also be racing around Ireland on Storm next week.
Quarter-tonners dominated the Division 3 top places with Ken Lawless and Sybil McCormacks' Cartoon from the Royal Irish YC edging out clubmates Barry Cunningham and Jonathan Skerritt on Quest in a single race final day that allowed the event discard to come into force. In the Progressive ECHO stakes, for the first time taking national championship standing in 2016, Maybury and Cullen also added these titles to their haul for the weekend. In Division 0, Jonathan Anderson and Murray Findlay on Scottish entry Roxstar won while Phelan was second. Paul Colton on Cri Cri from the Royal Irish YC won the Division 3 title.
"We're delighted to see Progressive ECHO getting the support it truly deserves with equal standing to the IRC Rating System," commented Simon McGibney, ICRA Commodore. "Looking at this weekend's results it has achieved its objective to reward sailors with a dual handicap system, one of which is based on their performance.
"When the results are closely examined it is clear that the handicap adjustments from race to race resulted in a narrowing of the points gap from the leading boat down the fleet leaving it all to play for right up to the last race of the event."
McGibney's comments were echoed by Howth competitor Dave Sargent, skipper of Indulgence. "We started on 0.952 handicap and quickly progressed to 1.011 in just four races, he said. "We're very happy. As mechanical process, it (the progressive handicap system) did seem to react pretty quickly."
Progressive ECHO saw Vincent Farrell's First 40.7 Tsunami win the 13-boat Non-Spinnaker Division A in the Corinthian Cup with the top five boats just three points apart.
And in the second Non-Spinnaker division, it was a similar story where Windsor Lauden and Steffi Ennis on their venerable Club Shamrock Demelza from Howth Yacht Club with a point to spare.
Registered in the Republic of Ireland. Registered No. 81187