Light-air strategies to dominate ICRA Nationals
09 June 2016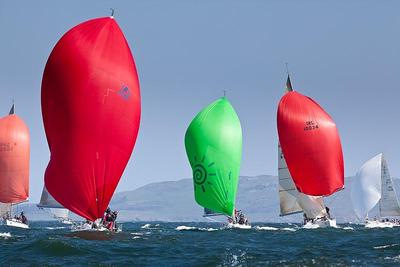 In complete contrast to last year's event in Kinsale, the 2016 ICRA National Championships and Corinthian Cup in Howth will be contested in the forecasted light winds that have dominated Ireland's weather over the past 2 weeks. The McPeake Auctioneers sponsored championships are likely to stretch the concentration of the 80+ crews entered in the event, a large proportion of which come from Dublin and the surrounding areas. Event PRO and ISA President David Lovegrove will be working hard with his race management teams to ensure that the competitors get every opportunity to enjoy their racing this weekend.
It's likely that the lighter boats will feature prominently this weekend and in a further boost to today's first race, the fleet has risen from 73 to 86 boats in six classes over the past week. While over 24 clubs from all four coasts (as well as Welsh and Scottish entries) are represented, two thirds of the fleet are Dublin based. The biggest participant club is HYC, making up just over a third of the fleet or 35 boats. Not surprisingly, Dun Laoghaire boats make up the next biggest contingent with approximately another third, or 31 boats, coming from the four waterfront clubs; the Royal Irish Yacht Club is sending 17 boats, the National Yacht Club seven, Royal St. George four and DMYC (who stage their own regatta tomorrow) three.
Somewhat disappointingly, there are only six south coast travellers; Royal Cork Yacht Club and Waterford Harbour SC sent two boats each. Kinsale YC (last year's hosts) and Cove Sailing Club each sent a single entry.
The regatta continues throughout the weekend and it will be class zero where some of the hottest racing will be seen today. The championships is the first major outing for Paul O'Higgins on his 36–footer Rockabill VI, a brand new JPK1080 design. The class one fleet also includes the J/109 defending champion Joker II skippered by John Maybury as well as a selection of other J109s such as Afloat's Irish Sailor of the Year Liam Shanahan and 2016 newbie Tim Goodbody who has joined the J ranks from the Sigma 33 class. John and Brian Hall's Something Else from the National YC, winners of last month's Scottish Series class two are also in the 19–boat Class one.
The McPeake ICRA Championships and Corinthian Cup look set to be sailed in light winds, for the first day at least, with the possibility of somewhat stronger conditions tomorrow. The weekend's schedule for the event is as follows:
Friday
0800 to 1100 - Breakfast Available in Dining Room
Post sailing BBQ on balcony
1800 approx – Daily prizes
1830 to 2100 – Caribbean themed evening
Saturday
0800 to 1000 - Breakfast Available in Dining Room
Post sailing BBQ on balcony
1800 approx – Daily prizes
2000 to late- Championship dinner and band 'Loose Change'
Sunday
0800 to 1000 - Breakfast Available in Dining Room
Post sailing BBQ on balcony
1630 approx – Prize Giving
Registered in the Republic of Ireland. Registered No. 81187