'Bite the Bullet' wins the 2016 Lambay Lady
05 June 2016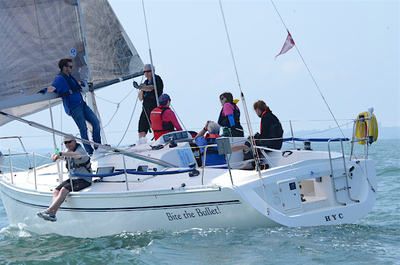 As was the case in 2014, Colm Bermingham's 'Bite the Bullet' strode home with this year's Lambay Lady with an incredible one hour and six minute lead over next placed Spellbound in the White Sail Class IRC4. The trophy is awarded to the boat that wins on scratch or IRC by the largest margin. The event was postponed last year and there was a steely determination written across the faces of PRO David Lovegrove and ARO Richard Kissane when they were faced with the possibility of not having enough wind to get the 100+ boats around Lambay Island. However all of the courses were set for the northward circumnavigation, allowing options for shortening if the wind slackened.
Thankfully and just as the Howth Seventeens were starting off the East Pier, a sea breeze kicked in and there was just enough to get everyone off without too much postponing and looking for wind.
The three fleets plugged a strong south flowing tide, those who stayed in by the various beaches of North County Dublin seem to have fared better out of the tide. Kites were popped behind the Island and the tide was under the boats for the homeward leg.
As is now nearly a tradition, Neville Maguire and the crew of "Too Much" stood by on the far side of the Island. (The average age on the boat was an extraordinary 91! Well done and many thanks to the HYC veterans Neville Maguire, Jack Wolfe, Sean Flood and Gerry Sargent.
Howth Yacht Club's historic regatta was once again sponsored by Davy Private Clients and their own Graham Cawley was present at the prize giving along with Commodore Berchmans Gannon and Brian Turvey as MC. In an unusual twist for a sponsor, Graham was able to present himself with a prize as he was sailing with Declan Gray on Sapphire. After the disappointment of not having our day in the sun last year, it was wonderful to see competitors and friends basking in the sunshine after racing on Saturday last. Live music was performed by the brilliant Tropical Storm followed by our own DJ, David O'Shea.
See full results here: RESULTS and an array of photos from the day including John Deane's prizegiving pics and Monica Lindsay's great on-the-water photos can be seen by clicking the photo below: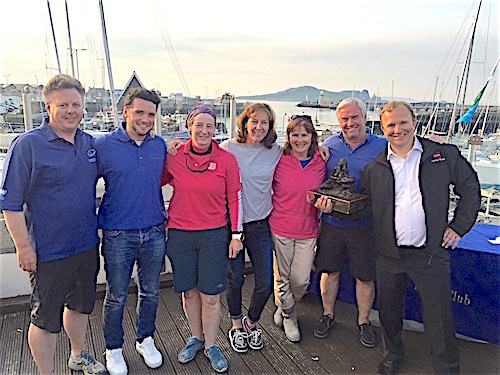 Davy's Graham Cawley presents the Lambay Lady to the crew of Colm Birmingham's 'Bite the Bullet'
Registered in the Republic of Ireland. Registered No. 81187