DeDanann rounds the Western Peleponese
28 May 2016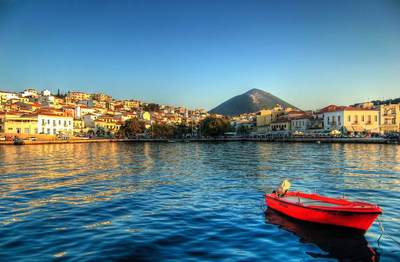 As we meandered through the Ionian Islands, we left tranquil bay off Nidri heading south for Sivota, a grand little port on the south east tip of Nissos Lefkada, you pass the Gorgeous lush green island of Skorpios, once home to Aristotle Onassis and Jackie Kennedy, it is now in the ownership of a Russian oligarch since 2013, warning signs not to trespass or even anchor off are everywhere along the shoreline, a security patrol boat at the ready with very aggressive guards to see offenders off. The locals are not too happy about this as the Onassis family were far more hospitable and anchoring off during their ownership was not a problem. Aristotle, his son Alexander and daughter Christina are all buried there.
Sivota is a grand port, one of the best sheltered anchorages in the Ionian, one comes in from the sea through a dog leg entrance, high on both sides, nothing gets in there in bad weather, a favourite port for the charter companies when the weather turns, plenty of good tavernas, mini market and a great backdrop of olive groves and forestry to keep everyone entertained for a few days.
We then took ourselves off to Fiskardho on Cephalonia, this is our favourite port in the Ionian, we came in here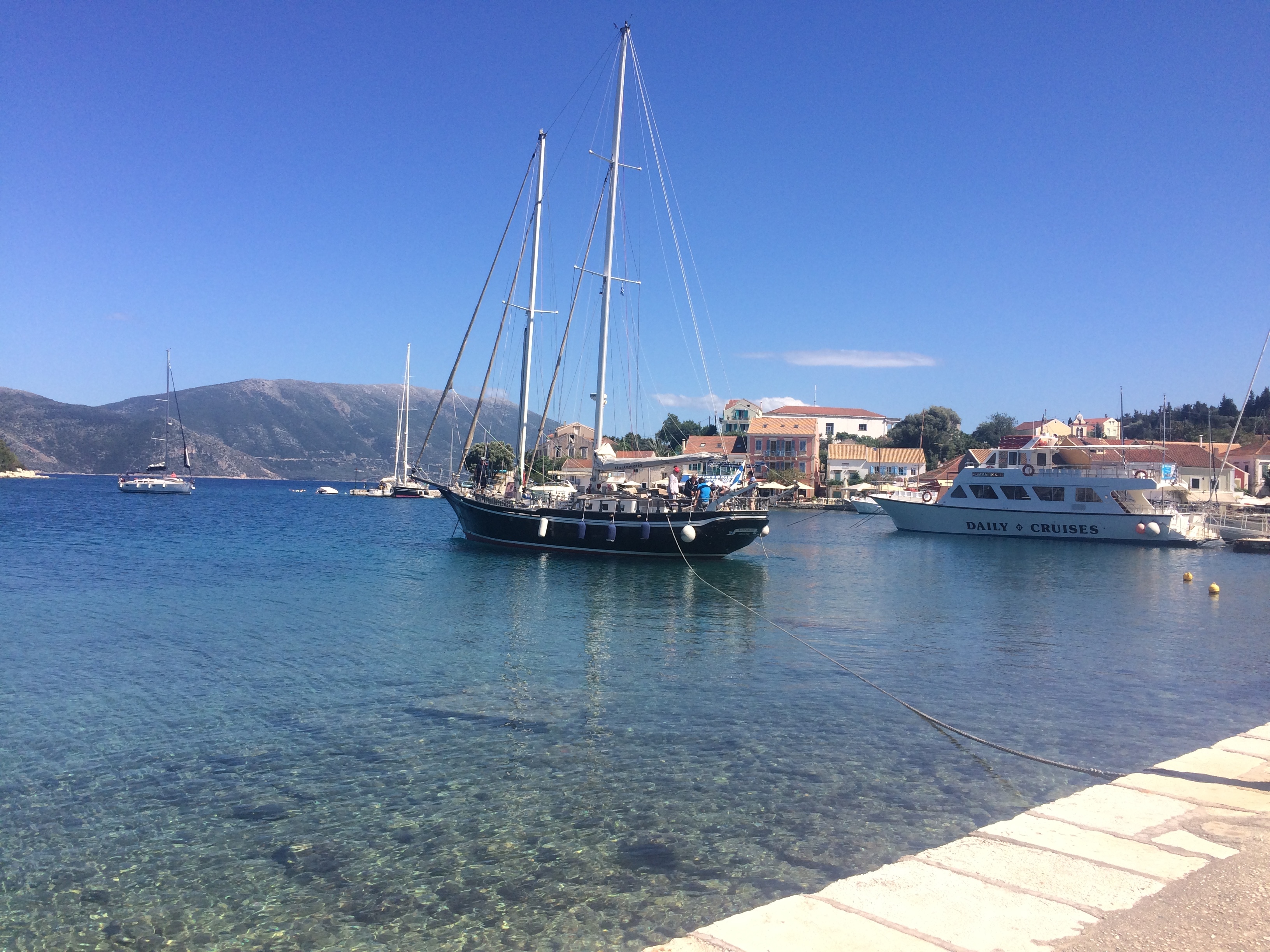 during a storm, having crossed from Sicilia in October 2014, it was our worst experience ever of sailing in bad weather, three days at sea, thirty five hours in storm force conditions, one never forgets a port of refuge after an experience like that, and what a delightful port it is. We are never in a hurry to leave here, theres always good craic in the abundance of port side tavernas that adorn this little gem of a port.
A few days lazing about here and it was time to crack on, we reluctantly threw off our lines and headed south for the western peleponese, the weather being good, we had a slow sail and more under motor to the small ferry port of Poros, on the south east tip of Cephalonia, there's room in here on the wall for a dozen or so boats, there is a village ten minutes walk away with a reasonable choice of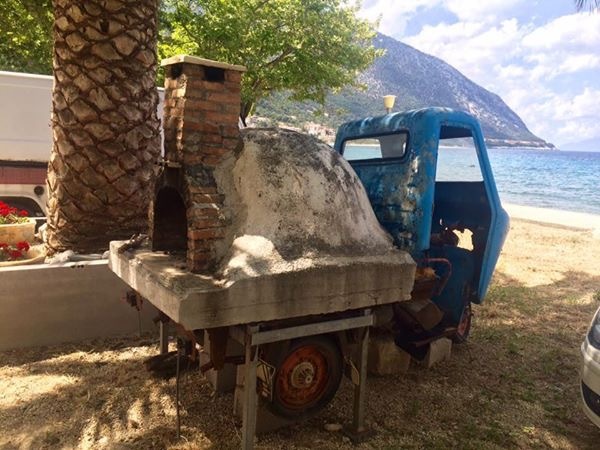 tavernas, shops etc, it's the main ferry port for the island, big ferries come and go every couple of hours, out with their anchor, they back up to the wall, drop the ramp, and off with the cars, trucks, and coach's, if the weather is good, they don't even take a line ashore, and there off again as quick as they can load up. Great skill for such big boats in confined waters.
The next morning promised good northerly winds, we got south westerly instead, we cracked along at eight knots for some of the journey, the wind would come and go, it was hot and then freezing cold when the wind came, on and off with the fleeces all day long, there was a big swell running all the way but there was a good fetch between the waves. It's fifty odd miles to Katakolon, our first port of call on the peleponese. We arrived in the evening and tied up to the town quay, only three other yachts in port, there was two huge cruise ships in port, bringing their passengers to visit the ancient city of Olympia.
Katakolon is a soulless port, full of fancy clothes, jewellery, and tourist type shops, they only open when the ships are in port and close the minute the last ship puts to sea, the place then becomes a ghost town with hardly a shop to get a bottle of milk in, the tavernas likewise, and they know how to charge when they do open, everything the tavernas throw up is frozen.
The next morning we took ourselves off to visit Olympia, we checked out the train timetable, it said a train leaves at 10.55 for the forty five minute journey, cost €10 return, we only found the train station by following the tracks to the end of the line, no signage or time table etc of any kind, no ticket office either, just an auld lean-to and a couple of bench's, bear in mind, two cruise ships could put four thousand passengers on the ground looking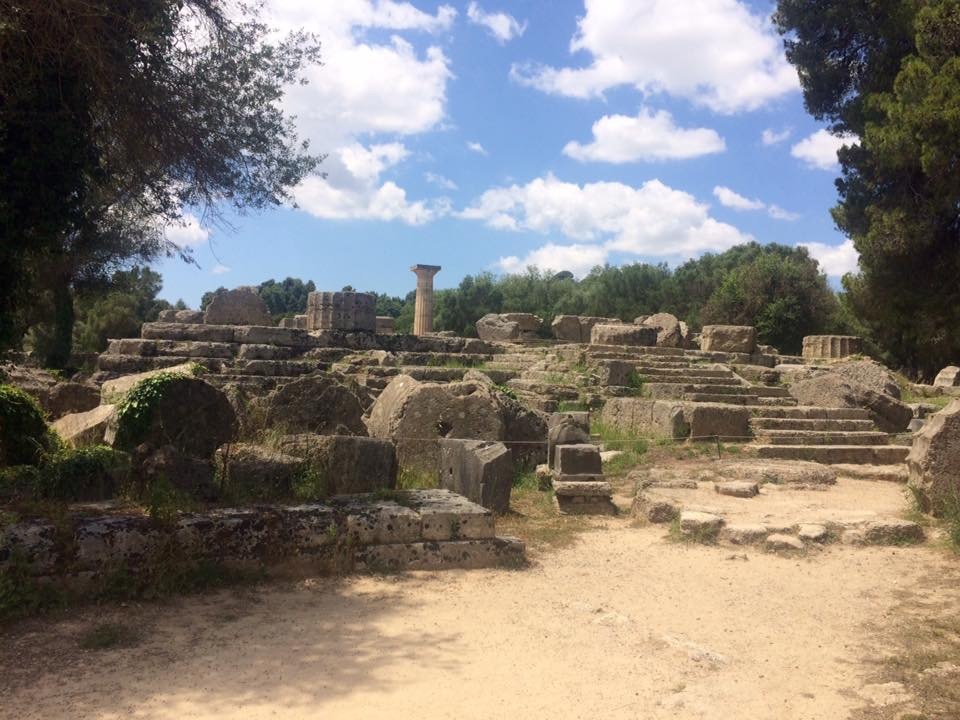 to visit Olympia, in anyway, there were no ships in port this morning, just us and another French yachtsman who had come in just after us the night before, we got chatting as we waited for the train that never came, it's hit and miss when they come they told us when we enquired from some of the locals. We hired a car and I drove the twenty five miles to Olympia, the road was littered with piles of rubbish piled high, here there and everywhere, stinking to high heaven, we have never seen anything like it before, not even during the bin strikes back home, it's become a serious health hazard and nobody seems to be doing anything about it.
The visit to the ancient city of Olympia, the site of the very first Olympic Games, in fact it was not a city but rather a sanctuary with buildings dedicated to sport and the worship of the gods, the first games held in 776 BCE, on the first full moon after the summer solstice, was presided over by the Roman emperor Nero. One could almost feel the presence of those great athletes who set the standard for athletes from all over the world to compete against each other on the field of sport, ( no drug enhancement then ), walking through the stone arch that leads from the Olympic village to the playing field is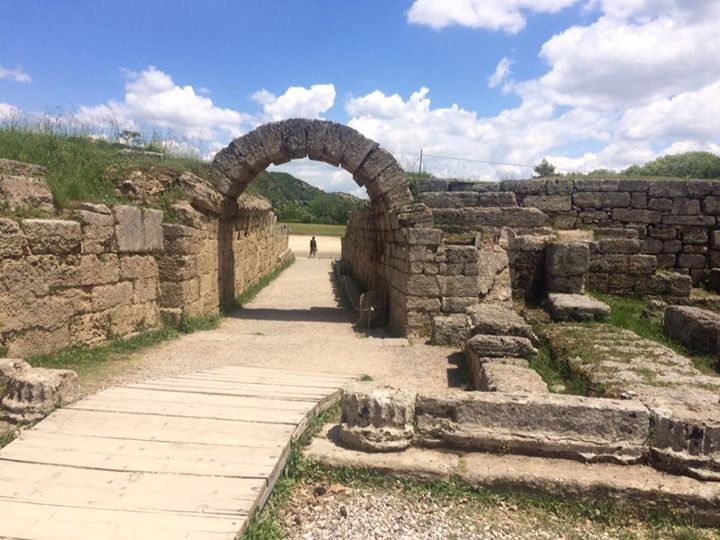 special. Its a wonderful attraction if in this part of the world, great shade from an abundance of beautiful trees and plenty of stones to rest on in the hot summer, makes this a very enjoyable visit.
There was no entry fee as it was Greek national museum day, it is normally €10 per adult, it was interesting to note that the cruise ship passengers were parting with 145USD to the cruise line for the visit and coach ride to Olympia. My late father Louie was a big judo man, he never made the Olympic team himself, but was instrumental in training the first of Ireland's competitors in judo for the Montreal Olympics and other international events during the sixties and seventies, our son Toe, runs one of the top muaythai (Lionheart) boxing gyms in Ireland, like his grandfather, a serious competitor, coach and promoter of the martial arts.
We left Katakolon as another cruise ship was standing off for the port pilot to board, the Greek traders of Katakolon licking their lips at the thought of another kill, we set course 165* for Pylos, a small port fifty odd miles to the south, it is situated in the Naverino Bay, well sheltered from the prevailing westerlies that were forecast to blow hard in a few days time, the wind was fickle, coming and going, hot and cold, so on with the engine and we pushed along at eight knots. The coast along here is quite baron, high and low with a lot of agriculture going on, they are big into olives, grape and currants with huge grow houses dotting the landscape, it's very much like our own west coast, several big trawlers fishing, few ports to shelter if the weather turns bad. The lush green mountains of the Ionian islands are already starting to turn brown with every mile we venture south, soon they will be a memory, but I am told great things await us in the Aegean.
We arrived off the marina and port of Pylos at tea time, (see top photo) the marina is ramshackle, littered with derilicts and mooring lines all over the place, all the best spaces were taken up with tiny fishing boats, so we had a difficult job of mooring with nobody about to lend a hand, Linda was murdered trying to get lines ashore as I kept DeDanann steady with throttle and bow thruster, trying to avoid snagging of underwater lines running everywhere, tempers can be tested at these times.
Pylos is a medium sized typical Greek town, hardly any tourist about, built by the French hundreds of years ago,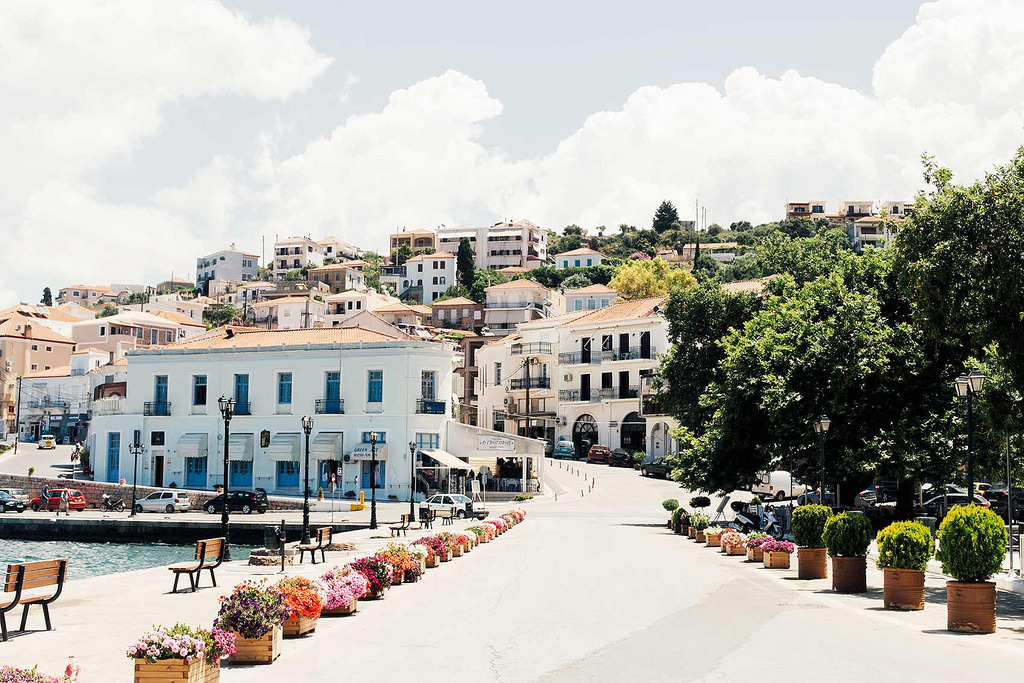 it's a grand place to ride out bad weather, the marina is very sheltered from all winds and sea, all concrete pontoons, three minutes into the town centre, but Madre Di Dio, it's in tatters, with all facilities cut off, their is one single tap working in the whole marina, cruisers were man-hauling water in containers, no toilets, electricity or anything else, the local council are in charge, but they have no money to maintain it and they won't allow any private operators to take it over which is a pity. The main port of Pylos is now too shallow for anything over one meter draught to tie up, their is a town quay in the centre of the town that could accommodate over one hundred boats were it to be dredged, a little investment in water and electricity and the tavernas, shops and local business's could be doing a bomb servicing the cruisers who have nowhere else to go along this stretch of coast.
Soon after our arrival in the marina, a fifty footer came in with two German guys on board, I helped them to moor up in the high winds, they were not too keen to get into any conversation when I enquired as to where they came in from, within the hour they were taking on fuel from a local tanker whom they had arranged to come to the port, they then headed up to the town, when they arrived back with their shopping bags full, they were met by plain clothes armed police, put into handcuffs and taken away, the following morning the police arrived with two different guys, also in handcuffs, they were brought onto the boat and shortly taken away again with all their luggage, it turns out the yacht had been stolen and they were heading out of Greece with it. Smart enough these Greek police.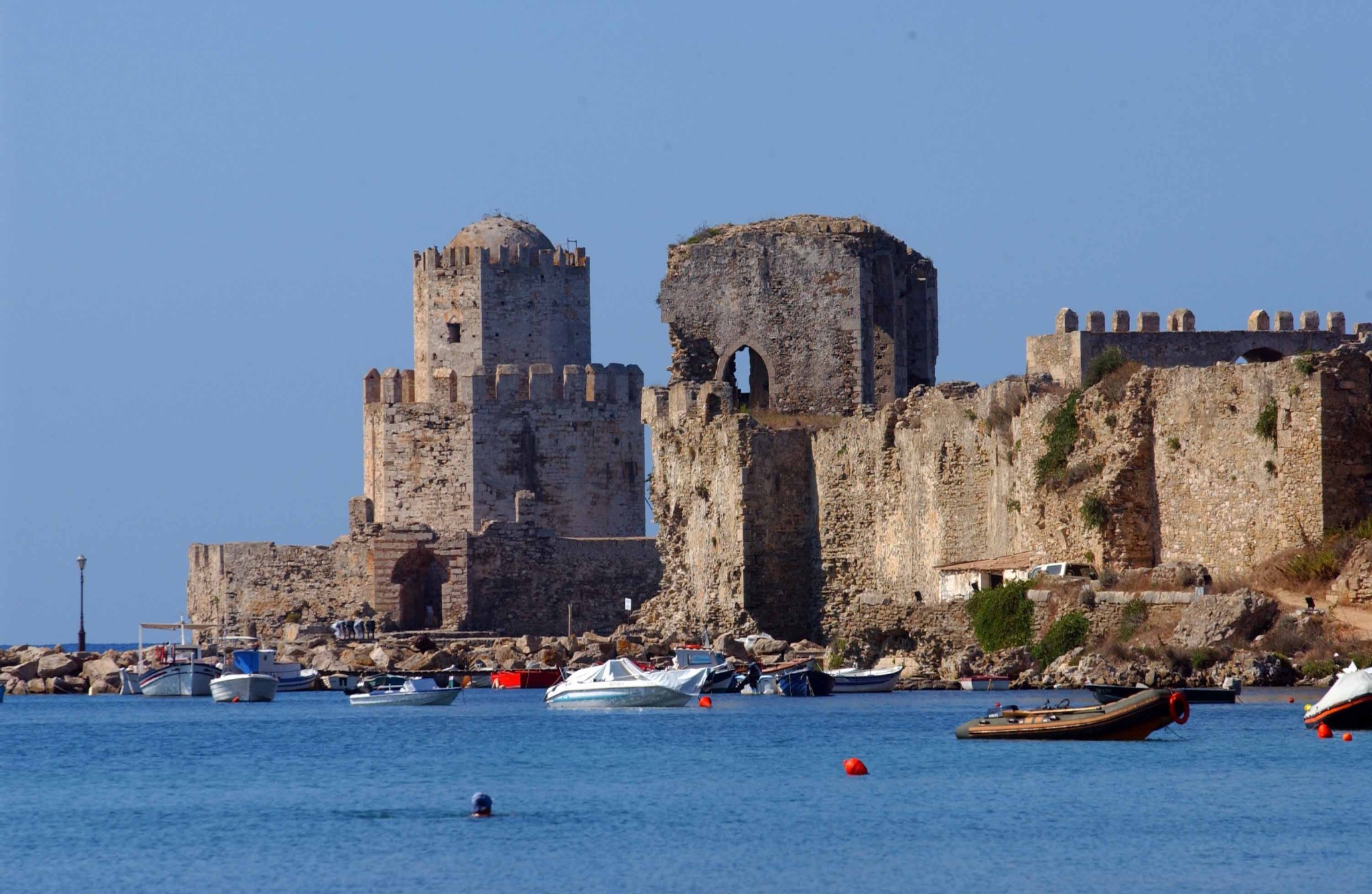 A few days here and the high winds settled back down, we set off for the anchorage under the Turkish fort of Methoni, on the south west tip of the Pelopenese, the wind was westerly at 12/15 kts but the sea was both high and sloppy, very uncomfortable, the sea gets high around here as there is nothing between here and Sicilia. We were glad to drop anchor in seven meters under the protection of the fort, good holding once you break through the weed, Linda was up all night, with the noise of the wind which built up to thirty kts and the rolling of the sea that was becoming restless outside of the fort, Alfie and I slept like babies as DeDanann rocked and rolled all night long.
The following morning early, we upped anchor and set off for the little port of Koroni some twenty odd miles to the east, the winds were light from the west as we meandered at 3/4 kts, the sea that had built up the night before was now running behind us, we dropped anchor in four meters among the local fishing boats not too far off the town quay. Like Pylos, the town Quay here in Koroni, which is big and substantial is too shallow to tie up to, Koroni could be a grand port with a bit of dredging and provision of water and electricity, the tavernas that line the long shoreside were empty, the shops the same, lots of local youngsters knocking around doing nothing much,they could be busy working serving the visitors that come in from the sea.
They are building a new road from the port around the coast to a carpark high up on the hill, with spectacular views out onto the bay, I expect it is costing the EU a million or more, one guy operating a digger spreading stone, another breast feeding his shovel, like most civil engineering projects here, it will never be finished, and not a euro will it earn for anyone, in fact, I wager it will end up full of bangers of abandoned trucks and cars etc, were they to invest that money in the harbour they would create a lot of business for the town and jobs for the locals.
All over Greece they sit around the local cafes complaining about the corrupt politicians, the same ones they vote in mind, they blame the Germans on all their forced austerity, every port no matter how small has a port police station with several officers on duty, "doing what I ask myself !! I got chatting to two very pleasant cops in one of these ports recently, they sit in a portacabin minding five boats that have been impounded for various reasons, these boats wouldn't fetch €50,000 for the lot from a dealer, they are in such poor condition now, yet there is 24/7 security on them. They really need a kick up the arse to get out of the financial hole they have dug for themselves. The weather was being forecast for f7/8 westerly winds for the next three days, although we were reasonably well sheltered here, it becomes dangerous using the dinghy in strong winds and choppy sea, so we set sail for the marina at Katakolon, eighteen miles to the north east, a comfortable sail from port to port in 10/12 kts of north west wind.
Katakolon is the largest town of the Peleponese, it has a large port with the marina to the side of it, well run by a Turkish company, we took a grand mooring at €50 a night everything included, we hadn't taken on water since leaving Fiskardho, and our tanks were running dry, DeDanann holds one thousand litres in storage, this keeps us comfortable for seven days or so.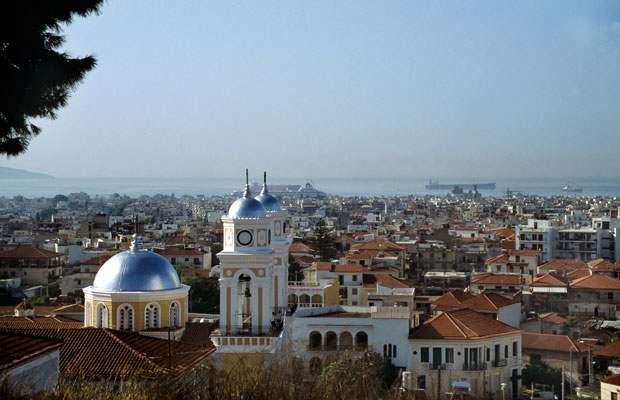 In its day, Kalamata was a big commercial port shipping produce from this area all over the world, that seems to have dried up now, big ships come into the bay to take shelter from the strong winds that can blow down here or await orders before moving onto their next port of call. The train station in the centre of town has been closed down for economic reasons, they brought down a few old steam trains and wagons from Athens, decked out the tracks and turned the station house into a really nice coffee shop, "clever" it was great to see the kids free to get onto the trains, pulling levers, opening steam valves and pretending to be train drivers, health and safety wouldn't allow that back home.
Later that night the forecasted weather came in with strong winds from the north west and blew hard for two more days, we hired a car, did some shopping and took ourselves inland, which is quite rural, this area is world famous for the black olive, and the oil that comes from it, I have to say, they are by far the nicest olives I have ever tasted, one acquires a taste for olives living in the Mediterranean, we wouldn't have touched them living at home. Extra virgin olive oil comes from the first press, it has the least acidity, then virgin olive oil from the next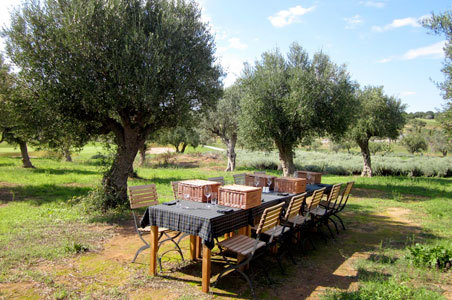 press, then olive oil and eventually lampardi oil which is not used for human consumption but for burning in lamps. The local growers, which is just about everyone down here, pride themselves with producing the best oil, you go into the local chandlery to buy a few bits and the owner is giving you a free bottle of his best produce, hand picked with rakes from the trees onto voil sheets in order that they are not bruised, they tell me they need good rain in the spring to get a good crop. I wouldn't want to disagree with them about the quality, the smiley pleasant Greeks can become very cranky and touchy about the subject of olive oil, it's a pity there wine is not so good.
Today being may 29th we leave the marina here at Katakolon, tanks filled, fridge and lockers replenished, we have a fifty mile voyage heading due south to enter the Aegean and then turn to the north east for the voyage along the eastern Peleponese to Porto Kayo and more sheltered waters. Alfie doesn't like the big seas we have come through, he never leaves the comfort of the cockpit in anything but flat seas, he is much better behaved this year since we got him neutered and seems more content.
He has taken to going onto any boat in port as if it were his own, sometimes going below for a nap, I saw him being ejected from a Dutch boat last week, he just nodded his head and tail as if to say "bloody foreigners".
DeDanann Out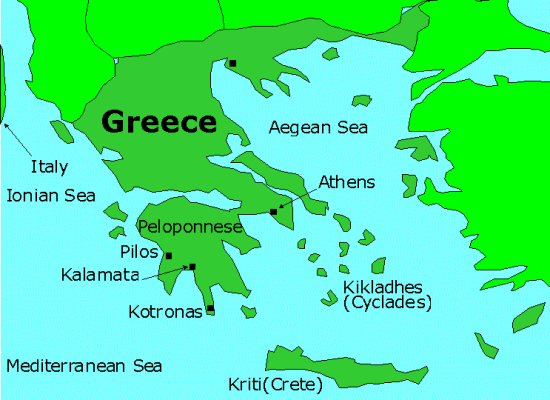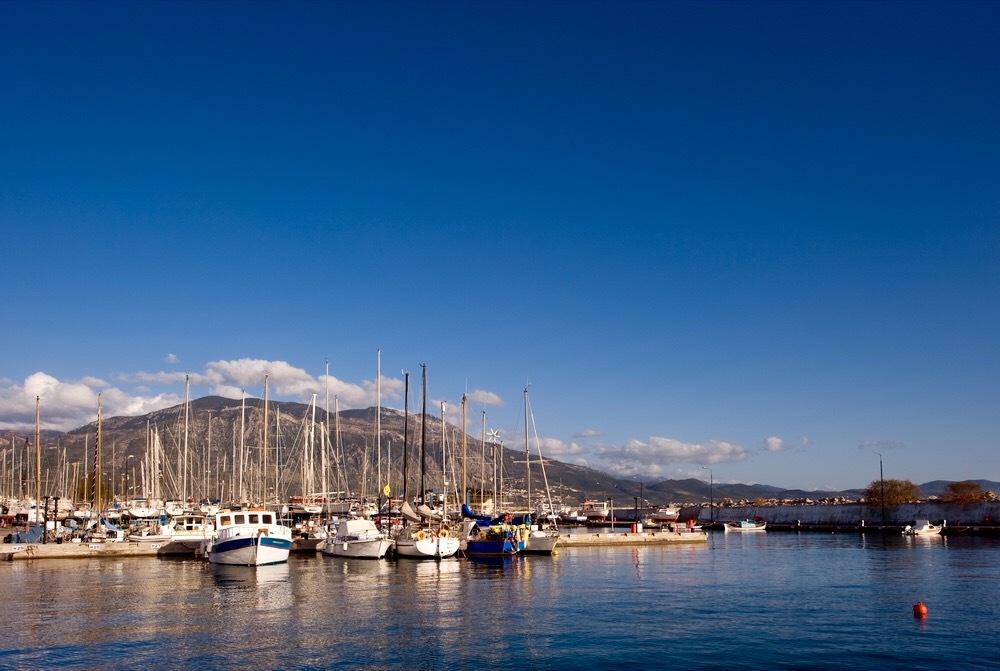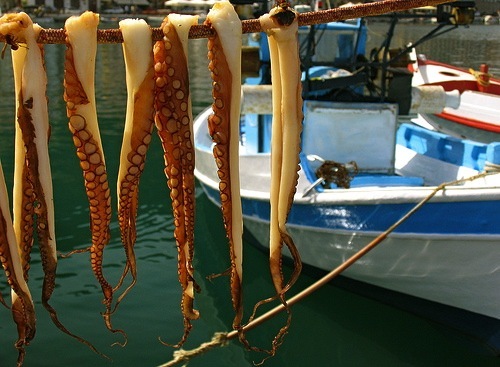 Registered in the Republic of Ireland. Registered No. 81187