WD40 Howth Moth Flutter
20 May 2016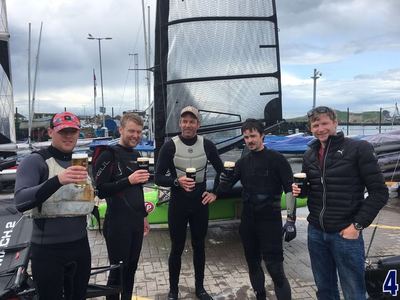 A record ten International Moths landed in Howth for the second event of the Irish Moth Tour over the weekend of 21/22 May. HYC was represented by fleet regular Alistair Kissane and the new kid on the block Ewan McMahon, racing on foils for the first time.The fleet rigged up in glorious sunshine with a steady 15 knots from the South
West, but it wasn't to last. Over the course of 4 races, the fleet saw everything from 6 knots and marginal foiling to 20 knots plus, with lightning and typhoon-like rain. NYC's Rory Fitzpatrick was in flying form and took all four races, with Alistair Kissane and cable-tie enthusiast, Neil O'Toole joint second. Adam Hyland and Jim Devlin were unlucky to suffer gear failure but otherwise the fleet managed very well given the extreme conditions and the added challenge of negotiating yachts racing on the left side of the course!
The forecast for Sunday was not promising, with little or no wind predicted. Race officer and event dictator Emmet Dalton wasn't going to let that stop him, so he ordered the fleet out of bed and on the water at the ungodly hour of 11:30. Luckily his conviction was rewarded with a solid 12 knots from the West but again it didn't last. The first race of the day was won by Ewan, who very cleverly picked his way through the gusts and foiled for the entire first upwind leg. That gave him a huge lead which he held to the finish. Very impressive for someone who foiled for the first time just six weeks ago. The next two races were weird and wonderful with breeze coming and going and leads changing constantly. Alistair managed to find himself on the right side of a few shifts and won both. It wasn't enough to overtake Rory who won the event, with Alistair second and Neil third.
Special thanks to WD40 and Team P.R. Reilly for their sponsorship of the event and Emmet for organising and officiating. The moth fleet are already looking forward to coming back to Howth.
Report by Alistair Kissane - Irish Moth Class President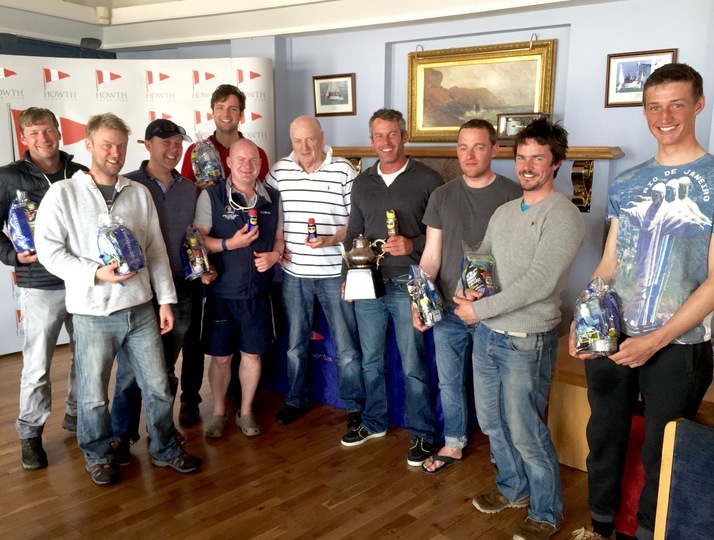 Registered in the Republic of Ireland. Registered No. 81187