Calling all cruiser sailors!
06 June 2016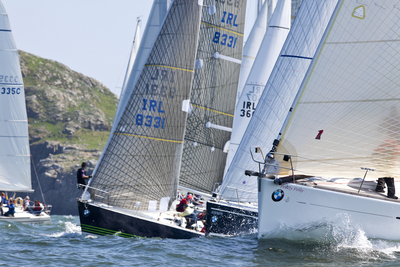 Howth Yacht Club will be hosting the 2016 Irish Cruiser Racing Association National Championships and Corinthian Cups from June 10th – 12th, it is shaping up to be an event not to be missed for spinnaker and white sail sailors.
The organising committee are finalising an exciting and varied racing programme over the 3 days, along with an excellent social programme of shore side activities. With three weeks to go to first gun, it will be a very special event both on and off the water.
For the Corinthian Cups two classes, Race Officer Harry Gallagher and his team have been working on a number of courses, specifically designed for non-spinnaker racing: "In recognition of the fact that many non-spinnaker teams and their classes have asked that we avoid direct downwind racing, we will have a choice of two courses for Friday and Saturday (two races each day). One will be a traditional "Olympic Type" course - Triangle/Sausage/Triangle and the other will be a "Figure 4" course. Diagrams will be provided in the Sailing Instructions. These courses will be laid in positions that will not conflict with the other two courses. On Sunday, a "Passage Type" course is planned the details of which will be provided on the day".
In the 'spinnaker classes', the three-day championships will comprise of eight fleets with racing taking place over three race areas, guaranteeing keen racing for all participants. Early indications are that there will be very competitive racing for national titles across the various fleets with the addition of a number of new boats planning to participate.
Back on shore there will be a lively social programme including a Caribbean night on Friday and a Regatta Dinner on Saturday followed with famous local band Loose Change playing until late.
The event, sponsored by McPeake Auctioneers, and in association with Dubarry, WD40 and Dublin, a Breath of Fresh Air, promises to be another high calibre event returning to Howth Yacht Club for the fifth time.
Registered in the Republic of Ireland. Registered No. 81187