Ewan wins at Europa Cup in Belgium
17 May 2016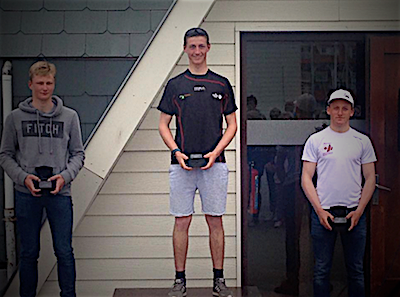 HYC Junior sailor Ewan McMahon reports from the Europa Cup in Belgium, where he finished by winning both U19 as well as the overall prize: 'My flight for Brussels left at 5:45am, Friday morning, from T1 Dublin Airport. The small fleet of Irish and myself who were travelling to the Europa Cup were greeted by our coach Ben Lynch when we arrived. We then drove 2 hours to the sailing venue in Newport and unloaded the boats, our luggage and checked into our accommodation for the evening. We were joined by Thomas Chaix's Bcademy at the club, who were also competing in the event.
The racing began the next day with a bang; 20knots and large, rolling waves made for a great racecourse. With a good start in the opening race I managed to collect a bullet. However during the start of the second race the rubber joint between my tiller and tiller extension broke and it was looking like I was going to have to retire. But to my great relief it was a general recall giving my coach time to speed off through the waves to try source me another one. Fortunately he found one from a 4.7 Bcademy sailor who also had gear failure but couldn't stay sailing. So I was chucked the tiller by Ben just as the 1-minute signaled and wrestled to set it up as quickly as I could in the rough seas. I started a minute and a half late but was able to sail my way up through the fleet, boat by boat, and surprisingly finish 9th. When I got ashore it felt like my legs were falling off me!!
On Sunday the conditions had calmed considerably to about 5 knots but we were left with a chop and raging current. The racing was very mentally challenging and it was crucial to join the dots of wind around the course in order to have good speed and combat the fast flowing tide. Both races were shortened that day due to the light breeze, but I was able to get a 10th and 3rd .
The next day conditions were similar to Sunday but were worsening quickly. Everyone had to moor alongside ribs to prevent being swept upwind with the tide. The committee boat kept us out for three hours in hope of wind. But it never came and soon the fleet returned to shore. We packed up quickly and attended prize giving at three o'clock. I was delighted to finish 1st overall / 1st U19 and my teammate Johnny Durcan from RCYC taking 3rd. All-in-all, a great result for the Irish in Belgium.'
Ewan McMahon
Registered in the Republic of Ireland. Registered No. 81187