DeDannan heads to the Aegean
08 May 2016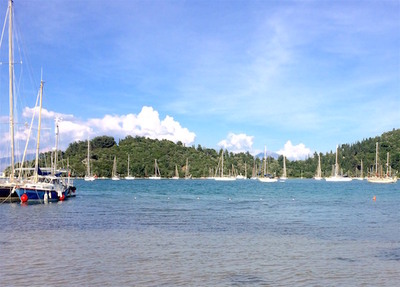 Some good news follows for those who have been missing Tony Olin's cruising reports over the winter, as his quirky and frankly scripted Mediterranean adventures return this month, following his return to his boat DeDannan which he had wintered in Greece. Enjoy....
'Having wintered DeDanann ashore at the Ionian yard here in Preveza, Greece, , we set off from Howth on the 17th April by road for the long drive to Greece via Rosslare on board the Irish ferries, Oscar Wild, to Cherbourge, a fine boat, good cabins, great choice of good food, pleasant Polish staff and excellent value @ €230 for car, dog, and the pair of us, sure what more could you ask for.
On arrival at Cherbourge we hit the road in our auld Mercedes, a new timing chain and a good service, a pair of new tyres, cut and polish and she was looking splendid for her 30 years, fine comfortable car she is too. The drive through France is easy, we took the secondary D roads which are not congested, rolling countryside, nice little towns to stop off at whenever we felt like it, and no tolls or fast moving arctics flying by all day. It took only three days of easy going from Cherbourge to the Mont Blanc tunnel, stopping over at Evrouex, and Dijon for the night, the tunnel is however expensive @ €43 one way, fine piece of civil engineering, over 12 miles long through the Alps to the Italian side, not even a flash of passports required to go through, although, there were both Italian and Swiss guards manning the border crossing, we were politely asked where we were from and waved on, long live the Shengen Agreement.
The drive through Italy to the port of Anconna is not so pleasant, the signage in Italy is even worse than Ireland, you come to a sign pointing to say Milano, five minutes later you come to a round about with four exits, no more signs, Ah!!!! your lost already, in anyway, we took the autostrada, expensive, congested, bloody fast with mad drivers, roadworks all over the place with nobody working on them, needles to say, we put the boot down and arrived in Anconna two days later having stopped off for the night in Milano.
We took the Anek lines Superfast II ferry to Igoumenitsa, Greece, an 18 hour passage down the Adriatic along the coast of Albania, and through the Corfu Channel. Superfast II is a fine boat, we had an excellent cabin looking over the bow, excellent food in a fine dining bistro on board with a nice Greek couple who joined our table, nice shops and amusements etc for the kids, very pleasant Greek crew, she powers along at 25 kts, that's fast for a ship of her size, steady as a rock all the way. I was awake and on deck at sun up, Albania looks wonderful with the sun coming up behind her steep cliffs, and Corfu to starboard with the sun shining on her was a welcome sight for sure. I expect the Greeks are not such great shipping tycoons for no reason, they certainly know how to run a fine boat, although, costly @ €495.
On Arrival in Preveza, we took a hotel in the town for a few nights, we had anti fouling to get on with, cut and polish the top sides, sanitise the fresh water tank, fit the Bimini, and sort her out for living aboard for the next eight months, there is a lot of work to get her ready to go back into the water, but the craic is usually good with lots of other crew from all over doing the same, borrowing tools, looking for and giving advice on this and that, there are some great dinners were crew get together in the two tavernas adjacent to the boat yards which winter over four thousand boats ashore here in Preveza. We went into the water and moved across to the town quay in Preveza, the weather was mixed as we got DeDanann together, did a big supermarket shop, and sorted out a lot of decent Irish food that we took with us.
Whilst on the town quay one of our Swedish neighbours, a pleasant fellow that we knew from last year, dropped down dead taking a shower as he got ready to go out to dinner, another neighbour, an English surgeon attended within minutes but sadly could not successfully respirate him, he was gone before the ambulance arrived, I had been talking to him only a couple of hours earlier about their cruising plans for this coming season, he was in good spirits as we discussed the various ports on the peleponese. It just goes to show, you never can tell when your time is up. This is why we chose to take off around the world while we are in good health, and not wait until retirement age when the auld body starts to act up, forty years of hard graft on building sites in Ireland and the U.K have had there toll, I've come to the stage already when tying my shoe lace, I ask myself, is there anything else I need to do whilst I'm down here.
DeDanann has had some work done over the winter, both masts stepped and re-painted, new standing rigging, re-wiring of masts, engine and generator serviced, bow thruster and windlass serviced, we've also had a piece of rigging fitted from the bottom of the keel to the bottom of the skeg, tightened up with a small bottle screw, this to stop fishing nets and loose mooring lines getting wrapped around our propellor, three times last year this happened but hopefully no more. It's cost a bomb and the gas thing is we're in the water and gone from the yard for over two weeks and not a euro paid for any of it, the Greeks are slow to collect their money, very trusting people.
It's Easter here at the moment, it's a big event with days of celebrations, processions on the town quay, great bell ringing from all the little Orthodox Church's, the old people all dressed in black. We attended midnight mass here in Preveza on Saturday, the town square was packed with families all holding candles which were handed out for
free, good quality candles that don't go out or drip all over you mind. The priests held mass in the open outside the church, great chanting and singing, at midnight, the priests, with great gusto, proclaiming " Cristos Anesti " (Christ has risen) and the locals responding "Alithos Anesti" (He has truly risen) time and time again till the message was clear that he had indeed risen. The night sky over Preveza was then lit up with a great display of fireworks and there was furious ringing of church bells.
The tradition is that everyone then heads off to the tavernas or go home to feast on "tripe stew, garnished with lambs intestines" now we hadn't fasted for forty hours like some of the locals, (the tavernas stayed closed for food till midnight), we decided to give this part of the culture a miss, and bribed the waiter to rally up a few lamb chops instead, then the locals go back to the church at 03.00 for more prayers, needless to say, our gang of foreign sea gypsy's headed back to our bunks p!!!!, having consumed a little too much of the blood of Christ, a few of them didn't "rise" too well on Easter Sunday morning.
With Easter now over, we untied our lines and set off south toward Lefkada, a cracking first sail in 16kts of NW wind, before transiting the Lefkas canal and onwards to the nice little port of Nidri, big improvements going on in the canal since we came up this way last November, lots of dredging works ongoing, the North entrance is so much better and deeper to, with a new waiting pier to tie up on whilst waiting for the road bridge to swing open on the hour between 06.00 and 21.00.
We dropped anchor in the bay for a few days, lots of cruisers like ourselves from all over going N,S,E and W to start the season. Waking early in the mornings and looking at the spectacular scenery all around us as the sun rises is quite special, the weather is just perfect at this time of year, watching the local fishing boats out hauling their nets and lifting their pots, the crowing of cockerels, the singing of the birds in the forest nearby and the barking of the legions of stray dogs as they all wake from their slumber is a great start to the day. Someone once said, when you have a boat, the world is your oyster, I think it was a wise person, when I look at all the fine boats tied up in Howth Marina, many of them not venturing further than Lambay, I shake my head and think what a missed opportunity.
We will re-visit the various Ionian islands on our journey south around the Peleponese to the dreaded cape Maleas were the Ionian meets the Aegean, this is not a popular route into the Aegean, most cruisers prefer the gulf of Korinth through the Korinth canal, the more seasoned sailors tell me it is beautiful and worth doing if you have the time, it's a bit exposed with not so many ports to shelter, it's very Greek with few tourists, except for Olympia, but the prevailing winds are north westerly and this should give us an easy ride to cape Maleas and onwards to the Georgia's islands of the Aegean'.
DeDanann out.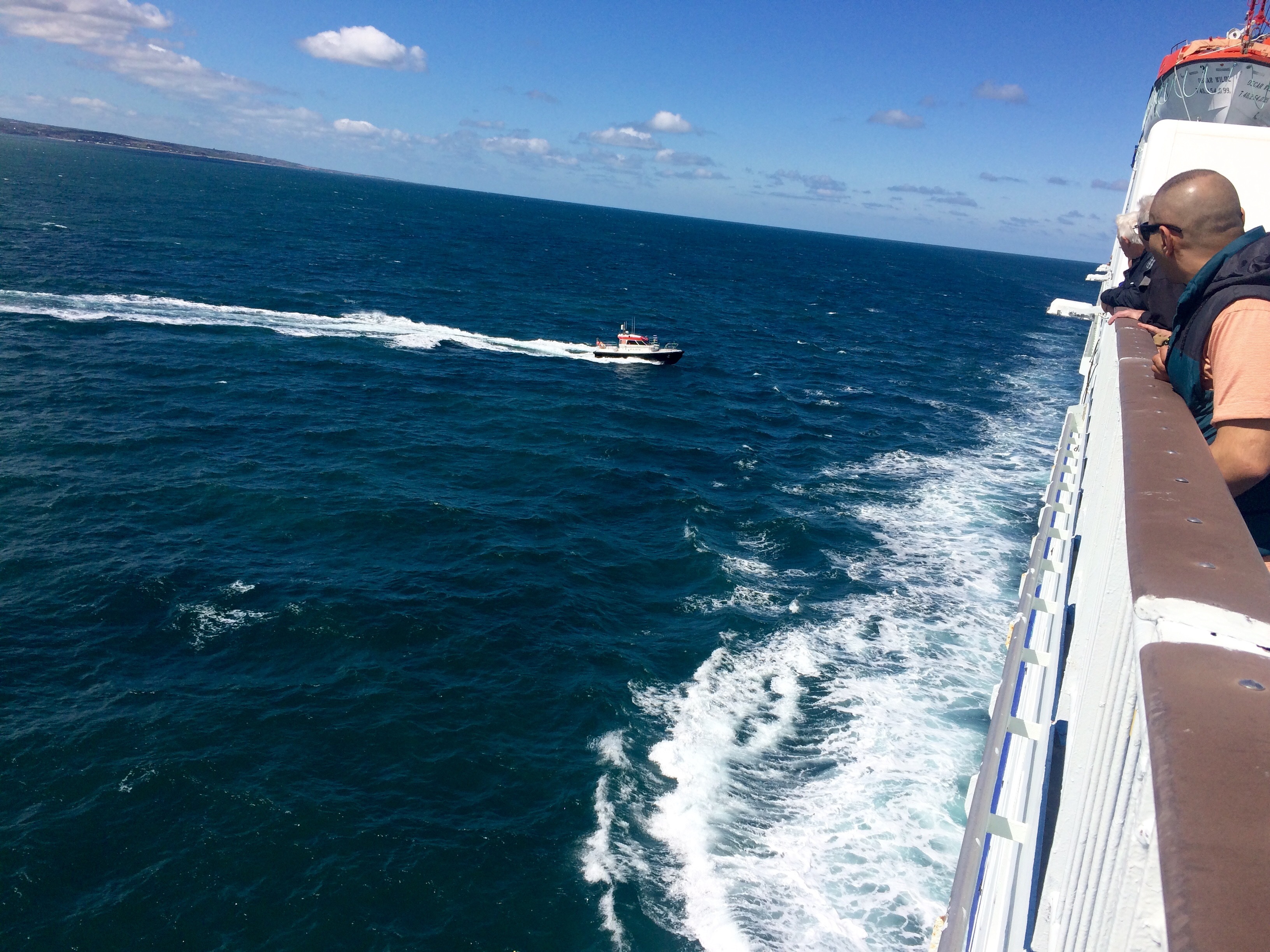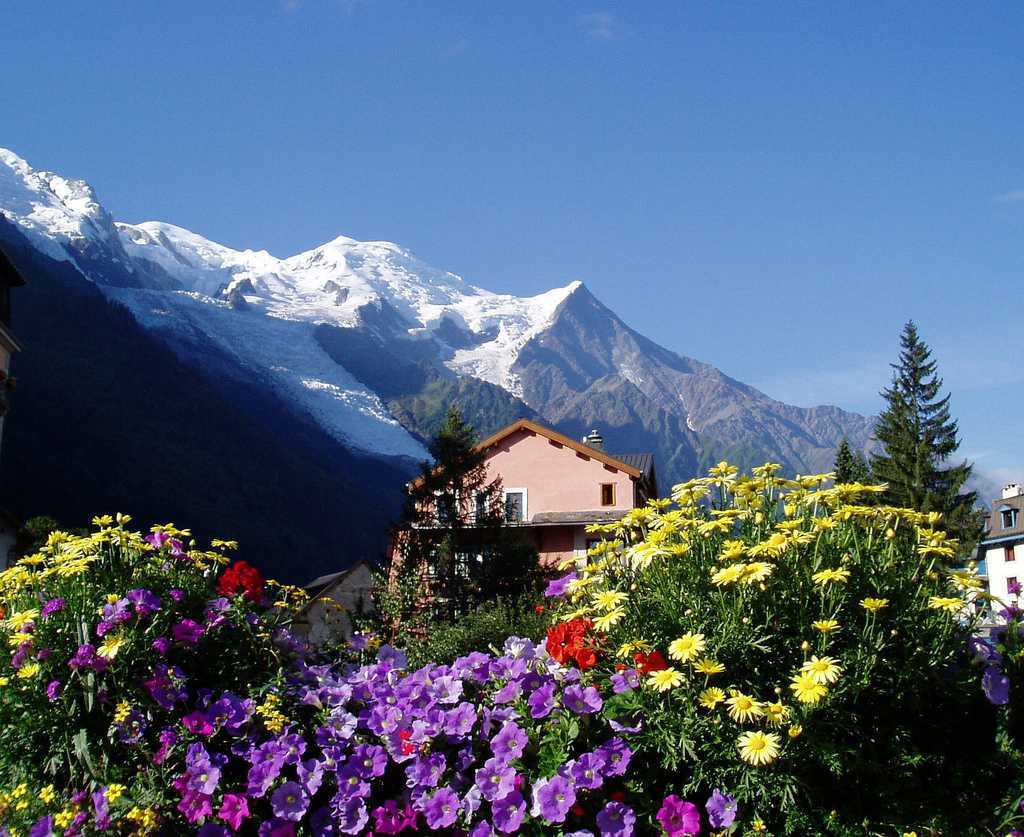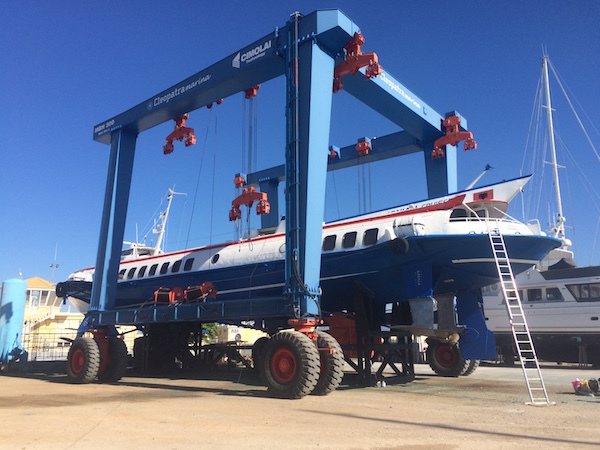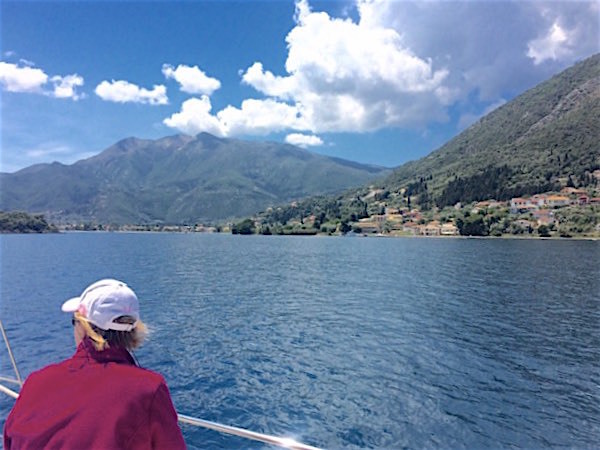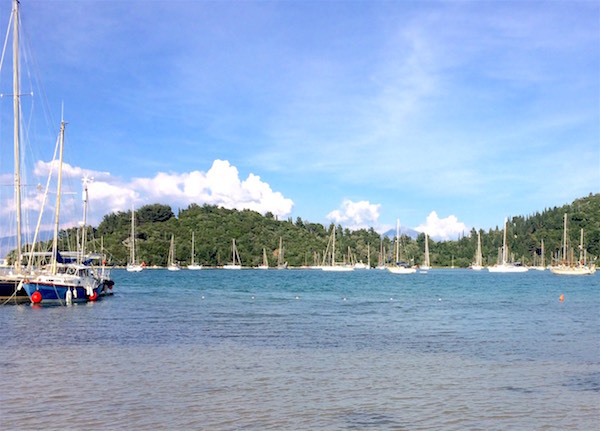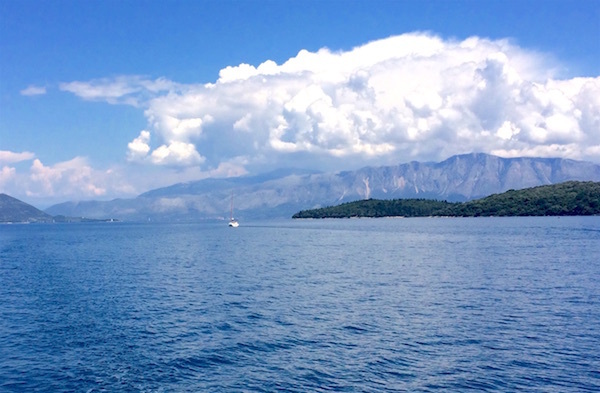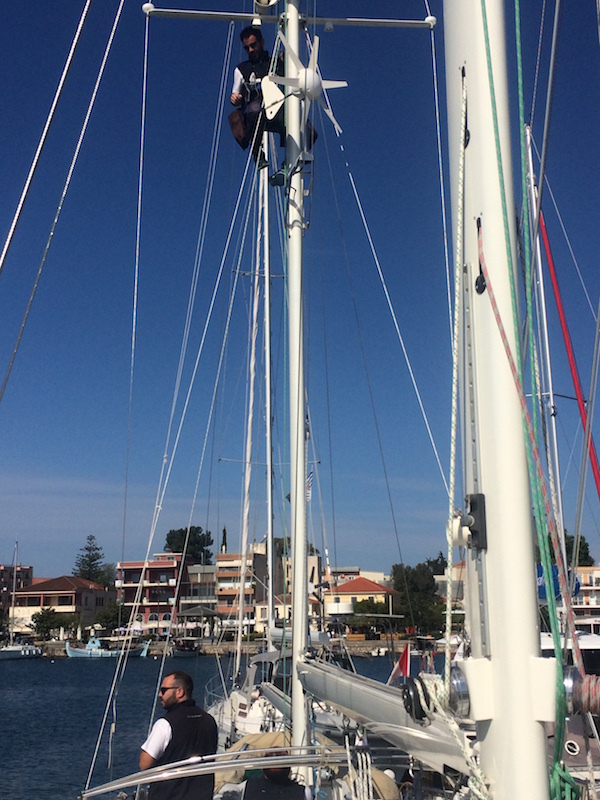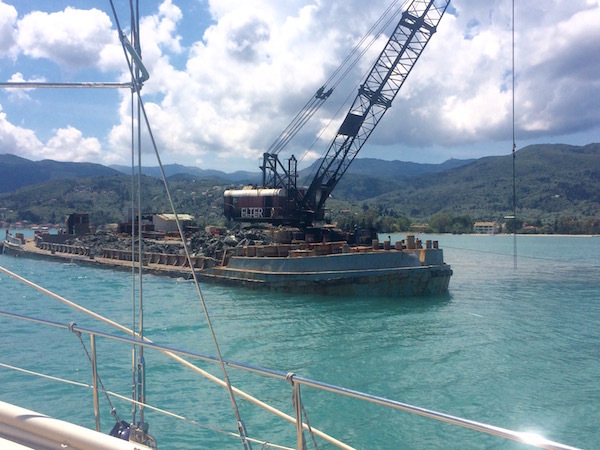 Registered in the Republic of Ireland. Registered No. 81187