Saturday Non-Spinnaker Cruiser Racing
27 April 2016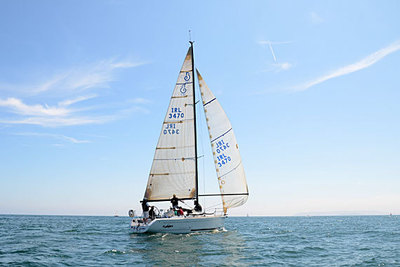 Saturday Cruiser Racing begins next week and Saturday 'Non-Spinnaker Class Captain' Stephanie Ennis has posted the following notice for all Cruiser/ Non-Spinnaker skippers and crew. This is a great fun series and as Steffi outlines, is a serious social gathering....
'I have been asked this year to head up Non Spinnaker sailing on Saturdays for the coming season. This will be open to ALL cruisers racing without spinnakers, not just the Wednesday Non Spinnaker class. Saturday sailing will consist of 18 races with 5 'starred races' for the season at the discretion of the class captain so that all regattas can be completed.
The Entry Fee is a very reasonable 20.00 Euro payable online @hyc.ie at time of entry or to the club office.
This year we will run three series so that if you are not ready in time for the early races or you want to go on a cruise you will be accommodated. The racing starts on the 7th May and continues every Saturday until the 3rd September. The start is a very respectable 14.10 from the East Pier and the races will be planned to last for about 2 hours.
Pier starts mean that you can be out on the start line and ready to go in minutes! This is a great way to train up new crew or to bring our friends or family and enjoy a day out on your boat. It is usually a laid back affair. The ethos of the Non Spinnaker Sailing is of gentlemanly conduct and to have fun.
We will also provide a BBQ as well as the bar food menu available every Saturday, where competitors can invite their friends and family to avail of the club and its facilities. (Children are more than welcome and should be encouraged to come along.)
If you cannot make the commitment to go out every Saturday you are equally welcome to join individual races once entered in the series.
Any ideas that you might have to help make this a success and to encourage more boats to partake would be very welcome.
Many thanks
Stephanie Ennis
P.S. Prizes for HPH and IRC
PPS Skerries Sailing Cub have also been in contact re their Sapphire Series which is a series of OFF SHORE races which any of the Howth boats are very welcome to compete in. More details to follow shortly on the club notice boards and website or from myself.
Registered in the Republic of Ireland. Registered No. 81187