'One Wild Ride' around Ireland
25 April 2016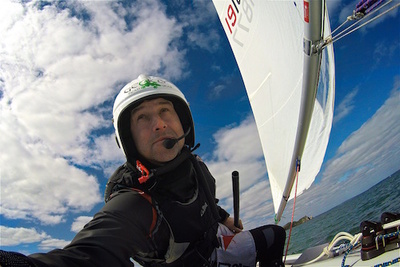 In this, a Round Ireland Yacht Race year, most of us would be content to sail around Ireland in something vaguely large and comfortable, and certainly something that had, at the very least, a cabin on it. Attempting the journey singlehanded, in a Laser dinghy with just 13ft of playroom, is as you'd expect not quite so endearing. An unlikely task perhaps, but it's exactly what Gary Sargent, a HYC member, has set himself up for.
"Oh yeah, I've had all the usual, "Are you bonkers?" comments, but from the get go a huge amount of support from friends, family, sponsors and near perfect strangers! The reality is we've done a huge amount of work on safety and risk assessment so people have quickly realized we are very serious about it all."
Being sailed under the tagline 'One Wild Ride' the challenge has already received backing from a number of sources including the Irish Sailing Association, Garmin, CH Marine and LaserPerformance among others. Personal achievement aside, the effort is to raise funds for ChildVision, the only place in Ireland totally dedicated to the education and therapy needs of blind and multi-disabled children.
"At a very fundamental level it just felt wrong to go to all this effort and not use it as a platform for good. Every year since 2009 ChildVision has met with savage cuts in State funding that is dropping the bottoms out of the lives of children and families who need them. Children who aren't "just" blind. Children who also face massive physical and mental challenges from things like cerebral palsy and epilepsy. So, every mile of this will be raising money for them."
With a start date on May 14 weather permitting, and with a total distance of over 1500km (the equivalent of sailing a Laser from Dublin to Lisbon, Portugal), it's anticipated the journey could take up to 6 weeks in duration, with 30-35 days of those on the water. Changeable weather, currents and sea conditions will play their part so Gary will sail the route clockwise, beginning in Schull, Co. Cork. If the weather is kind, the prevailing southwesterly winds should make sailing conditions safer all round; in the bigger seas off the west coast and later, when longer stretches of headwind are expected on the more sheltered east coast. With long days ahead getting a real sense of distance in such a small boat was key.
"That was probably the only thing that kept me awake at night in the beginning. How far can the boat go? How far can I go? Two training runs, a 50km and a second of 40km have been a great way to test the equipment, the speed to distance ratios and the impact on my body." Walking around the boat park on training days, Gary's marine helmet with built in VHF push-to-talk capability is the first indication that the equipment on board this Laser won't be your average sailing kit either.
The set up includes tracking technology which will ping his location to the challenge website every few minutes, GPS navigation, safety equipment and an array of GoPro and Garmin action cameras. "There's not much room for a waterproof kettle" he chuckles "but I've customised what I can and will be as self sufficient as possible".
For maximum coverage Gary will also have a support team operating a rib and a number of land based vehicles to follow him about. In addition to the added layer of safety, the hope is this team will also help Gary capture additional media along the way, generating increased interest in the challenge and providing the platform to showcase sailing as a sport.
"The plan is to try to literally bring people on board through video and photography - help them become part of the experience. Get behind the scenes of the challenge, the pressures and progress and give people a real sense of the adventure. Bring the bonkers to life I guess!"
If all this has you twitchy to muck in then you're in luck - there are a number of simple ways members can support the challenge. Gary and the team are still looking for additional volunteers to man support vehicles, help with accommodation options as they traverse the country and also fundraising support to help them reach their goals. If you're interested in helping out in any way contact them at info@onewildride.ie.
To follow the One Wild Ride along as it splashes its way around the country and of course to donate directly follow the links below. Best of luck to Gary and the team from everyone here in HYC.
Like. Follow. Share: Website Donations Facebook YouTube Instagram Twitter Medium
Registered in the Republic of Ireland. Registered No. 81187